CHAMPHAI, India — A few months ago, RunSiang Thang was a theology student in Myanmar, spending most of his time at his family's rice farm after his classes were disrupted, first by the pandemic, then by a military coup.
But his life was turned upside down last October, when he says the military ransacked and burned down his village near Hakha, the capital of Chin state. Thang's family — his mother, father and two younger brothers — lost their home, relocating to a nearby village. And Thang, 19, is now at war.
"They can attack us again anytime. I need to be prepared," Thang said from the Indian state of Mizoram, where he was on leave late last year before heading back to Myanmar to fight the military government as a member of the Chin National Defense Force.
A week after the village attack, Thang said goodbye to his family as he left for training camp.
"My mother didn't give me anything, but before I left, she only told me: 'Go safely, son, and come back. We will meet each other again.'"
Thang is among thousands of teenagers who have left home to battle the junta that overthrew Myanmar's democratically elected government in a coup last year, joining hundreds of loosely connected armed resistance groups across the country. Like Thang, many say the reality of military rule has left them no choice.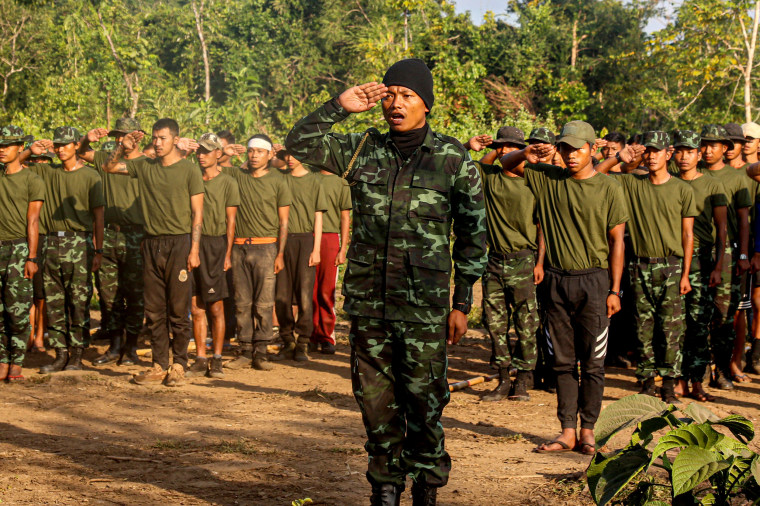 Since the Feb. 1, 2021, coup, the Tatmadaw, as the military is known, has responded to opposition with what the U.S. State Department has called "abhorrent violence," shooting protesters, conducting airstrikes and attacking villages. More than 1,500 people have been killed, according to the Assistance Association for Political Prisoners, a monitoring group based in Thailand. Thousands of others are imprisoned, including Aung San Suu Kyi, 76, the Nobel Peace laureate who had been the leader of Myanmar, formerly known as Burma, since a 2015 election ended decades of military rule.
The country's ousted lawmakers have formed a government-in-exile called the National Unity Government, along with an armed wing in Myanmar called the People's Defense Force. Violence between the PDF, its allies and the military has escalated in recent months, and experts say Myanmar risks becoming a failed state.
A spokesperson for the Myanmar military did not respond to a request for comment. State media reported that on Jan. 31 military ruler Min Aung Hlaing, who has promised elections next year, extended a state of emergency for six months.
The international community, including the United States, has mostly refrained from recognizing either the junta or the National Unity Government. In the meantime the worsening humanitarian crisis is spilling out of the country; the U.N. refugee agency says 32,000 refugees have fled Myanmar since the coup.
"This violence will cross international borders and it will cause damage to our neighbors," Sasa, spokesman and minister of international cooperation for the National Unity Government, said on a Zoom call from an undisclosed location. "We need help from our neighbors, including India, Thailand and China. We all should come together to end the junta's reign of terror."
In September, the shadow government called for a nationwide uprising against the military. Armed groups like the Chin National Defense Force are a key part of that, said Sasa, who like many people in Myanmar goes by one name.
Teenagers like Thang are becoming the face of the pushback. After training for two weeks at a camp in Chin state, he went on leave across the border in the state of Mizoram, in far eastern India. The Chin and Mizo people share a similar ancestry, culture and language, and both states, influenced by Western missionaries, are also majority Christian. 
"The people of Mizoram do not want to send them back because they are our brothers," K. Vanlalvena, a member of Parliament from Mizoram, said last March of the Chin refugees. "Sending them back means killing them."
As Christmas neared in the town of Champhai, strings of lights decorated storefronts, houses and street corners, while wooden reindeer guarded the gates of churches. Standing on the terrace of a safe house, Thang lit a cigarette and pointed toward the mountains about 13 miles behind him. "Myanmar!" he said, nodding.
By the end of January, Thang reported that he was on the front lines in Chin state.
"If they shoot me, or kill me, my blood will be [shed] for saving my country," he said through a translator while still in Champhai. "I don't care about anything. I accept it."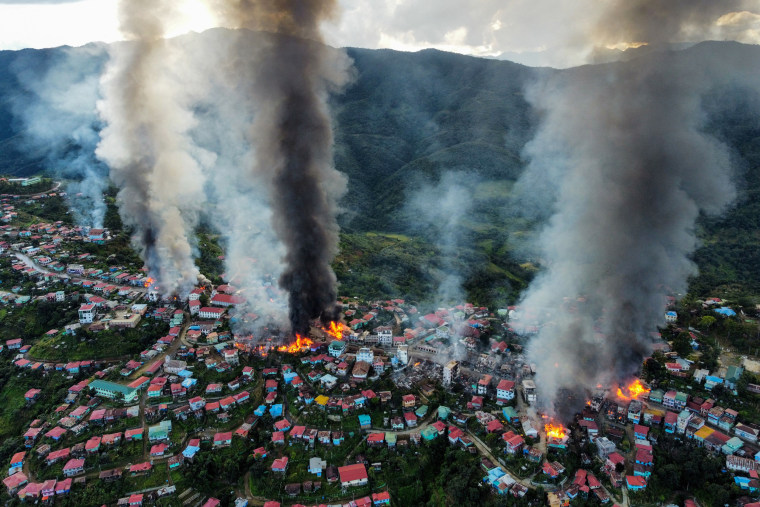 'Shoot to kill'
On March 4, 2021, just over a month after the coup, ValLal Sui and his fellow police officers were facing off against hundreds of protesters in Falam, a border town in Chin state. 
"The order was clear: 'Shoot to kill,'" Sui, 22, said through a translator.
He refused and instead joined the civil disobedience movement, a nonviolent form of resistance to military rule that includes strikes and boycotts. 
"I joined the police to protect the people, and despite the orders, how could I hurt my people?" he said.
Sui said soldiers and police officers who joined the civil disobedience movement were targeted by the military.
"The military hunts us down, punishes us, imprisons us or even kills us," he said. 
He left his village within the month, becoming one of thousands to cross from Chin to Mizoram.
Sui said that although he had received help from a Baptist church, aid groups and the local community, he was running out of resources. 
"It is hard to find any work here," he said, pulling out a hand-rolled cigarette as he sat on a mattress on the floor at a relief camp, where he shares a room with more than a dozen people. "It is not our country, and we know it, but the helplessness adds to the loneliness."
Download the NBC News app for breaking news and politics 
But he doesn't have many other options. A colleague who ran away with him returned to Myanmar late last year out of desperation; Sui said he heard from friends and locals that he had been caught by the military. 
"I'm not sure if he is alive or dead," Sui said. "I can't do anything; I feel sorry for him."
Sui's mother, a government teacher in Falam, has stopped going to work as part of the civil disobedience movement. But Sui said his family only had enough money for one person to leave the country. 
"I'm afraid for them," he said. "I want to return to my family in Myanmar, but the military will kill me."
Sui said he can get by in Mizoram, but it's not the same as home. When he left Myanmar, Sui made sure to pack his red Liverpool jersey — he's a fan of the soccer team's forward Mohamed Salah — as a souvenir of his past life. 
"And I threw away my gun," he said with a smile.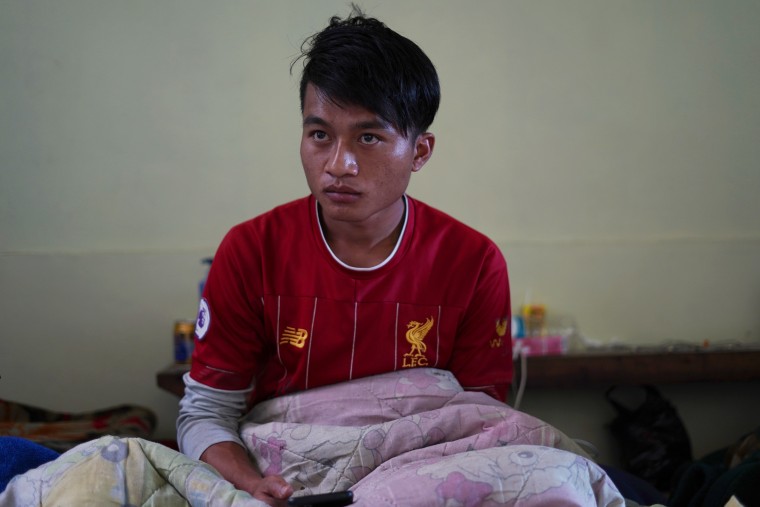 Wooden guns
Thang's stay in Mizoram wasn't just a rest period for him. It was also because his unit lacked sufficient weaponry and supplies for its more than 1,000 fighters, the area commander told NBC News, requesting anonymity because of security concerns. He said 30 percent of them were on leave.
Thang said his training was focused mostly on minimizing engagement: "hiding from the army; defending during the attacks; and to hit and run." Trainees used wooden sticks to learn how to hold an AK-47 assault rifle, multiple fighters and the commander said.
The National Unity Government has received some international support, and the People's Defense Force (PDF) is claiming significant victories in guerilla warfare. But they face steep odds.
"The junta has the overall strategic advantage," said Lucas Myers, program coordinator and associate for Southeast Asia at the Wilson Center's Asia Program in Washington. "Tatmadaw has much more capabilities with heavy vehicle weaponry and air power that they have deployed against PDF." 
According to the Wilson Center, anti-junta armed groups have about 55,000 forces, compared with 300,000 to 350,000 in the military.
The National Unity Government has also struggled to appear united, with hundreds of separate entities "that have pledged allegiance who are not necessarily aligned strategically and tactically," Myers said.
Sasa, the National Unity Government's spokesman, said its relationship with those entities was growing stronger.
Fighters for the Chin National Defense Front say their average age is 20, a claim that could not be independently verified. 
"We have 15- and 16-year-old fighters as well," the commander said.
He said people like Thang are "young to fight, but we don't have a choice, we have to use them in this revolution."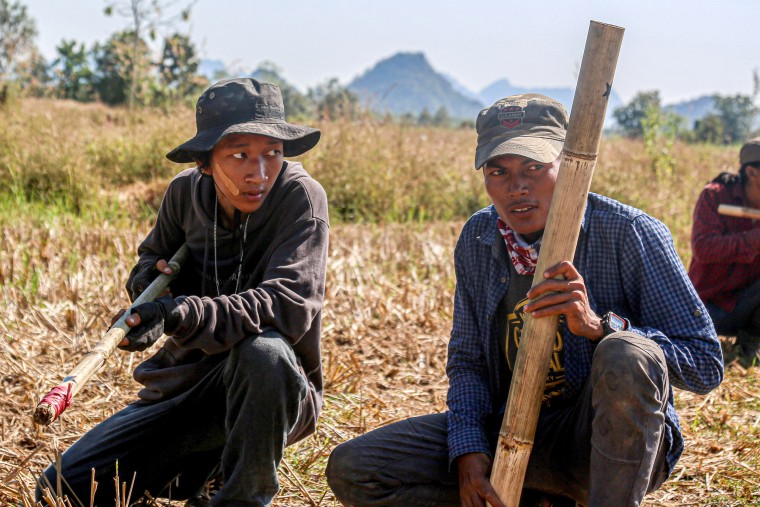 But the youthfulness of the fighters also indicates high morale, Myers said.
"The momentum is driven by people who grew up in the democratic government since 2015, who don't want to see Myanmar return to decades of repressing rule of the military," he said.
By contrast, he said, military morale has been undermined by defections and reported losses on the ground.
As Thang waited to be called to the front line, he said he was sometimes reminded of his mother. 
"On her last call, she asked me: 'Did you shoot?'" he recalled. "She is worried that I'm very, very far away and if I fall sick, she won't be here for me."
A long haul
On New Year's Eve, both Thang and Sui came out on the streets of Champhai at midnight to see the fireworks. 
"We were so free in Myanmar," Sui said, recalling past celebrations with family at home. He and other refugees stood under the brightly colored sky and sang a traditional New Year song. 
Sui said that, as he thought about the coming year, he prayed for Myanmar's freedom. 
"It could be a long time, but we will get it," he said. "I'm prepared for a long haul."