PARIS — A clean-up operation was underway in Paris Sunday after violent protests injured 130 people and led to the arrest of 412.
Some 5,000 demonstrators — known as "Yellow Jackets" due to their fluorescent garb — descended onto Paris' streets Saturday in the latest round of protests against rising gas taxes and the high cost of living.
Rioters tore apart parts of the city, torching cars, smashing windows, looting stores and tagging the Arc de Triomphe with multi-colored graffiti. Police fired tear gas and water cannons as some demonstrators launched projectiles over police lines.
Officials said those hurt when the demonstrations turned violent included 23 police officers.
At one point, a group of protesters encircled the Tomb of the Unknown Soldier located under the Arc de Triomphe and sang the French national anthem before being dispersed by police.
Officials were cleaning the streets Sunday and removing graffiti from the arc.
The demonstrations, which kicked off on Nov. 17, were sparked by planned tax hikes on gas but have morphed into a wider rebuke of French President Emmanuel Macron's governance and his attempts at economic reform.
For over two weeks, motorists have blocked highways across the country by setting up barricades and deploying convoys of slow-moving trucks.
The "Yellow Jacket" activists — named after the neon vests French drivers are obliged to carry in their vehicles in the case of roadside emergencies — want Macron to call off the tax increases. Some have called on him to resign.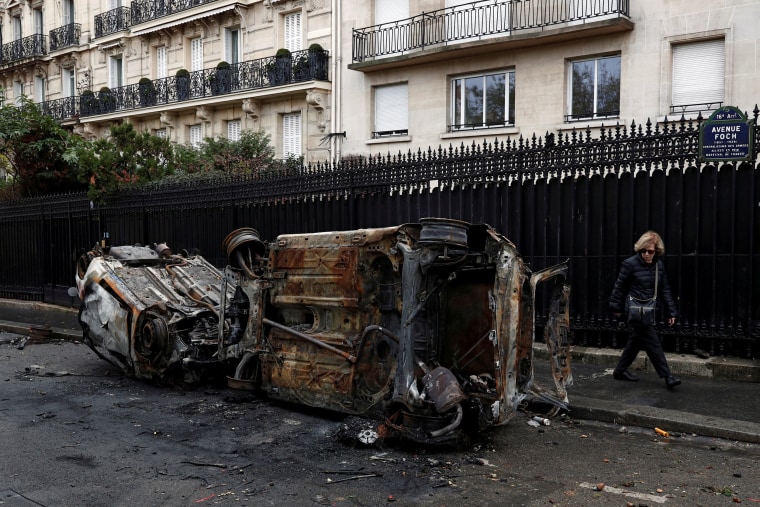 For his part, Macron has condemned the violence and has said he would hold an emergency meeting on security with the prime minister and interior minister on Sunday.
On landing in France after returning from the G-20 summit in Argentina, Macron traveled straight to the Arc De Triomphe to survey the damage.
He has vowed that those responsible for the violence will pay for their actions.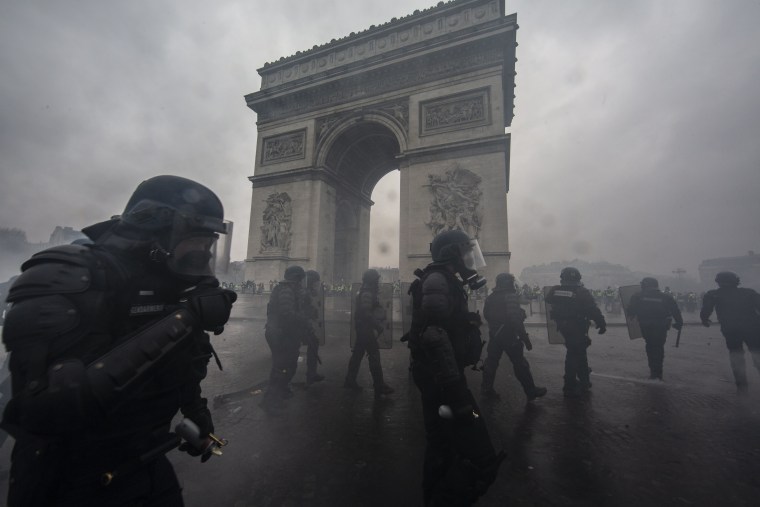 "I will always respect disagreements, I will always listen to opposition but I will never accept violence," he told reporters at a press conference in Buenos Aires on Saturday.
He added that the violence had "nothing to do with the expression of legitimate anger" showed by peaceful protesters.
Nancy Ing reported from Paris and Saphora Smith reported from London.