NORTON, Massachusetts — When 6-year-old Ryan McGuire lost his buddy and classmate Danny Nickerson to cancer in April he wanted to honor his memory while taking a swing at the dreaded disease.
He approached his mom about taking part in an annual golf marathon she organizes for the nonprofit Golf Fights Cancer. The challenge? Golfers commit to playing 100 holes or more in a single day, raising money putt after putt.
It's an exhausting test for adults, let alone a 61-pound child who'd never even played a full 18 holes, by his own account.
It all added up to something Ryan's mother didn't want him doing.
"Well, mom said no on it until I said in memory of Danny," said the kindergartner and veteran golfer, who's played since age two. "Even she had to let me."
Danny, who suffered from a brain cancer called Diffuse Intrinsic Pontine Glioma, or DIPG, gained international fame last summer when word spread that his birthday wish wasn't for toys but cards. And did he ever get them — 750,000 of them — spilling out of the small local post office handling the loads.
Ryan and Danny sat next to one another in school, becoming fast friends. When Danny's battle ended on April 24, Ryan's mom broke the news to him the next morning on a hike.
"I think we always tell our kids, 'Anything is possible, the sky's the limit,' Cheryl McGuire said. "This is a rare opportunity for him to experience grief, and not just of a grandparent but of a young person. Ryan became aware that he's mortal, so I wanted this whole experience for him and for his classmates, to teach them that you don't have to just sit back and take a back seat on this. You can actually do something and make a difference in the world. I hope he takes that lesson with him with everything in life."
On Wednesday, Ryan is scheduled to tee off on cancer at MGA Links here in Norton — a par-3 course largely designed to introduce young people like him to the sport. He plans to repeat the same three holes until he reaches 100. His kindergarten classmates are making a field trip out of the venture, and will be cheering him on and remembering Danny.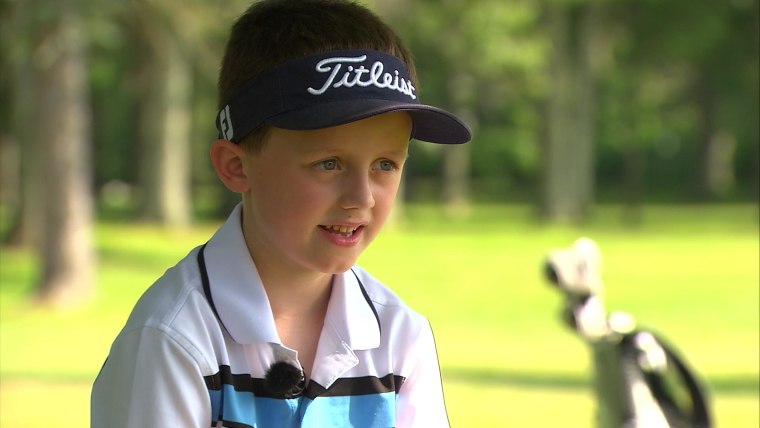 They've promised to finish what Ryan starts if he falls short. And Ryan's grandfather, who himself fought prostate cancer, will caddy for him.
What started as a modest goal of raising $2,500 has boomed to nearly $15,000 and is climbing steadily. The money Ryan raises will go toward research at the Boston-based Dana-Farber Cancer Institute.
Ryan appears unfazed by all the attention he's gotten lately. And he is quick with an answer when asked why he hopes to spend six hours driving, chipping and putting under a warm June sun.
"Because my friend passed away, Danny Nickerson," Ryan said. "And he was a really good friend of mine."