Many find difficulty knowing the right thing to say when someone they know is diagnosed with an serious illness. Emily McDowell, a Los Angeles-based greeting card writer and designer, is changing that.
McDowell's new line of empathy cards are so popular that she's had to bring on 10 new employees to try to keep up with demand.
McDowell has hit a nerve with people who are tired of platitudes and false cheer — because her cards offer neither. Instead, they are funny, honest and many times poke fun at the platitudes people so often reach for when they are scared.
"Let me be the first to punch the next person who tells you that everything happens for a reason," reads one. It's her best seller.
Another says: "One more chemo down, let's celebrate with whatever doesn't taste disgusting."
And perhaps for McDowell, this is the most close to her heart: "I'm really sorry I haven't been in touch. I didn't know what to say."
McDowell writes from personal experience. She said many of her friends disappeared when she was diagnosed with Hodgkin's lymphoma at 24 years old.
"I was the first person in my group of friends that had been sick. The only people they know who have been sick are the grandparent of someone much older. And so I interpreted at the time, 'Oh, they don't care.' It was more just the people were so afraid and have no idea what to say."
And when people did say things, the stories often made McDowell feel worse.
"I remember someone leaving me a voicemail saying: 'Hey, you know, we had a family friend that had cancer this week. So I was thinking about you." While she says she appreciated the caller trying to relate, it didn't help.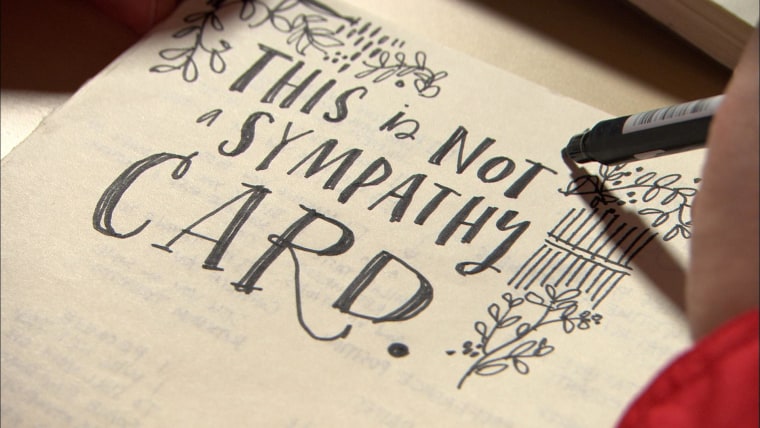 "It's not anyone's fault. It's our culture does a really bad job of preparing anyone to talk about illness or death or really hard things," McDowell said.
McDowell went into remission, put her cancer behind her and went on with her life. She rose through the ranks of the advertising world until, at age 34, she decided to quit — after her best friend, Amy, died of cancer. That was a pivotal moment in her life. She decided to go freelance and find out if she could write greeting cards.
Two years ago, she wrote a Valentine and posted it on her online Etsy store. That card went viral, and her business was born.
McDowell always knew she wanted to do empathy cards, but she first wanted to establish her brand.
Using Instagram, she tested ideas on her followers. Those ideas are now in cards and gifts in 1,500 stores. Last year she won the Rising Star Award at the 26th Annual International Greeting Card Awards.
With her brand established, McDowell felt the time was right to try empathy cards. Again, she turned to Instagram. She posted a process sketch for one of the cards. It got more response than anything she had ever posted.
With her line ready to go, she reached out to Brené Brown, a best-selling author, research professor and fan of McDowell's work. On her "Ordinary Courage" blog, Brown wrote about some of McDowell's cards in early May.
Soon, Emily was hearing from reporters all over the world. In one week, sales of the empathy cards generated as much money as her studio made in six months last year.
Emily's own blog is filled with more than 600 comments from people thanking her for being honest about serious illness and loss. The words and the phrases are so powerful that people are now asking Emily to make specific cards for dealing with hurdles like Cystic Fibrosis, Alzheimer's and even miscarriages.
"I'm getting so much feedback from people that these are actually making a difference in their lives. And that is incredibly humbling and incredibly emotional for me," McDowell said.
She's honored that she has found a way to help people during trying times. "This is a way for us to relate and laugh about it and talk about it. And I think that's really wonderful. It's really cool."