A 7-year-old Lester Holt fan whose local news interview went viral got to meet the "NBC Nightly News" anchor Tuesday at NBC News headquarters in New York City.
"I didn't really see you on TV that much," Jaden — whose last name his mom asked NBC News not to use — told Drew Carney, a reporter for NBC station KGW in Portland, Oregon, as he passed through Portland International Airport this month. "Lester Holt? Usually you see him more on the news than you."
Jaden quickly became an internet sensation, and the video made it all the way back to Holt, who invited the first-grader and his family to 30 Rock for a tour of the "Nightly News" newsroom and studio.
After Holt introduced Jaden to the newsroom and several "Nightly" producers, they headed to his office to take a musical break. Holt — a skilled bassist who'd heard that Jaden played the violin — asked the young man to bring his instrument along, and they played together.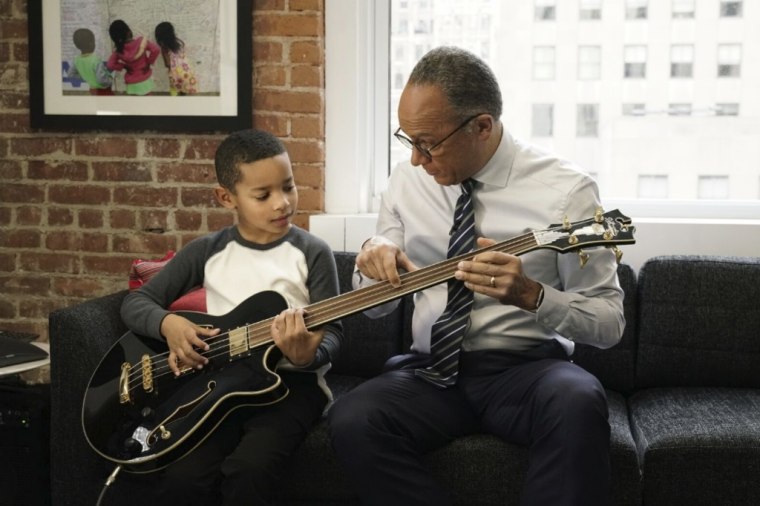 They made their way down to the "Nightly" studio and the desk that Jaden knows well as he watches the news with his grandmother, a loyal viewer.
"Every day, he would watch the news and see Lester and say, 'Looks like me, looks like me, looks like me,'" Jaden's mother said.
He got to sit in Holt's chair at the anchor desk, take photos with family and friends and record his own opening to "Nightly News."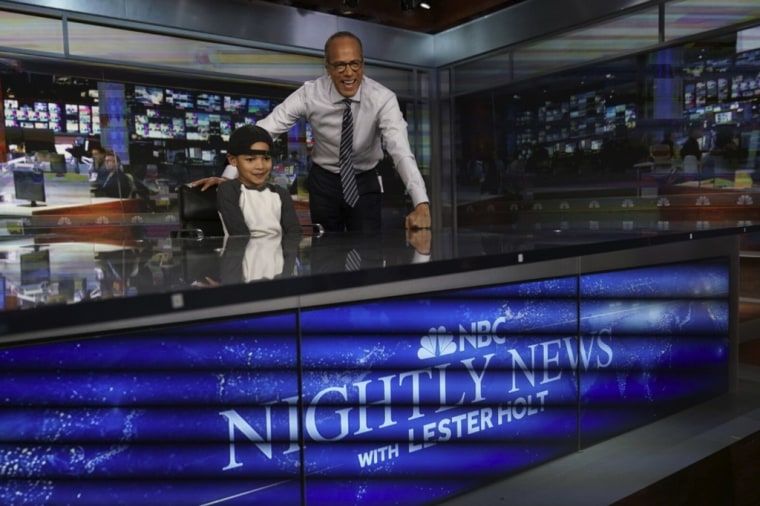 "From NBC world headquarters in New York, this is 'NBC Nightly News' with Jaden," he recited with a big smile.
https://twitter.com/LesterHoltNBC/status/834149313886445569
His entire family, who flew from Portland on a planned family trip, witnessed the special moment.
His mother shared that although the family lives in an accepting town, Jaden doesn't know that many people of color.
"He has these two role models he can look at and say ... 'We may not be the traditional family, but look at Lester Holt, look at Barack Obama, look at their positions of strength — I can do that,'" his mother told Holt. "Thank you for being that person for him."