Even before candidates were decided in the 2016 presidential election, Democrats started with a major advantage — thanks to changes in the Electoral College — over presumptive Republican nominee Donald Trump.
The presidential election is not really a national election, but one determined by a handful of key states that sit on the political fence between either party. These states are perennial battlegrounds, but the front line has shifted in Democrats' favor in recent years.
Eighteen states and the District of Columbia have voted Democratic every presidential election cycle since 1992, accounting for 242 electoral votes. Those states alone — often dubbed the "Blue Wall" — put the Democrats only 28 electoral votes away from the 270 they need to win.
That gives Democrats plenty of room for error, as there are several avenues for the party's nominee to get those extra 28 electoral votes — including some that avoid the always treacherous swing states of Ohio and Florida.
Republicans, on the other hand, have consistently won only 13 states over that same period, for a tally of 102 electoral votes. Trump needs to win both Florida and Ohio, or he needs flip long-held Democratic states like Pennsylvania.
Obama won Florida and Ohio, but he also flipped states with growing minority populations like Colorado and Nevada into the Democrats' column two elections in a row. That gave him a cushion. In 2012, four states were decided by less than 5 percent of the popular vote: Florida, Ohio, Virginia, and North Carolina.
Hillary Clinton could lose all four of those states and still win, as long as she held the rest of Obama's map.
Related: In Clintonland, It's DEFCON 1 for Donald Trump
Demographically, not much has changed since 2012. If anything, the country has become more diverse. Four years ago, 28 percent of the electorate was non-white. This year, Census data suggests that group is likely to make up 30 percent.
"We basically have a Florida-sized head start on them," said Mitch Stewart, the battleground states director for Obama's 2012 reelection campaign who now runs the firm 270 Strategies.
Stewart likes to think of it like the Cliff Hangers game from "The Price is Right," with a little Democratic climber working his way up the left side of the mountain and a Republican climber doing the same up the right. Except the finish line is set to the left of the peak, meaning the Republican has to climb over the top, while the Democrat only has to make it most of the way up.
Of course, Trump has defied history already, and it's possible — though there's no evidence to support it yet — that he could dramatically redraw the electoral map by winning states Republicans have not for years.
That's what Bill Clinton did in 1992, when he won states that had historically been a lock for Republicans. Obama expanded the map in 2008 by winning states thought to be safe for Republicans, like Indiana and North Carolina.
Related: Calls for Alternative Candidates Begin to Grow
Either way, Trump needs to dramatically over-perform the status quo, while Clinton has the luxury of under-performing. If anything, data suggests Trump will have a harder — not easier — time than Mitt Romney getting to 270 electoral votes.
The Cook Political Report, which analyzes elections, on Thursday released their first Electoral College projection since Trump secured the nomination.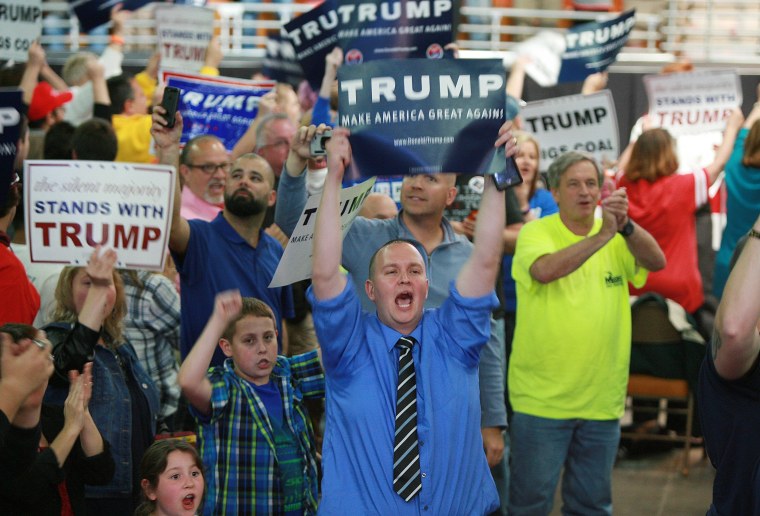 With Trump on the ticket, Cook moved 13 states in the direction of Democrats. Some "toss up" states moved in the Democratic column, while a few "solid" Republican states moved to less safe categorizations.
The new analysis puts 304 electoral votes as either solid, likely, or leaning Democratic — more than enough for a majority. And that's before you even touch the 44 electoral votes in the "toss up" category.
By contrast, Trump starts with 190 electoral votes in the solid, likely, or leaning Republican category. That means even if he won all of the GOP-friendly states and every single one of the "toss up" states, he would still be 36 electoral votes short of victory. That gap is about the size of Florida and Colorado combined.
Take Florida, for instance, which is crucial to Trump's path to victory. Close to 20 percent general election voters in the state are Hispanic, and Romney won about 40 percent of them while falling just short of winning the state.
Related: For Some Republicans, President Trump Is Real Possibility
Trump, on the other hand, is viewed unfavorably by 84 percent Latino Floridians, according to Latino Decisions. That number is even higher in Colorado and Nevada, two other swing states with large Hispanic populations.
Trump's unpopularity with people of color has Democrats fantasizing about picking up states like Arizona and Georgia, whose populations have grown more diverse, but were not expected to be in play politically for many years to come.
Winning Arizona may be overly optimistic, but the map allows Democrats to dream about wish-list items while Republicans need to focus on making ends meet.