When Bill Clinton took the podium to accept the Democratic Presidential nomination on July 16, 1992, he was a fresh-faced centrist introducing himself to the nation.
This week, it will be Clinton's wife accepting the nomination as one of the most famous and infamous people in the world, still at the center of a party that has changed dramatically in the intervening 25 years.
When she looks out at the thousands of loyal Democrats gathered in Philadelphia, she will see a party that has reconsidered key parts of her husband's legacy and adopted policies he once would have thought radical, reflecting a country and electorate far different than one he captivated more than a generation ago.
But Hillary Clinton has adapted, sometimes awkwardly and often hesitantly, rightfully earning the chance to make her own history as the country's first woman president.
It's the latest chapter in the Clintons' four decades in public life that has included historical ups and downs, from record economic growth to impeachment.
Related: DNC Chief Debbie Wasserman Schultz Stepping Aside After Convention
It was Hillary whom the world noticed first. Her commencement speech at Wellesley College in which she criticized the guest of honor, a sitting senator, made her a poster child of 1960s activism with a cover appearance on Life Magazine.
But after meeting Bill at Yale Law School, where he wooed her by bragging about the size of watermelons grown in Arkansas, her career took a backseat. He convinced her to move to Little Rock so he could pursue his political ambitions, foreclosing untold possibilities for her in a larger city.
"We were married a very long time when she was always, in effect, deferring to my political career," Bill Clinton said last year. "I told her when she got elected to the Senate from New York that she'd given me 26 years, and so I intended to give her 26 years."
But she believed in him. When a friend dismissed as absurd her suggestion that Bill would be president of the United States one day, she silently got out the car and slammed the door shut, according to Carl Bernstein's biography.
Bill went on to be elected attorney general of Arkansas, then governor, then lose the job, then get re-elected -- and his wife supported him throughout, while working at a prominent law firm in Little Rock.
Her desire to support her husband's career was sometimes in conflict with her personal ambitions and feminism, like when Bill's political opponents criticized the fact that his wife had not taken his last name. Finally, under pressure, she did.
Throughout his time in office, Bill Clinton's wife was more than a first lady. She held senior roles on education in Arkansas and then health care in the White House.
The prominence made her a lightning rod for political rivals, who launched a continuous succession of investigations, subpoenas, depositions and smear campaigns against her.
There were endless "-gates" during the Clinton White House, many of which revolved around Hillary — cattle futures, billing records, the travel office, Vince Foster, and Whitewater. They eventually culminated in the defining lowlight of the administration, the Monica Lewinsky scandal and impeachment.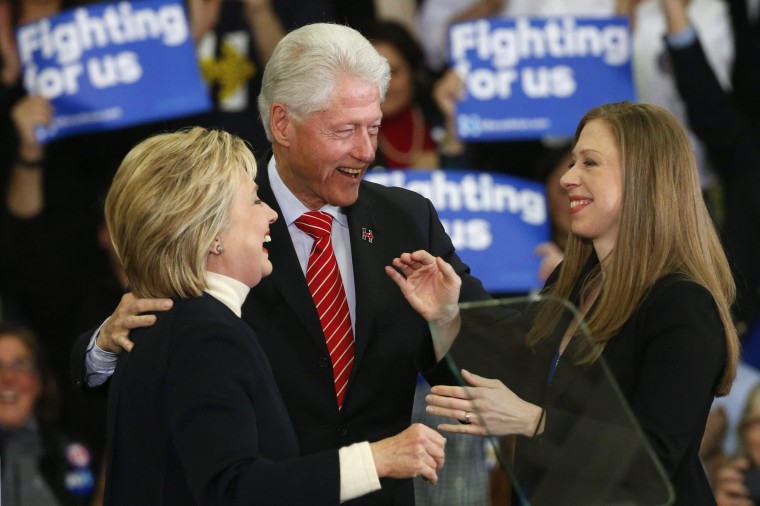 But Hillary Clinton has often been her most popular when under the heaviest assault. Her approval rating peaked in December of 1998, at the height of the Lewinsky scandal. And her 11-hour testimony before the House Benghazi Committee last year stands out as a centerpiece of her second presidential campaign.
Now, it's Bill Clinton who has faded a bit into his wife's shadow. Though he will speak at the convention, he's been off the campaign trail lately, following a series of embarrassing comments.
After Clinton chose Virginia Sen. Tim Kaine for the vice presidential slot, aides were at first unsure if Hillary had immediately informed her husband.
In 1992, Democrats hadn't held the White House since voters threw Jimmy Carter out more than a decade earlier.
Bill Clinton had emerged from a crowded primary field to take on incumbent President George H.W. Bush with a message of change and hard tact to the ideological center.
"Our people are pleading for change, but government is in the way," he said during his acceptance speech to the Democratic National Convention in New York City.
On Thursday in Philadelphia, Hillary Clinton will preach continuity and embrace the ascendant liberal wing of the party her husband famously turned his back on.
Where she will likely talk about police reform, he husband charged Bush with not doing enough for "the people on the front line to wage that war on drugs and crime. But I will."
While she will call for expanding Social Security, her husband called for a government of "less entitlement."
While she will demand new financial reforms, her husband didn't utter the words "Wall Street" once, but did insist government let the "vital system of free enterprise" prosper.
While Clinton will call herself a "progressive who likes to get things done," her husband said "the choice we offer is not conservative or liberal."
And while Clinton will likely devote time to gun control and restate her pledge to introduce comprehensive immigration reform, Bill Clinton's speech mentioned neither. Nor did he discuss climate change, gay rights, free trade, the minimum wage, paid family leave, labor unions, or a host of other issues important to progressives today.
Still, when reporters ask voters why they want to see Hillary in the White House, Bill is often one of first things they mention.