SALEM, Virginia — Marco Rubio again unleashed an array of sharp attacks on Republican frontrunner Donald Trump, jabbing at his "small hands" and "spray tan."
In response to the property mogul calling him "little Rubio," Rubio conceded that Trump was taller than him. However, the Florida senator suggested Trump had small hands for his height.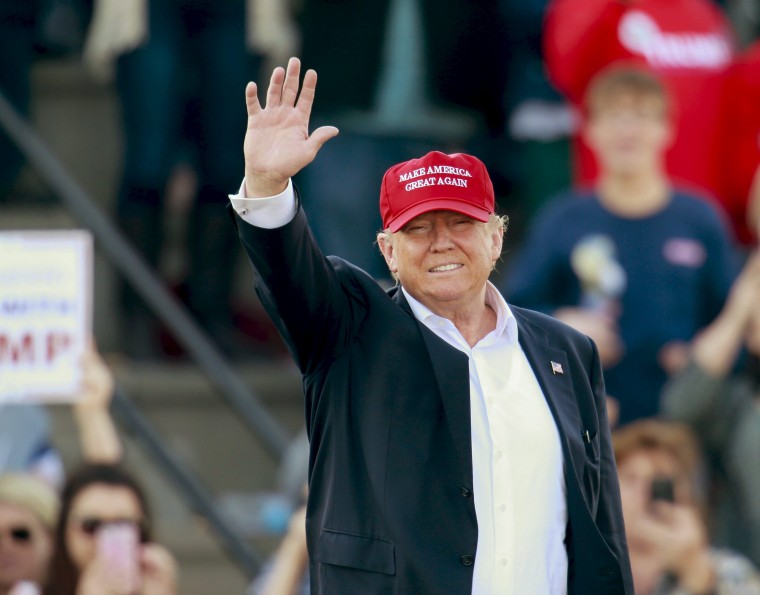 "And you know what they say about guys with small hands," Rubio said with a smile, prompting stunned laughter from the crowd.
After a brief pause he added: "You can't trust 'em!" The crowd responded with applause.
Rubio also targeted Trump's notorious tan, saying he "doesn't sweat because his pores are clogged from the spray tan."
"Donald Trump isn't gonna make America great, he's gonna make America orange," he said.
The remarks came at an energetic rally at a university in Salem, Virginia, where the young crowd screamed and cheered at every attack line Rubio landed. It was a notable shift in tone from earlier in the day, when Rubio largely laid off the personal attacks on Trump in favor of a focus on his failed business deals and lack of policy proposals.
But overall, it was a continuation of Rubio's new strategy of aggressive offense against the GOP frontrunner, which he launched the day before the debate at a spirited rally in Texas and continued to escalate over the past week.
Rubio has called Trump a "con man" seeking to perpetrate "the biggest scam in American political history" on American voters, and attacked him for his failed businesses, allegedly fraudulent real-estate courses and his lack of policy proposals. On Sunday, he also slammed Trump as "unelectable" because he avoided repudiating the KKK.
The most piercing attacks, however, have aimed at Trump's appearance and temperament. Rubio's repeatedly mocked Trump's tan, telling voters Saturday "he should sue whoever did that to his face." And the day after the debate, Rubio told a crowd in Dallas that Trump was having a "meltdown" during the debate breaks and asked for a full-length mirror, perhaps to check if his "pants were wet."
Some of those attacks seem to have hit their mark, and in recent days Trump has unleashed his own volley in response, suggesting Rubio puts his makeup on "with a trowel," that he's a "lightweight" and a "choker" and calling him "little Marco," prompting Rubio's response on Sunday.
It's part of an effort by Rubio to position himself as the anti-Trump candidate in the GOP field, in hopes of consolidating the majority of Republican voters that national polling has shown oppose Trump as the GOP nominee. And the energetic crowds he saw as he campaigned across the South on Saturday and Sunday cheering at every Trump knock seemed to suggest Rubio was making some progress in that effort.
Ken Hawley, a small businessman from Roanoke, Virginia who attended Rubio's rally Sunday, said while the attacks on Trump "probably should've been done sooner," he felt like it was resonating.
"I hate it had to go that route [of attacking Trump], but I guess evidently he had to stand up for what's right, so I'm for it," he said.
But it's also a gamble, as it risks undermining Rubio's claim as the positive, optimistic, and above all, most presidential candidate in the race.
Indeed, some in the crowd for his Sunday night comments, which not-so-slyly hinted at questioning Trump's manhood, said he may have gone too far. Anne Hoge, a retired teacher from Salem, said she had been trying to decide between Rubio and Trump before voting Tuesday and his remarks turned her off.
"I think he spent too much time on Donald Trump, talking about him, and he made some rude comments — so I think I'm less impressed than I was," she said.
"I expected more of him."