For hungry Hillary Clinton staffers, the meal of choice is something that doesn't cost a lot of dough — pizza.
Pizza accounted for 66.2 percent of the Clinton campaign's fast food spending in the third quarter, according to an analysis of Federal Election Commission filings from news site Vocativ.
Read the original story at Vocativ
The campaign spent more than $4,100 at various pizzerias from July through September — a hefty chunk of the more than $6,000 spent overall on fast food in Q3.
Staffers also turned to subs (which made up 21.1 percent of Q3 spending on fast food) and doughnuts (11.2 percent). Bagels comprised 1.5 percent of the cost of grub.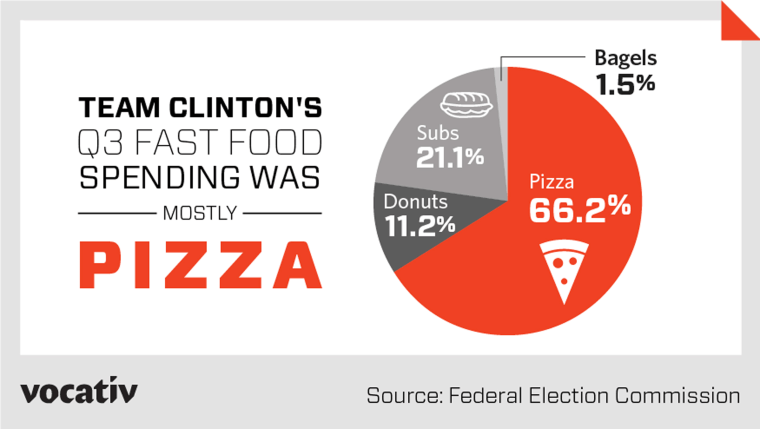 The biggest fast food meal ticket during the quarter? A $1,251.26 bill at Need Pizza in Cedar Rapids, Iowa, on July 17, Vocativ found.
Related: Poll: Clinton Ties Carson in '16 Matchup, but Tops Other GOP Candidates
Clinton raised more than any other 2016 in the third quarter, according to Bloomberg — nearly $30 million.
That's a lot of pizzas.