Want to know what the NBC News Embeds saw? Follow their daily journey to the inside of the 2016 presidential campaign here:
MEMPHIS, Tenn. -- "President Clinton, you were not the first black president," Tennessee Rep. Steve Cohen said while introducing Bill Clinton here on Thursday.
"It's true!" the visibly amused former president said to laughs and applause.
"But," Cohen, who is white, added, "he was a heck of a stand in, wasn't he?"
While a lighthearted moment on the trail, it played into the change in focus seen on the road by both candidates as they court African-American voters, which make up a larger share of the electorate than Iowa, New Hampshire, and Nevada.
Dr. Robert J. Smith and Dorothy Jean Smith came to see President Clinton as he visited their hometown.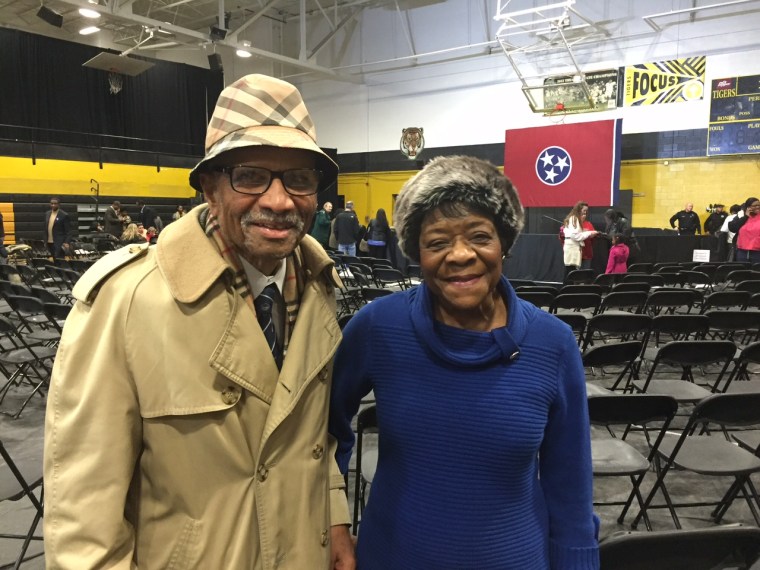 Smith, an African-American surgeon who is "over 80," but not fully retired, says he worked to register black voters with Clinton's last gubernatorial campaign.
"The whites in Jefferson County didn't support him because he was really liberal," Smith said. He added that he thinks Hillary Clinton is more liberal than the former president, and he likes that.
Dorothy, his wife, agreed and said the former president was helping his wife.
"He's going to help her a lot and I think they're going to get a lot of support from black voters, just as they did in Arkansas," she said.
This couple wasn't alone, and that highlights the advantage Hillary Clinton has as she fights for her party's nomination.
There is a love for the Clintons among black voters-- and although it's not insurmountable, it is a challenge for the senator competing against them, Bernie Sanders.