Quinn Mitchell has asked Joe Biden about Donald Trump's impeachment, Chris Christie about his past decision to stand by Trump, and Amy Klobuchar about the Mueller investigation. But no question the New Hampshire 15-year-old has asked has generated a response quite like his query to Ron DeSantis earlier this year.
Mitchell, a high school student and aspiring journalist, has made a hobby of attending presidential campaign events in politics-crazed New Hampshire, going to more than 85 events and meeting more than 35 White House hopefuls in the past two elections. That's what brought him to a DeSantis event in Hollis on June 27, where he asked the Florida governor a question on a lot of people's minds.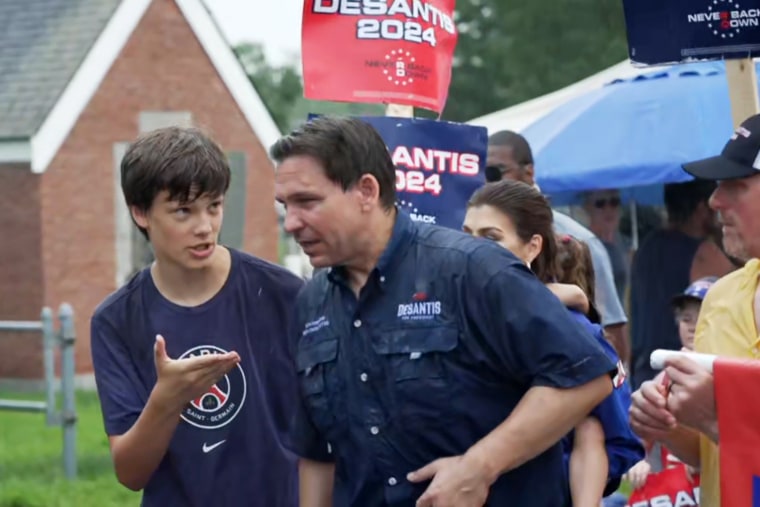 "Do you believe that Trump violated the peaceful transfer of power — a key principle of American democracy that we must uphold?" Mitchell asked.
DeSantis, after asking Mitchell for his biographical details, turned to what has become a customary answer on the campaign trail: If the 2024 election focuses on events from three years ago, Biden will win re-election, but if Republicans instead focus on the future, then they will take back the White House in 2024. But DeSantis' decision not to answer Mitchell's question directly generated headlines, and a week later, when Mitchell saw DeSantis was set to attend a Fourth of July parade in Merrimack, he hoped to follow up with the governor. 
"I've always been so interested in politics, because I've always loved history," Mitchell said about his interest in viewing presidential campaigns up close. "When I learned this history was being made in my backyard, I knew I wanted to play a part in it and ask these questions." 
Mitchell said he wanted to re-engage with DeSantis because he felt bad about the way his previous question made news the previous week.
"I actually wanted to apologize to him, too. I wasn't going up wondering why he was a coward for not answering the question," Mitchell told NBC News in an interview Friday, adding that he genuinely wanted to hear more from DeSantis and worried that he had caused the governor trouble by drawing national attention to his question.
But at the parade, Mitchell said he was met with hostility from DeSantis representatives, in an encounter first reported by the Daily Beast.
The super PAC supporting DeSantis, Never Back Down, had staffed the governor's appearance at the march that day, helping to direct the DeSantis family along the route. 
"The first few times I got close to him, I was, like, kind of bodied away by his staffers and I was just like wow," Mitchell said. "Maybe he has some rogue staffers who are rude."
Later that afternoon, he managed to meet DeSantis along the rainy parade route, shaking the governor's hand as he marched by with his family. DeSantis, while keeping up with the parade's momentum, listened to Mitchell, he said, as he offered the governor an apology for spurring national attention to his question the week before. 
Suddenly, Mitchell said, he felt a pull on the back of his shirt, which NBC News did not capture on camera. He fell behind the governor's pace deeper into the gaggle of marchers and paradegoers, prompting DeSantis to look back and try to finish his brief conversation with Mitchell from a distance while continuing his march forward. NBC News footage of the encounter shows a man wearing a PAC-branded "DeSantis 2024" hat step between Florida's first family and Mitchell, gesturing to the sidelines of the march and blocking Mitchell from moving forward as DeSantis kept walking.  
DeSantis made one final comment to Mitchell before the two were no longer within speaking distance. 
"You live in New Hampshire? Come to my next event," DeSantis said. 
According to Mitchell, DeSantis acknowledged having already met Mitchell when he introduced himself as the person who asked a question in Hollis. 
"Later on in the aftermath, I kind of realized he did know what was going on," he said. "He was watching the whole thing. I mean, he had to. It's not natural for someone to just, you know, get pulled behind and just disappear out of your view while they're talking to you."
Mitchell's mother said she also approached DeSantis later that day to express her frustration, coming to the event after Mitchell texted her from the parade route. Mitchell said he expected to receive an apology after the parade but never heard from the campaign.
The DeSantis campaign and Never Back Down did not reply to requests for comment.
Weeks later, when DeSantis made another campaign swing to New Hampshire, Mitchell attended his fourth DeSantis event in Newport on Aug. 19. Mitchell tried to say hello to the governor after the event but said he was blocked by security. He believes this was deliberate. NBC News footage shows Mitchell and other attendees being blocked from approaching DeSantis after his town hall.
The DeSantis encounters turned out a lot differently than the many other candidate events Mitchell has racked up. To prepare for the town halls he attends, where New Hampshire voters expect potential presidents to answer tough questions, Mitchell spends hours on his computer, researching candidates and watching C-SPAN. He has a Google Drive document to store the ideas he comes up with after watching interviews and speeches and listening for hypocritical comments candidates have made, or finding things they have not yet talked about publicly.
"You get to look them in the eyes, and most importantly, most of the time get to know the type of person they are, which I think people should really value when you're going to a voting booth, which I can't relate to, because I'm 15," Mitchell told NBC News. 
"This is kind of the moment New Hampshire dreams about for four years and then it comes around. So, I have got to try to take advantage of it while I still can," Mitchell said.  
When Mitchell was 11 years old, he asked Joe Biden, who was then a candidate, about Trump's impeachment proceedings; Beto O'Rourke about election interference; and Klobuchar about the details of how former special counsel Robert Mueller might speak to Congress. 
He even made it into Klobuchar's stump speech: "He's like, I'd like to know if you think Bob Mueller testifies if he should go before the House or Senate first, and should he be at the intelligence committee or judiciary. So New Hampshire!" she said during a Politics and Eggs Breakfast in New Hampshire during her campaign.
This year, in addition to DeSantis, Mitchell asked Christie — who previously supported Trump but has made his opposition a key piece of his 2024 candidacy — about whether Hillary Clinton would have been a better president than Trump. 
Mitchell has a collection of signed posters, a signed MAGA hat and a T-shirt signed by most of the presidential candidates who came through in 2019. 
As special as all the presidential attention in New Hampshire has been, Mitchell is looking forward to a midterm election to mark another milestone. He'll be able to cast a ballot for the first time in 2026.