As the field of 2024 Republican presidential candidates takes shape, some of the most prominent contenders are likely to be governors. And even though they're not running yet, what they're doing at the state level holds clues about what they see as their strengths and weaknesses heading into a potential primary.
It's a field that may include Ron DeSantis, the Florida governor who has attempted to differentiate himself from former President Donald Trump; Glenn Youngkin, the Virginia governor who flipped a blue state red in 2021 and attempted to export his crossover appeal to other GOP campaigns last year; and Kristi Noem, the conservative governor of South Dakota who's made national headlines for her outspokenness on culture war issues like bans on transgender athletes. Other sitting Republican governors mentioned as possible 2024 candidates include Texas' Greg Abbott and New Hampshire's Chris Sununu. 
"Nothing really better shows what you stand for than having an agenda, and pushing real policy in a real legislature that has a real effect on people," said Kristin Davison, a Republican strategist and Youngkin adviser.
Here is how DeSantis, Youngkin and Noem have so far positioned their state agendas this year.
Ron DeSantis maintains his culture war focus but could have surprises in store
The Florida governor has used the first weeks of his second term to lean into the culture war issues that helped raise his national profile, while still championing traditional conservative red meat like tax cuts and gun rights.
This month, the DeSantis administration blocked a proposed Advanced Placement course on African American studies from being taught in high schools, claiming the material amounted to "indoctrinating" students with a left-wing ideology.
The move was the latest censoring of classroom material deemed too progressive, including critical race theory, which DeSantis' administration banned in 2021. Last year, his budget office requested that state colleges disclose spending information on any programs related to the topic, as well as diversity, equity and inclusion efforts.
"We will never surrender to the woke mob. Florida is where woke goes to die," DeSantis said at his inaugural address earlier this month.
However, DeSantis' moves on a pair of issues that traditionally have not been strengths among conservatives — education and the environment — indicate that he sees an opening for Republicans to develop a message that cuts into Democrats' territory.
DeSantis recently announced an education plan that would boost teachers' salaries while also stripping unions of leverage in negotiating pay for educators and instituting new limits on school board terms.
The proposed legislation — which DeSantis has pitched as "teacher empowerment" — highlights attempts to make education policy a campaign strength.
"Education is a real opportunity for Republican governors who have a record on the issue to run on because it's really primarily a state and local issue, one where governors can do far more than anyone in D.C. can," said Alex Conant, a Republican strategist who worked on Florida Sen. Marco Rubio's 2016 presidential campaign. "It's also a very effective way of drawing a contrast with Democrats who have felt they've had a bit of hold on the issue for a while."
Another policy area where some Florida politics observers feel DeSantis has differentiated himself — and one he's focused on in 2023 — has been environmental protections.
"He's really gone in a different direction than he's perceived as going in with the environment," said Florida politics expert Susan MacManus, a professor emeritus of political science at the University of South Florida. MacManus pointed to a series of conservationist land purchases, clean water measures and other environmental protections, including critical climate mitigation efforts, DeSantis has enacted as governor — many in the last month.
Crucially, MacManus said, DeSantis has been able to separate the concept of climate change — he's blasted green corporate efforts and investments as "woke" — and the ideas of habitat and land protections.
"It's a semantic thing, but it's really working for him," she said. "He's not painting himself an environmentalist. ... He just has this interesting record [that] could help soften his image."
At the same time, DeSantis has pushed traditional conservative issues like gun rights (he said he wants the state to move forward in the upcoming legislative session with permitless carry legislation) and tax cuts (he's vowed to enact "record tax relief" in the 2023 legislative session).
He's also worked to position himself to the right of Trump (who already announced his 2024 presidential run) on the issue of Covid, by crafting an increasingly skeptical public profile surrounding vaccines. It's a break from his previous support for vaccine development and distribution, however, and Trump is planning to hit him on the issue.
Last month, DeSantis used a roundtable of Covid vaccine skeptics and opponents he'd convened to call on the state Supreme Court to impanel a grand jury to investigate whether pharmaceutical companies criminally misled Floridians about the side effects of vaccines.
Spokespersons for DeSantis, in his governor's office and in his campaign, declined to answer questions from NBC News.
Glenn Youngkin builds on his crossover appeal with overtures to social conservatives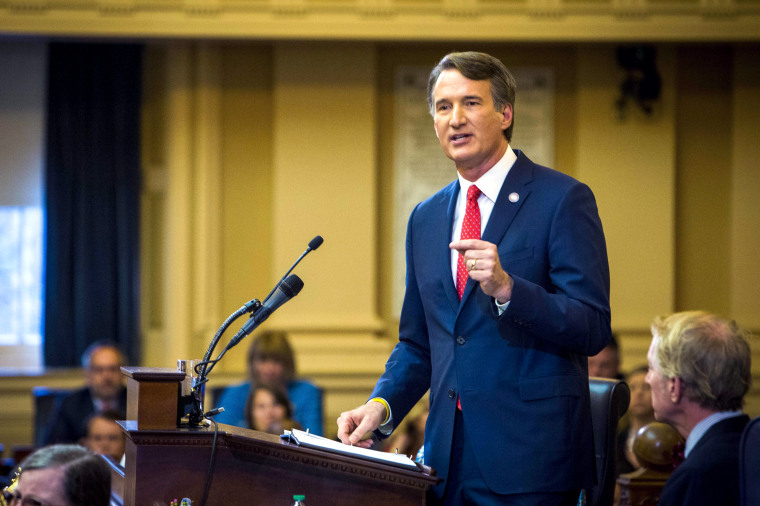 Youngkin made headlines two years ago when he flipped the governorship in Virginia — a state President Joe Biden had carried by 10 percentage points just one year earlier — by leaning into education and parents rights while also delicately distancing himself from Trump. It was a model that quickly vaulted him into chatter among politicos as a possible 2024 candidate; Youngkin crisscrossed the country last year campaigning for several Republican candidates, in swing-state governor races, who'd sought to import big elements of his strategy.
Some of Youngkin's early moves this year, however, signal that he's looking to shore up support among social conservatives and neutralize potential attack lines from opponents. 
For example, Youngkin has said a key part of his agenda this year is advancing a 15-week abortion ban in the state. (That effort, however, was defeated last week after Democrats, who'd earlier this month won a special election expanding their narrow majority in the state Senate, voted it down.)
In addition, Youngkin recently killed a proposed $3.5 billion Ford electric vehicle battery factory because of a partnership with a Chinese battery-maker. Political observers noted the move could help neutralize a possible attack line over his past business ties to China and tracks with the GOP's broader toughening posture against China. (DeSantis, Noem and other Republican governors have also recently sought to ban Chinese companies from buying assets in their states.)
Meanwhile, Youngkin has proposed a pile of legislation — including a massive tax cut, ambitious plans to overhaul the state's behavioral health system and measures to grow the state's educator and law enforcement pools — that could serve to build broad crossover appeal among conservatives, moderates and independents.
Davison, the Youngkin adviser, said the Virginia governor, unlike Noem and DeSantis, had to find common ground in his split Legislature — a fact she suggested would help broaden his appeal nationally.
"He's in a little bit of a unique position, because he is going to be able to show nationally how to get things done when you don't have [control of] both chambers. It puts him in somewhat of a unique spot, compared to the others because he does have to work with both parties," she said.
Davison, nevertheless, downplayed drawing any conclusions from Youngkin's agenda, saying that "what he's doing are all things he said he was gonna do."
"Any governor or officeholder using their position to frame a political narrative for a different run is not going to be successful," she said.
Kristi Noem paints a pro-family picture while pressing tax cuts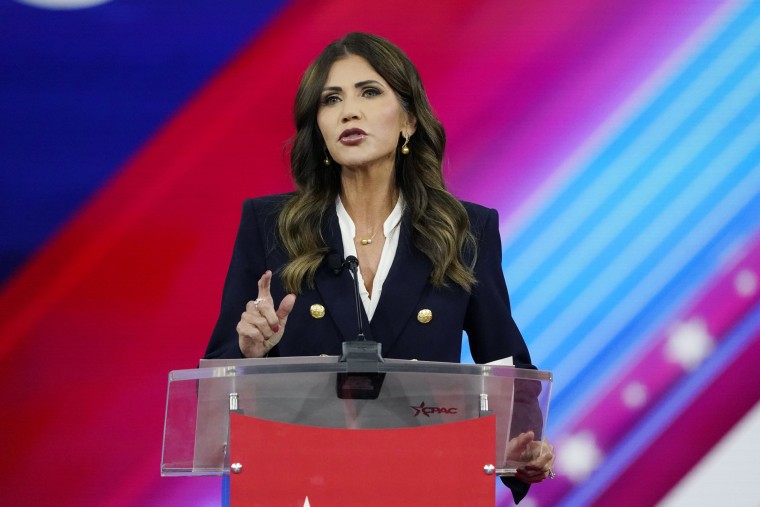 Noem, who cruised to re-election in her solidly Republican state in November, emerged as one of the first prominent conservative voices advocating for government to have a greater role in supporting mothers and families after the Supreme Court decision last year overturning Roe v. Wade.
Last week, Noem introduced a pair of bills expanding paid family leave for state employees expecting a baby via birth or adoption. (During her first term, Noem created a program offering paid family leave for state employees.) Her proposed legislation, which creates a health insurance pool for all state employees, also provides financial incentives for private businesses that offer their expecting employees paid family leave.
If enacted, the policy may allow Noem to paint herself as a social conservative who has simultaneously remained vehemently against abortion (she's a staunch defender of South Dakota's abortion ban not including exceptions for rape or incest) while also creating policies that help families forced to carry pregnancies to term.
"We are focused on taking care of moms and their babies both before birth and after birth. That has become even more important since Dobbs, and this gets to the heart of that," Noem spokesperson Ian Fury said.
Noem has also introduced legislation that would eliminate the state sales tax on groceries — a measure she's painted as the fairest way to cut taxes.
Her proposals on taxes and paid family leave mark a notable departure from many of the national headlines she made in 2022, when she drew attention for her outspoken support of transgender athlete bans in high school sports.
Meanwhile, Noem has pledged to carry out Medicaid expansion — which voters approved in a citizen-initiated ballot measure in November — even though she remains strongly opposed to doing so.
"Make no mistake, the expansion of Medicaid — as passed on the November ballot by the people of this state — is an expansion of a government program that will give free health care to a population of the state that the majority are able-bodied, single males," Noem said in her State of the State address earlier this month.
In other conservative states where Medicaid was expanded, many Republican officials were rewarded at the ballot box. The unique scenario in South Dakota, however, could allow Noem to reap any subsequent political benefits from the expansion, while simultaneously remaining staunch in her opposition to it.
Asked if walking a delicate line like that helped Noem's 2024 prospects, Fury said, "The governor views herself as a problem-solver. The governor is interested in pursuing good policy."
"That may lead to other folks putting her on a shortlist," he said.