WASHINGTON — Republicans are divided over the U.S. response to terrorist attacks in Israel, both within the ranks of their own presidential primary and when it comes to President Joe Biden's reaction.
Florida Gov. Ron DeSantis continues to hit former President Donald Trump, a rival for the 2024 Republican presidential nomination, over derogatory comments Trump made Wednesday night about Israeli Prime Minister Benjamin Netanyahu and praise for Hezbollah, a Lebanon-based group designated by the U.S. as a terrorist organization, as "very smart."
Speaking at an event in Miami, Trump said that Israel had backed out of the 2020 mission that killed Iranian Gen. Qasem Soleimani at the last minute.
"I'll never forget that Bibi Netanyahu let us down," Trump said, using Netanyahu's nickname. "That was a very terrible thing."
DeSantis and several other Republican candidates have harshly criticized Trump, the front-runner for the GOP nomination and a longtime favorite of Israel hawks, since he made the remarks. 
"To go out and just take potshots at Netanyahu, and at a time of war right now, I don't see where that's very productive," DeSantis said Friday at a town hall in New Hampshire.
"Obviously we see with the Netanyahu comments, that's all about Netanyahu ... sending a congratulation tweet to Biden in November 2020," he added. "That's why he's attacking him, because that really bothered him."
DeSantis' comments came after NBC News reported that a Trump adviser pointed to the tweet as a source of the former president's displeasure.
"He's pissed off because Bibi praised Biden and the Biden White House for being supportive," the former Trump adviser said.
The Republican infighting, coupled with pockets of GOP approval for Biden's handling of the aftermath of the terrorist attacks, suggest that the domestic political turf has shifted as a result of the unfolding situation in the Middle East. What remains to be seen is how big the change is and if it will last.
It's also not clear yet whether Trump's comments will hurt him at all in a Republican primary that he has dominated, particularly given the bonds he built with conservatives by moving the U.S. embassy in Israel to Jerusalem, negotiating the Abraham Accords peace agreements and giving full-throated support to Israel during his term as president. But Trump and his campaign have been engaged in a public cleanup operation since Wednesday night.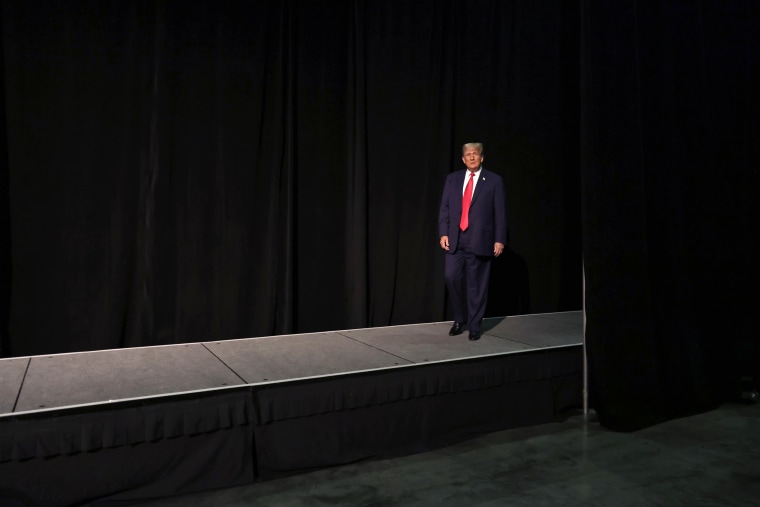 "I have always been impressed by the skill and determination of the Israeli Defence Forces," Trump wrote on the Truth Social media platform Friday. "As they defend their Nation against ruthless terrorists, I want to wish every soldier the best of luck. May you return home safely to your families, and may God bless you all!"
His campaign also released an itemized list of actions he took as president in support of Israel.
And on Friday afternoon, Trump posted a message of solidarity with Israel and Netanyahu on social media: "#IStandWithIsrael #IStandWithBibi."
Matt Brooks, executive director of the Republican Jewish Coalition, declined to offer a judgment on Trump's comments about Hezbollah and Netanyahu. But he noted that Trump will soon have an opportunity to expound on his views at the group's annual event.
"We are looking forward to hearing his remarks when he speaks to the RJC summit in Vegas in two weeks," Brooks said.
Dara Price, a Trump supporter in Cedar Rapids, Iowa, gave Trump a pass on his remarks calling Hezbollah "smart."
"It is what it is," Price said. "You have to be somewhat smart tactical about what they did. It's not like we're applauding them."
Vicki Scott, a Trump supporter in Des Moines, Iowa, was also fine with Trump criticizing Netanyahu.
"If he feels like somebody is not being honest, truthful, all the right things, he'll call him out on it. ... That's why I like him," Scott said.
Yet as Trump heads toward a possible rematch with Biden, some Republicans are praising the Democratic president's reaction to the terrorist assault. That's a change from recent history, when Republicans have been near-unanimous in their criticism of Democrats' rhetoric and policies on Israel — which they have depicted as too dovish.
"I generally thought he had the right tone, the right message," Will Rogers, a former chairman of the Polk County, Iowa, Republican Party, said of Biden's remarks this week in support of Israel's right to self-defense and counter-attack. "He made sure that people understood there's no daylight between Israel and the United States on what's going on."
Rogers added that he has taken issue with the Biden administration's treatment of Netanyahu and its handling of issues related to Israel in the past.
"But since last Saturday, I've seen the pivot by the administration, at least in terms of rhetoric and what I believe is going on behind the scenes," he said. "It's as reassured as I'm going to get."
David Friedman, who served as Trump's ambassador to Israel, took to X, the platform once known as Twitter, to show gratitude to Biden on Thursday.
"While I have been, and remain, deeply critical of the Biden Administration, the moral, tactical, diplomatic and military support that it has provided Israel over the past few days has been exceptional," Friedman said. "As one living in Jerusalem with children who are Israeli citizens, I am deeply grateful. I pray that American support continues in the difficult days ahead."
Democrats say they believe the response by Trump compared to Biden will make the choice clear to voters in November.
"It underscores that elections are choices," said Rep. Jake Auchincloss, D-Mass. "And the choice the American people may be facing next November is between an experienced, respectful foreign policy leader and someone who puts petulance and personal grievance ahead of the national interest."
Jeremy Berger, an independent voter who supports Republican candidate Nikki Haley, said in an interview in Concord, New Hampshire, that he was pleased with Biden's approach.
"I've been very impressed with Biden," Berger said, pointing specifically to the deployment of American ships and jets to the Middle East. "You know, and I don't really want to see American boots on the ground if we can avoid it. But at the same time, having Israel's back and being so strong, and being there, I think it's sending a message to the world. And I think it really helps out."
But their sentiments are not universal within the Republican Party or among voters considering Republican candidates. The GOP hopefuls have roundly blamed Biden for actions they say contributed to the attacks and shied away from any approval. In particular, they say that Biden's since-reversed decision to unfreeze $6 billion in funds in exchange for hostages allowed Tehran more freedom to fund proxies. (Administration officials have said that Iran had never accessed any of the money.)
Though a direct connection has not been established between Iran and Saturday's massacre, Tehran has long provided assistance to proxies such as Hamas.
"While he gave a great speech a couple of days ago, I think in general his response has been horrific," state Rep. Randy Fine, the only Jewish Republican in the Florida Legislature, said of Biden. "This is his fault."
Fine specifically pointed to the original release of Iranian funds and the Biden administration's calls for a proportionate response from Israel.
Though he has endorsed DeSantis in the presidential primary, Fine took the Florida governor to task for going after Trump.
"Gov. DeSantis should train his fire on the person whose fault this is, which is Joe Biden," he said. "I wouldn't hit Trump, because Trump is the most popular pro-Israel president in our history ... I would take shots at the guy whose record is abhorrent, not the guy whose record on Israel can't be assailed, which is Trump."