Sen. Tim Scott of South Carolina announced Sunday night that he is dropping out of the 2024 Republican presidential campaign, shocking a TV interviewer and even his own campaign staff with an abrupt departure from the race.
"When I go back to Iowa, it will not be as a presidential candidate. I am suspending my campaign," Scott said in an appearance on former GOP Rep. Trey Gowdy's Fox News program.
"I think the voters, who are the most remarkable people on the planet, have been really clear that they're telling me: not now," Scott continued.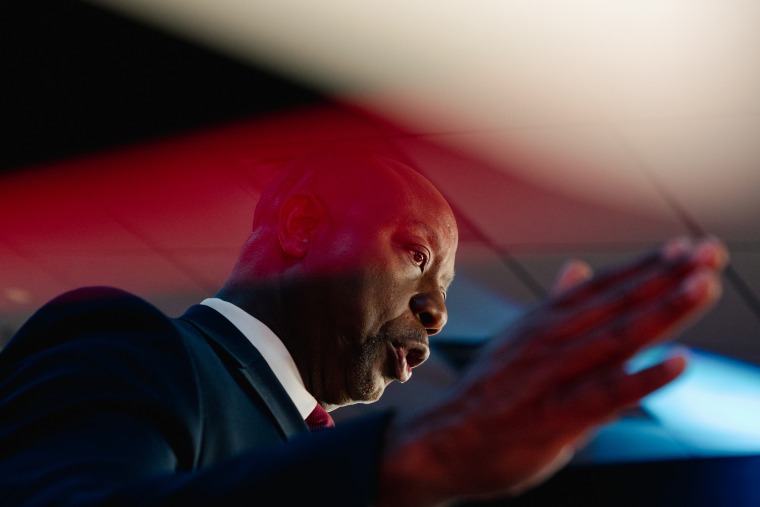 The announcement was a surprise: Gowdy, a former colleague of Scott's in the House of Representatives, appeared to do a double-take as he made his statement. Multiple Scott staffers told NBC News they got no warning he was ending the campaign, finding out only by watching him say so on TV.
Scott's campaign even sent out a fundraising email not long before he announced he was leaving the race. "We want to give you ONE LAST CHANCE to donate this weekend and help Tim reach his campaign goal. Can you chip in to help Tim win?" the campaign wrote.
His decision comes amid efforts to consolidate the GOP opposition to former President Donald Trump, who has big leads in primary polls, including in the first caucus state, Iowa. Scott took 7% support there in the October NBC News/Des Moines Register/Mediacom poll, putting him in fourth place.
Scott's dropout also comes days after the third Republican presidential debate in Miami, after which he canceled a scheduled weekend campaign swing in Iowa, citing the flu.
Scott started the 2024 campaign relatively little-known compared to some of his competitors. His campaign and an allied super PAC spent nearly $25 million on ads in Iowa and other early states promoting him as an optimistic conservative, according to AdImpact, an ad-tracking service. Scott saw an uptick in early-state polls soon through the summer.
But money started to grow tight leading up to Sunday's dropout, according to a source familiar with the campaign. Scott never caught fire in the GOP debates. And his poll numbers stagnated as an in-state rival caught attention. He is dropping out of the race just as former South Carolina Gov. Nikki Haley has pulled into second place in early-state primary polls.
Haley, who appointed Scott to the Senate in 2012, praised him on X, the social media platform. "Tim Scott is a good man of faith and an inspiration to so many. The Republican primary was made better by his participation in it. South Carolina is blessed to continue to have him as our senator," she wrote.
Last month, Scott's super PAC canceled millions of dollars in planned fall advertising, saying the Republican electorate wasn't "focused or ready for a Trump alternative."
"There comes a point when it's clear that there isn't going to be a breakthrough moment, and one was really needed given where he stood in the field," a Scott campaign staffer said. The staffer praised Scott's message and personal favorability numbers, "but they never translated into support, and that's just the reality of what it takes to win — and if you don't have a path, it's time to help consolidate to beat Trump."
While Scott's voters are now going to have to find another candidate, he indicated in the interview with Gowdy that he wasn't looking to endorse one of his former rivals at this time.
"I'm going to recommend that the voters study each candidate and their candidacies and, frankly, their past and make a decision for the future of the country," he said. "The best way for me to be helpful is to not weigh in on who they should endorse."
And Scott seemed uninterested in the idea of becoming a candidate for vice president later on in the campaign. "Vice president has never been on my to-do list for this campaign, and it's certainly not there now," he told Gowdy.
Scott is leaving the race after another well-known candidate dropped out. Former Vice President Mike Pence suspended his campaign in late October, as the Republican presidential field winnows down.
Several of Scott's former 2024 rivals reacted to the news on social media.
"Tim Scott is a strong conservative with bold ideas about how to get our country back on track. I respect his courage to run this campaign and thank him for his service to America and the U.S. Senate. I look forward to Tim continuing to be a leader in our party for years to come," Florida Gov. Ron DeSantis posted on X.
Vivek Ramaswamy praised Scott as a "good dude" before referring to an interaction the two had onstage at last week's Republican debate (and taking a dig at Haley).
"I gave @SenatorTimScott a congratulatory [gold fist bump emoji] on stage when the other South Carolinian shamelessly copied *exactly* what he said," Ramaswamy posted on X. "Wishing Tim all the best back in the U.S. Senate."