WASHINGTON — For several high-profile House committees, their first hearings were dominated by partisan food fights over the Pledge of Allegiance, guns in meetings and a celebrity's expletive-filled tweet about Donald Trump.
That's unlikely to be the case with the new select committee on China. Republicans and Democrats on the panel say it could be the one bright spot of bipartisan cooperation in a Congress brimming with partisan bickering.
"If you were looking at a word cloud about this, the biggest one would be 'serious.' I hear that from everyone. This is a serious committee, and I believe it," said one member, Rep. Mikie Sherrill, D-N.J., a former Navy helicopter pilot. 
The China committee's two leaders — Chair Mike Gallagher, R-Wis., and ranking member Raja Krishnamoorthi, D-Ill. — are setting the tone early, identifying areas where they say they expect to find bipartisan agreement on policy and legislation.
Those areas include spotlighting human rights abuses by the Chinese Communist Party, or CCP; what Gallagher calls "economic statecraft" or devising a strategy to reduce U.S. dependence on China; making investments in artificial intelligence, robotics and other new technology to compete with China; and investigating the alliance between Russian President Vladimir Putin and Chinese President Xi Jinping, especially as it relates to defending Taiwan.  
"They're engaged in a de facto alliance against the West. Putin is Xi's junior partner. He is Xi's tethered goat, and Xi is sort of using him to sow chaos in Europe," said Gallagher, a retired Marine Corps captain who served in Iraq.
"I think Republicans and Democrats are largely committed to helping Taiwan defend itself and ensuring that Taiwan's future doesn't resemble Ukraine's present."
The 24-member panel's first hearing will likely take place in early March, and Gallagher said he'd like to lead a delegation of committee members overseas in the near future, though nothing concrete has been planned.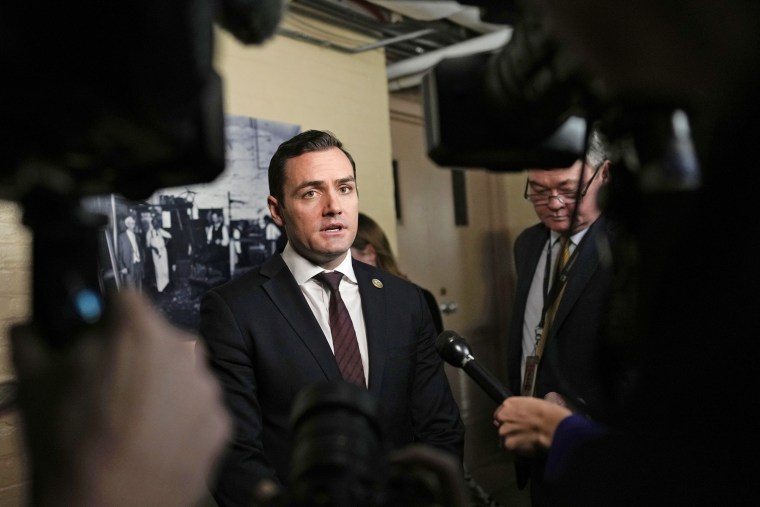 The committee was thrust into the spotlight this month, as tensions with Beijing heated up over the China surveillance balloon that hovered over the continental U.S. for several days before it was shot down by Air Force pilots on Feb. 4. The military on Friday shot down a second "high-altitude object" flying over Alaskan airspace, though the U.S. was not certain it was foreign owned.
While it won't be the focus of the China panel, Gallagher said the balloon breach "elevates — pun intended — the threat posed by the CCP" and helps illustrate why Americans should care about China.
"So obviously, I've been critical of the Biden administration's response, and I don't expect my Democratic colleagues to join in that criticism, and I wouldn't use the committee to shove it down their throats," Gallagher said of the balloon incident. "But I think our focus is always going to be on the party [CCP] and the threat the party poses." 
Two Midwesterners
Gallagher and Krishnamoorthi have had a history of working together since they both arrived in Congress in 2017. That year, the two teamed up to launch a new jobs caucus, and they have served alongside each other on the House Intelligence Committee, where they received media attention after pressing Pentagon officials on other mysterious flying objects — Unidentified Aerial Phenomena, more commonly known as UFOs.    
"Despite the fact that he's a Green Bay Packers fan and I'm a Bears fan — sworn adversaries — we actually share a lot in common in terms of our Midwest heritage," Krishnamoorthi said in a phone interview Friday. "We formed the Middle Class Jobs Caucus together in our first year in Congress. And so we've done a lot of work together in the past.
"We know each other pretty well, we get along, and I think that will help with having collaboration going forward."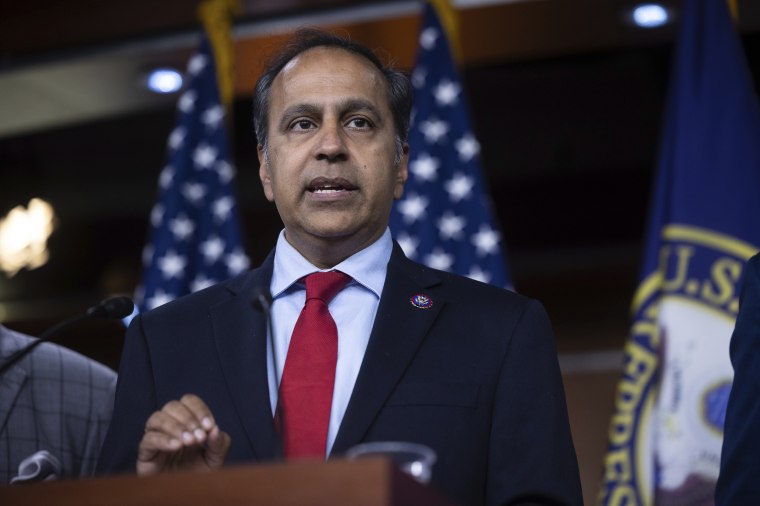 The House made a big bipartisan statement by creating the House Select Committee on Strategic Competition between the United States and the Chinese Communist Party on an overwhelming 365 to 65 vote at the beginning of this Congress; 146 Democrats voted yes.
When Democratic leaders approached Sherrill and asked if she would serve on the panel, her first question was: Is this going to be a serious committee addressing China competition or just some partisan mudslinging?
Her concerns were alleviated after Speaker Kevin McCarthy unveiled his GOP roster for the panel, which included steady hands like Reps. Rob Wittman of Virginia, Andy Barr of Kentucky, Darin LaHood of Illinois, Dusty Johnson of South Dakota and Michelle Steel of California.
Soon after, Sherrill said Gallagher approached her with a series of questions: "Who are you guys going to appoint? You guys are putting on serious people, right?"
"So it was funny because I had some concerns about them for my leadership. … He had some concerns for me, and then I assured him that that was our intention," she said.
Sherrill participated with Gallagher last year in a war-game exercise of what could happen if China attacks Taiwan. The two later joined a panel discussion about the exercise on NBC's "Meet the Press."
Others also applauded McCarthy's and Democratic Leader Hakeem Jeffries' picks for the panel. Among the Democrats selected were Reps. Kathy Castor of Florida, Andre Carson of Indiana, Ro Khanna of California and Haley Stevens of Michigan.
"I'm pleasantly surprised how the committee has been populated with thoughtful, substantive, serious members that take the issue of China and their malign activities in a serious way," said LaHood, who serves with Gallagher, Krishnamoorthi and Carson on the Intelligence panel.
"I look at this committee as not a Republican or Democrat issue, but an American issue," LaHood added. "And I think that's reflected by the folks that are on there."
A new Cold War?
It hasn't been all smooth sailing for the panel. Rep. Andy Kim, D-N.J., a former State Department official in Afghanistan who also served on the national security team in the Obama White House, is calling out Republicans who have portrayed war with China as inevitable. And he singled out Gallagher by name for writing that the U.S. needs to "win the new Cold War" against China.    
"If Chair Gallagher keeps talking about this as a 'new Cold War,' that is not helpful. When I hear people on the other side of the aisle refer to China as the enemy, that is not going to be helpful in the long run," Kim told NBC News. "There's a fine line between deterrence and provocation, and you are crossing over that in a way that is only going to inflame and create greater escalatory challenges."
Kim continued, "If you're going to signal to the American people that we're at war, that's a problem. And that's something that I think is unnecessarily provocative; it's also just false."
Rather than get defensive, Gallagher said he would try to sit down with Kim and have a conversation to address his colleague's concerns.
"If nothing else," Gallagher said, "a cold war paradigm reminds us that we should endeavor to make sure it stays cold and doesn't turn hot and that our core function is deterrence and preventing hot war."