They rarely agree on much, but health care experts on the left, right and center of the political spectrum have found consensus on the House GOP's Obamacare replacement: It won't work.
While their objections vary depending on their ideological goals, the newly introduced American Health Care Act (AHCA) is facing an unrelenting wave of criticism. Some experts warn that the bill is flawed in ways that could unravel the individual insurance market.
The bill, experts said, falls far short of the goals President Donald Trump laid out: Affordable coverage for everyone; lower deductibles and health care costs; better care; and zero cuts to Medicaid. Instead, the bill is almost certain to reduce overall coverage, result in deductibles increasing, and will phase out Obamacare's Medicaid expansion.
Several health care policy wonks cautioned that they're waiting to see a report by the Congressional Budget Office, which is analyzing the bill to determine how many people would gain or lose coverage and how much it would cost. But here are the main objections.
Fewer people will be insured
Let's start with the primary objection from the center and left: It's very likely people will lose insurance coverage if the GOP plan became law, taking full effect in 2020. Possibly a lot of people.
Like any health care bill, including the current system, there are winners and losers within this shift. In general, younger and higher-income people looking for insurance on the individual market are poised to gain. Older, sicker and lower-income patients are the bigger losers.
For one, tax credits to help people buy health insurance in the individual market are less generous than the Affordable Care Act for some of the most vulnerable Americans. Under the ACA, these credits are based on a person's income and pegged to the cost of plans where the individual lives. Under the House bill, they are based on age and fixed. The bill also removes ACA subsidies that allows some lower-income customers to pay fewer out-of-pocket costs through their plan.
On the other hand, the House's tax credits are accessible at higher incomes than the ACA's: In the House bill, it's up $75,000 for an individual and $150,000 for a family. In the ACA, it's 400% of the federal poverty level, which is $47,520 for an individual and varies based on family size.
If you're a 40-year-old making $50,000 you might benefit from the House plan. Under Obamacare, you get nothing to help pay your premium, but you would get $3,000 under the House bill.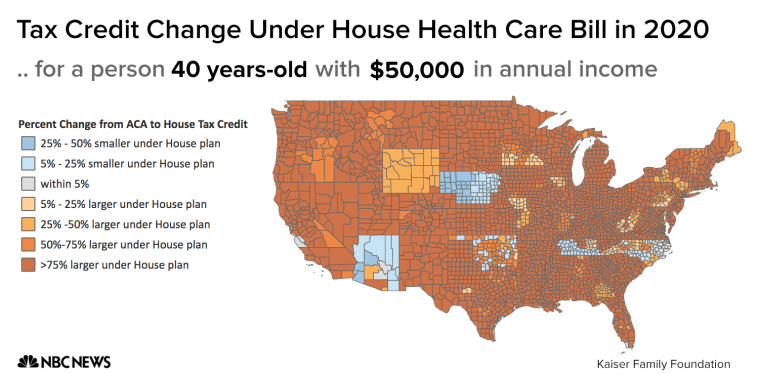 And if you're wealthy, you're in luck.
The House bill uses the savings from spending less on health coverage to eliminate taxes that pay for Obamacare: About $600 billion over the next 10 years, according to the Committee for a Responsible Federal Budget. Close to half of that revenue comes from surtaxes on high-income Americans. They're also more likely to benefit from an increased tax deduction on health savings accounts.
"The repeal bill will transfer money from low-income and middle-class Americans to millionaires," the liberal Center for American Progress put it in an analysis by Topher Spiro and Harry Stein.
Related: Republican unveil repeal plan
But most people in the individual insurance market are on the lower end of the income range: 81% received some subsidies in the most recent enrollment period, according to the Centers for Medicare & Medicaid Services. And a lot of them would see major increases in their effective premium costs.
"The flat credit will price many poor and vulnerable people out of the health insurance market," Avik Roy, a Republican health adviser, wrote in a scathing review of the House GOP plan.
If you're an older enrollee under the House bill, you get more generous benefits than a younger enrollee: up to $4,000. But costs are going up too. Under Obamacare, insurers can only charge older customers up to 3 times as much as younger ones. But under the House bill, they can charge up to five times as much.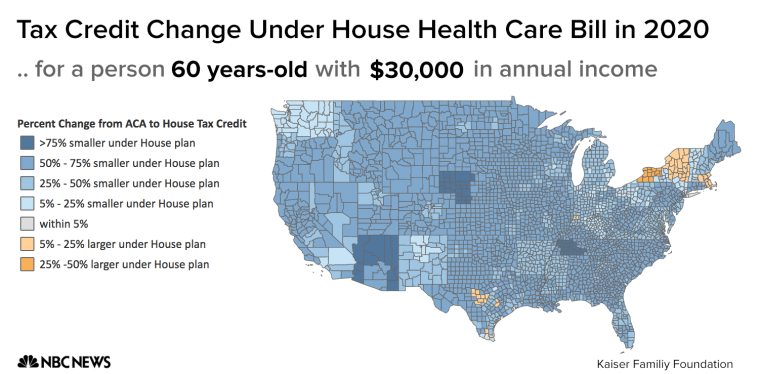 Geography is another problem. The House GOP bill's tax credits are the same everywhere, but premium costs vary wildly depending on where you live. In Alaska, the most expensive state, the gap would become massive: According to the Kaiser Family Foundation, 60 year olds in some counties are now eligible for over $25,000 in subsidies annually, far more than the $4,000 offered under the House bill.
"Some parts of the country will see very large financial hits even if they retain coverage," Matthew Fiedler, a fellow at the Center for Health Policy at Brookings, told NBC News.
Perhaps most importantly, the bill radically reforms Medicaid and phases out the ACA's expansion of the program by 2020, which covered over 11 million people, according to the Kaiser, while grandfathering in some existing recipients. The Republican plan would transform Medicaid so that the government would pay states a fixed amount for each person enrolled rather than an open-ended commitment. These changes could potentially force states to offer less far-reaching programs over time.
Put it together and Fiedler believes 15 million or more could potentially lose coverage. On Tuesday, S&P Global Ratings estimated 6 to 10 million people would lose health coverage once the full House proposal went into effect.
It doesn't go after high costs
Republicans have long argued that the goal of a replacement should be to reduce the cost of insurance and health care procedures rather than simply hand money over to individuals to buy it.
But experts complain that the GOP plan leaves out the most prominent proposals (especially among conservatives) that might drive costs down. And some of its features could potentially drive prices higher.
One big missing piece is that the bill does not eliminate Obamacare's "Essential Health Benefits," a list of 10 broad categories, like mental health or maternity care, that insurance plans were required to cover.
Proponents of the benefits argue they're needed to keep insurers from cherry picking healthy customers into cheaper low-benefit plans. Critics complain they raise premiums by giving insurers less flexibility to design plans and forcing consumers to buy more comprehensive plans than they need.
The earlier leaked draft of the House GOP plan would have left it to states to decide, but the bill that was introduced left out that provision. This is for procedural reasons: House Republicans concluded that the regulations can't be changed via the budget reconciliation process they are using to pass their health care bill.
Related: GOP rank-and-file oppose party's House plan
The House GOP bill also balked at an earlier plan to reduce the tax deduction businesses get for providing health care. It was a politically perilous idea, but many policy experts supported the proposal, saying it would help drive down health-care costs and raise wages by reducing the incentive to offer more generous plans.
"This bill misses the mark primarily because it fails to correct the features of Obamacare that drove up health care costs," Edmund F. Haislmaier, an expert at the conservative Heritage Foundation who advised Trump's transition team, wrote on Tuesday.
The plan also leaves out Trump's proposal, backed by many on the left, to empower Medicare to negotiate lower drug prices. The president tweeted on Tuesday he plans to address it in a future bill.
And there's serious concern about the House GOP plan to replace Obamacare's penalty for not purchasing insurance with a one-year 30% markup on premiums for people whose coverage lapses. Some experts are worried that's too weak to attract younger people with low premiums, and will drive up premiums as a result.
"It's not enough of a penalty for healthy people and sick people will have no choice but to pay it," Aaron Carroll, a professor at Indiana University School of Medicine, told NBC News. "It will create adverse selection."
It's too much like Obamacare
On the right, there's a more specific concern. The plan still retains the basic structure of the ACA, even as its benefits are less generous: Federal dollars to buy insurance, regulations on what that insurance provides, and a requirement that insurers take on customers with pre-existing conditions. Some have labeled it "Obamacare-lite" or "Obamacare 2.0."
"House Republican leaders sent a signal loud and clear: liberalism has already won," Phil Klein, a conservative commentator at the Washington Examiner, wrote.
While moderate Republicans and liberals fret that the Medicaid changes will leave people in the cold, conservatives worry that the bill will encourage states to sign up as many new participants as possible before the expansion ends, who then will be grandfathered in afterwards. It also punts its changes to the ACA's tax credits to 2020, when the political environment will be anyone's guess and there could be opportunities to delay or cancel the reforms.
Given these constraints, many conservative groups are urging Republicans to repeal Obamacare entirely before tackling a replacement in order to avoid entrenching a framework that Democrats could build back up in the future.
But that would create plenty of its own pitfalls: The CBO found a previous House bill to repeal Obamacare would have resulted in 18 million people losing coverage in the first year. For now, Republicans seem trapped behind a plan that worries conservatives and moderates while exciting neither and drawing opprobrium from experts of all stripes.