WASHINGTON — President Biden signed the government funding bill on Thursday, hours after congressional lawmakers rushed to pass the measure before the shutdown deadline.
The House and Senate passed a stopgap government funding measure earlier on Thursday before the midnight cutoff.
The House voted 254-175 to advance the measure. Just hours earlier, the Senate voted 65-35 — a display of bipartisanship in both chambers.
"We are very, very proud of this legislation," House Speaker Nancy Pelosi, D-Calif. said. "It's just a remarkable thing to think of all the things that we can do working together for the people."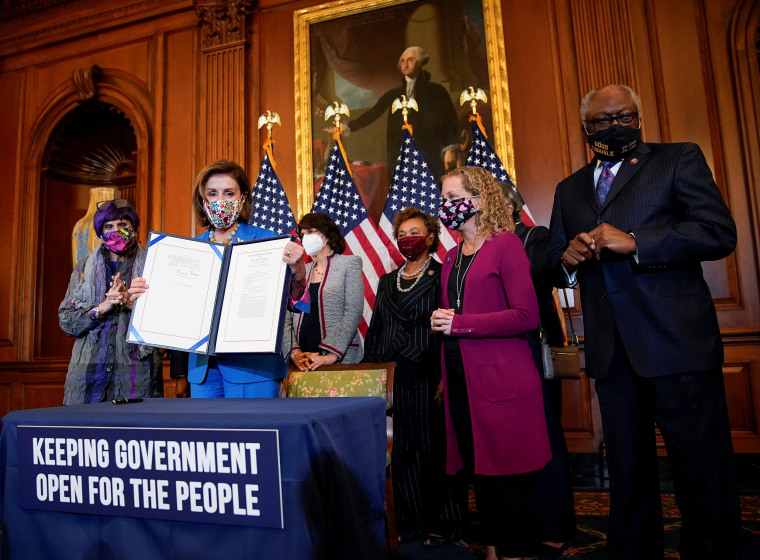 Earlier in the day, Senate Majority Leader Chuck Schumer, D-N.Y., called the Senate vote a "glimmer of hope."
"For this moment, this is one of the biggest problems that has faced us in the last while, making sure the government stays open, and now we can be sure it will," Schumer said on the floor before the final vote.
Earlier in the week, the Senate blocked the House version of the bill in a procedural vote because of Republican opposition to extending the debt ceiling, which for political reasons they want to force Democrats to approve on their own.
An amendment to the spending bill from Sen. Roger Marshall, R-Kan., sought to prohibit federal funds from being used to enforce Covid-19 vaccine mandates, but it failed on a 50-50 vote, with all Republicans in favor and all Democrats opposed.
Without a spending bill, the federal government faced a shutdown beginning Friday. The bill approved by Congress would keep the government open through Dec. 3.
The Treasury Department estimates that the debt limit will be hit on Oct. 18, according to a letter Secretary Janet Yellen sent to Pelosi on Tuesday.
"It is important to remember that estimates regarding how long our remaining extraordinary measures and cash may last can unpredictably shift forward or backward," Yellen wrote.
The Senate's new spending bill does not include the debt limit increase. It does include, however, money to resettle Afghan refugees and disaster aid for victims of Hurricane Ida.
Meanwhile, the House is bracing for a highly anticipated vote on an infrastructure bill that doesn't appear to have the support it needs to pass.
The holdup is the result of a standoff between Democratic moderates, who want to de-link the two measures and pass the $550 billion infrastructure bill quickly, and progressive lawmakers, who are holding it up because they don't trust centrists to support the bigger one without the smaller one.