Israeli President Isaac Herzog addressed Congress on Wednesday morning, describing the U.S.-Israeli relationship as a "sacred bond," linking criticism of the country's government to antisemitism and seeking to ease concerns that his democracy is backsliding.
Herzog's speech to a joint meeting of Congress marked the second by an Israeli president, after his father, Chaim Herzog, delivered one in 1987.
He characterized the "true friendship" between the U.S. and Israel as one "based on values" and praised the Trump-brokered Abraham Accords, as well as the Biden administration's efforts to broker an Israel-Saudi Arabia rapprochement. Herzog also described a lasting peace between Israelis and Palestinians as his "deep yearning," though he did not endorse any specific proposals, in keeping with his largely apolitical and ceremonial position as president.
Shortly after his address, senior Biden administration officials announced that they had tentatively reached an agreement to let Israel enter the U.S. Visa Waiver Program, so long as it meets the program requirements by Sept. 30.
Later Wednesday, Vice President Kamala Harris met with Herzog at the White House. They announced a $70 million joint investment, split evenly among the two countries, in climate resilience and food security initiatives.
"The United States has an unbreakable bond with Israel," Harris said in introductory remarks with Herzog. "Our commitment to Israel's security is ironclad."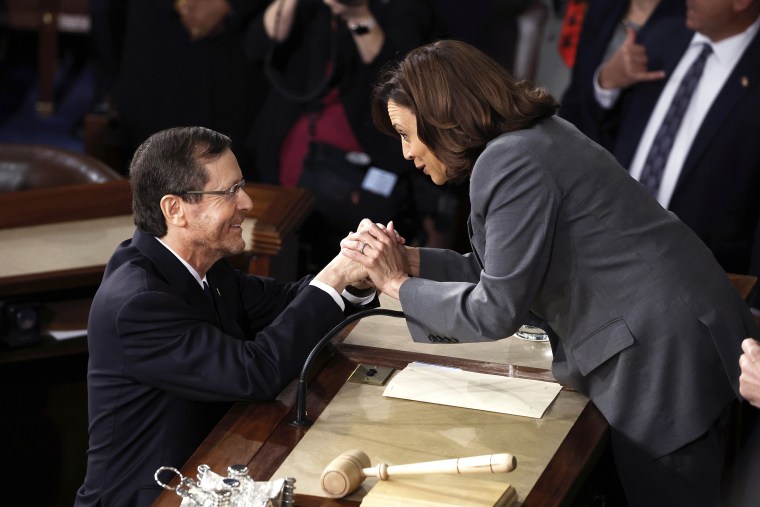 Herzog spoke amid U.S. concerns over the Israeli government's settlements in the occupied West Bank and a proposed judicial overhaul led by Prime Minister Benjamin Netanyahu, which would give Netanyahu's allies control over the appointment of judges, among other proposals. Proponents of the overhaul say it would curb the powers of unelected judges, while critics say it would gut the guardrails of Israel's democracy.
Herzog, who has been critical of the proposal, offered a tacit concession to observers who say the overhaul imperils Israel's democracy, but he also moved to assuage those concerns.
While he called the debate over the plan "painful" and "deeply unnerving," Herzog added that he is confident Israel's democracy remains strong, even as the country works through its "issues."
"Israel has democracy in its DNA," he said.
The U.S. is Israel's largest arms supplier, and the country has long enjoyed robust bipartisan congressional support, but some Democrats, particularly progressives, now appear increasingly skeptical of the U.S.-Israel alliance.
Rep. Pramila Jayapal, D-Wash., the chair of the Congressional Progressive Caucus, apologized Sunday for calling the country a "racist state" after her remarks drew criticism from Democrats and Republicans.
"I want you to know that we have been fighting to make it clear that Israel is a racist state, that the Palestinian people deserve self-determination and autonomy, that the dream of a two-state solution is slipping away from us, that it does not even feel possible," Jayapal said as she addressed a group holding Palestinian flags at a conference for the progressive Netroots Nation in Chicago over the weekend.
Jayapal walked back her remarks Sunday, saying they were directed at Netanyahu's right-wing government. On Monday, 43 congressional Democrats issued a statement calling her comments "unacceptable."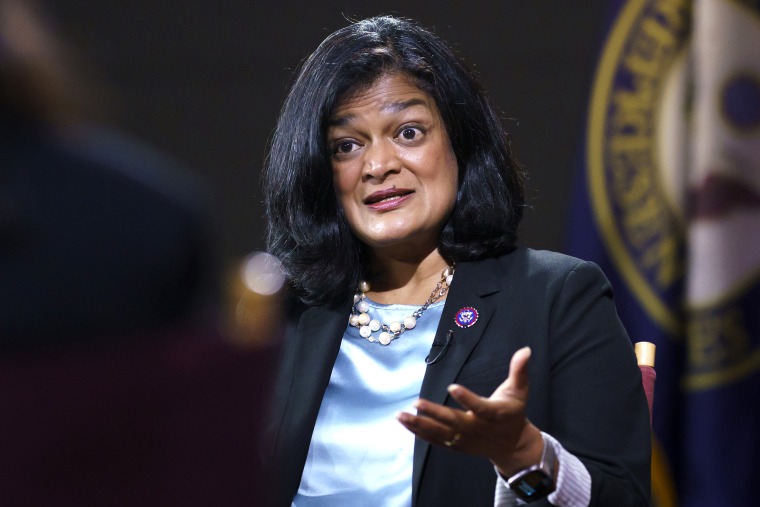 "Israel is the legitimate homeland of the Jewish people and efforts to delegitimize and demonize it are not only dangerous and antisemitic, but they also undermine America's national security," the lawmakers wrote.
In his speech, Herzog said he respects criticism of the state of Israel, "including some expressed by respected members of this House," even if he does not necessarily have to accept it. He did not mention Jayapal by name, but he appeared to link her criticism, and that of other progressives, of the Israeli government to infringing on the country's sovereignty.
"Criticism of the state of Israel must not cross the line into negation of the state of Israel's right to exist," Herzog said. "Questioning the Jewish people's right to self-determination is not legitimate diplomacy. It is antisemitism."
The House on Tuesday overwhelmingly passed a resolution, authored by Rep. August Pfluger, R-Texas, condemning antisemitism and expressing support for Israel, with 195 Democrats joining all Republicans in voting for the measure. The measure which did not mention Jayapal by name, said Congress believes Israel "is not a racist or apartheid state" and rejects all forms of antisemitism and xenophobia.
Rep. Rashida Tlaib, D-Mich., criticized the resolution, arguing it normalizes violence against those living in the occupied West Bank. She, along with several other progressive lawmakers, like Rep. Alexandria Ocasio-Cortez, D-N.Y., boycotted Herzog's address.
"We're here again reaffirming Congress' support for apartheid," Tlaib, a daughter of Palestinian immigrants, said Tuesday as Congress debated the resolution. "Policing the words of women of color who dare to speak up about truths, about oppression."
Israeli forces this month carried out their most extensive operation in the West Bank in decades after months of intensifying troop incursions into the West Bank as Israel's far-right government faces domestic pressure to crack down after a spate of militant attacks.
International observers have long accused Israel of human rights violations in the West Bank. A 2021 Human Rights Watch report said the country's policies constitute "crimes of apartheid and persecution."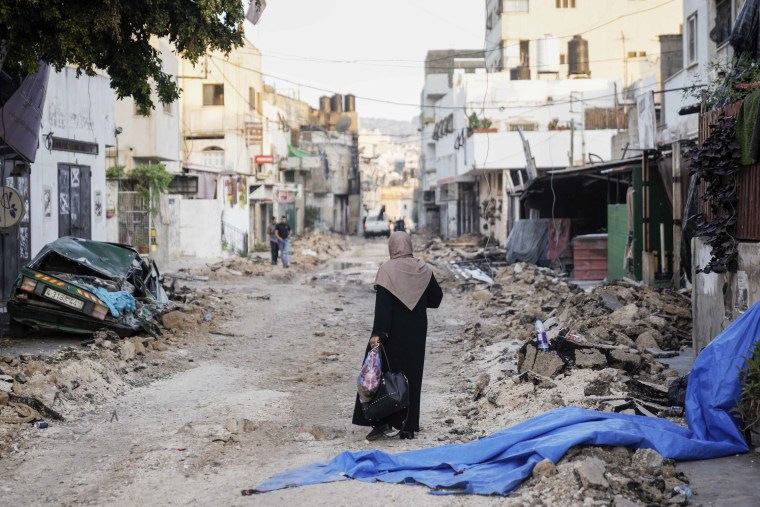 Herzog said any peace between the two sides "cannot be anchored in violence" and described peace between Israel and the Palestinians as his "deep yearning." He also insisted that "Palestinian terrorists" were fueling the conflict and soiling attempts to create conditions ripe for negotiation.
Herzog thanked the Biden administration for its effort to broker a historic Israel-Saudi Arabia rapprochement, but he struck a less favorable tone as he spoke about Iran's nuclear program.
U.S. and Iranian officials have traveled to Oman several times this year for indirect talks about reviving the Joint Comprehensive Plan of Action, a U.S. official and two Western officials who were not authorized to speak on the record because of the sensitive nature of the discussions have said. Under the Obama-era nuclear agreement, known as the JCPOA, Iran curtailed its enrichment of uranium in exchange for the lifting of some international sanctions. The State Department has said the two countries have not reached any agreement related to Tehran's nuclear program.
Herzog did not mention the deal by name but said "perhaps the greatest challenge Israel and the United States face at this time together is the Iranian nuclear program," as many in Congress began to applaud.
"Let there be no doubt Iran does not strive to attain nuclear energy for peaceful purposes," he added.