ATLANTA — As Democrats point fingers in the wake of Jon Ossoff's loss in a Georgia special election on Tuesday, some of them are aimed at Nancy Pelosi, the party's longtime House leader, who appeared in almost every GOP attack ad broadcast in the most expensive House race in history.
A number of Democrats are renewing their calls for Pelosi to step aside, demanding a change to the trio of septuagenarians that have been leading the House Democratic caucus for years.
Picking up on the chatter against Pelosi, President Donald Trump piled on, tweeting on Thursday that he hoped Pelosi wasn't dethroned (and that Sen. Charles Schumer would remain Senate Democratic leader) because that would be bad for the GOP.
As one of his first moves after declaring his candidacy against Rep. Mark Sanford (R-SC), Democrat Joe Cunningham tweeted, "If elected, I will not vote for Nancy Pelosi for speaker. Time to move forward and win again."
A handful of House Democrats made similar calls on Wednesday, with Rep. Kathleen Rice of Long Island, New York, appearing on MSNBC's "Morning Joe" to say: "Her time has come and gone."
"The rationale for getting new leadership is we are losing and we have been losing since 2010 — that's it," Rice said.
Rice, like others who spoke out, backed a failed challenge to Pelosi earlier this year from Rep. Tim Ryan (D-OH).
Ryan himself told MSNBC that it will be "very hard" for Democrats to win back the House with Pelosi at the helm, since candidates have to "carry this very toxic Democratic brand."
"You see these commercials that tie these candidates to leader Pelosi week in and week out in the last several months. That still moves the needle," he said.
Last year, Ryan, a gum-chewing former football player from blue-collar Youngstown, gave the San Francisco-based Pelosi the most serious threat yet to her leadership post, but two-thirds of the caucus ended up rallying around Pelosi.
She is a prodigious Democratic fundraiser and consummate legislative tactician with loyal allies across the ideological spectrum of the party, and is in no real danger of loosing her leadership post, at least at the moment.
Pelosi has raised a massive $568 million for Democrats since she joined leadership in 2002, according to her office, and $142 million in the past election cycle alone.
At a closed-door meeting with colleagues, there were no challenges to the Democratic leadership or any obvious signs of dissent, according to a source in the room.
"Republicans will continue to run ads trying to demonize whoever is the Democratic Leader," said Drew Hamill, Pelosi's spokesman. "Republicans ran national ads against Tip O'Neill in the 1980s. This isn't new."
He added: "Republicans blew through millions to keep a ruby-red seat and in their desperate rush to stop the hemorrhaging, they've returned to demonizing the party's strongest fundraiser and consensus builder. They don't have Clinton or Obama so this is what they do."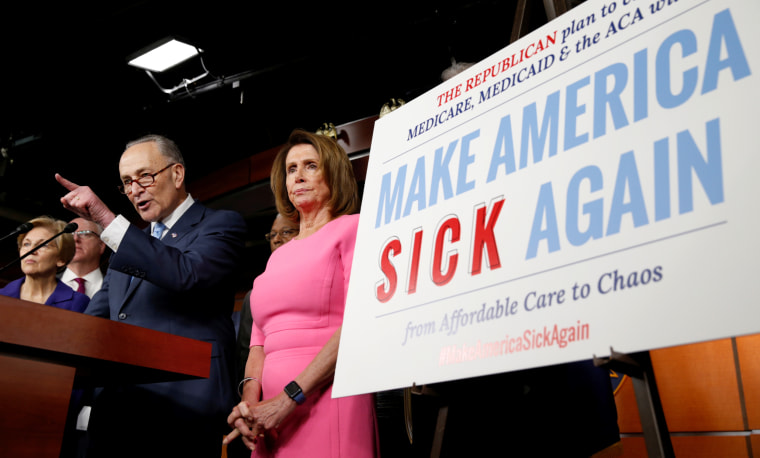 And other Democrats are urging colleagues to focus on fighting Republicans, not each other.
"I hate losing, and losing earlier this week didn't feel too good. However, there's a fight to be waged in Washington right now and it's not with ourselves," California Rep. Eric Swalwell said on MSNBC.
But for every Democratic official or operative publicly calling for new leadership, there are others who privately express the same sentiment.
"We're always reviewing that, believe me," Rep. Bill Pascrell (D-NJ) said when asked if the caucus needed a change at the top.
"We need to have that discussion," added Rep. Seth Moulton (D-MA), a rising star in the party.
While opponents can turn the leader of any party into a boogeyman, Pelosi and her San Francisco hometown have proven to be a uniquely potent GOP weapon in the purple-to-red battlegrounds Democrats need to win.
Republican Karen Handel, who defeated Ossoff, even ran an ad in Spanish attacking Pelosi, while an outside group aired another featuring San Franciscans thanking Ossoff for his campaign.
House Speaker Paul Ryan, for instance, doesn't inspire nearly the same hostility, and he publicly campaigned for Handel before Tuesday's election. It's almost impossible to imagine Pelosi doing the same for Ossoff or any other Democrat in a similar Republican-dominated district.
The Congressional Leadership Fund, a Ryan-aligned GOP super PAC that spent heavily in Georgia, said its polling showed Pelosi to be one of the most effective attack messages in the race as they tried to undercut Ossoff's portrayal of himself as a noncontroversial moderate.
And former GOP House Speaker Newt Gingrich, who represented Georiga's 6th district, said Republicans "know exactly how to run against a Nancy Pelosi led party."
"I want her there for at least another decade," he said on Fox News.