WASHINGTON — The father and an aunt of Rep. George Santos, R-N.Y., guaranteed his $500,000 bond after he was charged last month with more than a dozen federal counts, a source familiar with the matter confirmed Thursday.
The congressman's father, Gercino Dos Santos, and Elma Santos Preven, his aunt, were the suretors for the bond. They did not have to provide any money upfront — they are obligated to pay only if Santos violates the terms of his release.
Their names, first reported by ABC News, were confirmed minutes before a federal court in New York released a document just after noon Thursday showing the family members' signatures.
U.S. District Judge Joanna Seybert had ordered that their identities be made public.
Santos' lawyer had argued that unsealing the names of the co-signers would put them in a position in which they would be likely to "suffer great distress, may lose their jobs, and God forbid, may suffer physical injury."
On Thursday, Santos told reporters on Capitol Hill that he kept their identities secret because he was concerned about their safety.
Asked whether his family members had the money to guarantee bond, Santos said: "Don't you think that's a little invasive? That's exactly the reason that I chose to keep their identities secure. My dad is an honest working man, as is my aunt."
Later in the day, Santos tweeted, "My family & I have made peace with the judges decision to release their names. Now I pray that the judge is correct and no harm comes to them." He also asked the media not to disturb or harass his dad and his aunt.
Several media organizations, including NBCUniversal News Group, had requested that the court unseal and make public documents with the names of the bond guarantors, known as suretors.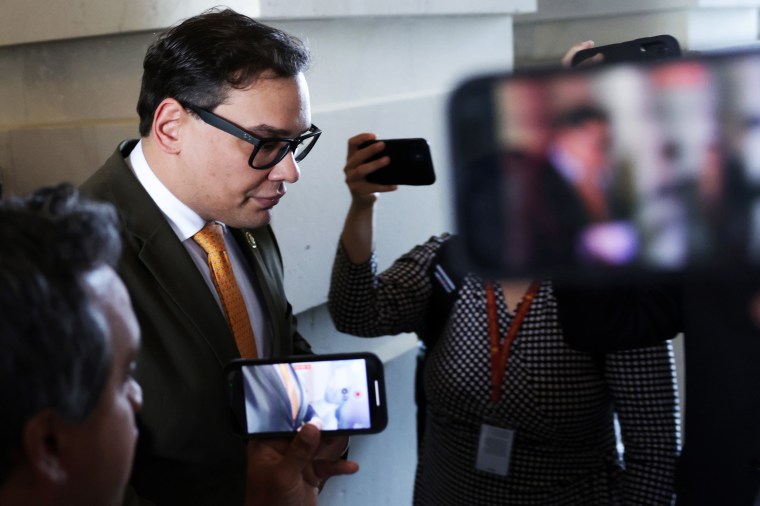 Santos, 34, was released on bond after his May 10 court appearance following his indictment on 13 criminal counts. He has been charged with seven counts of wire fraud, three counts of money laundering, one count of theft of public funds and two counts of making materially false statements to the House of Representatives.
Santos pleaded not guilty at his arraignment. 
Other conditions of his release include random monitoring at home and a ban on travel outside New York and Washington without seeking permission from the court. He was also ordered to surrender his passport.
Santos is due in court for his next appearance June 30 in New York.
His lawyer didn't respond to a request for comment.
After he left court in May, Santos said some of the charges were "inaccurate," and he expressed confidence that he would be able to clear his name.
If he is convicted, he could face up to 20 years in prison for "the top counts," the Justice Department said, without specifying which counts those were.
He has resisted calls for his resignation from fellow Republicans and said he still plans to run for re-election next year, despite ongoing investigations at the federal, state and local levels.
Meanwhile, the House Ethics Committee said Thursday that it has issued more than 30 subpoenas and more than 40 voluntary requests for information in its own investigation of Santos. In an update, the panel said it's working to resolve the matter in an "expeditious timeframe" and that it has been in touch with the Justice Department to "mitigate the potential risks" of dual investigations while "still meeting the Committee's obligations to safeguard the integrity of the House."
The committee typically steps aside when the Justice Department picks up a probe into a member of Congress, but it has continued to investigate Santos for potential ethics violations despite his recent indictment.
Santos first came under scrutiny after The New York Times published a bombshell investigation in December indicating that much of his résumé appeared to have been manufactured, including claims that he owned numerous properties, was previously employed by Goldman Sachs and Citigroup and had graduated from Baruch College.