WASHINGTON — U.S. Capitol Police officers found no confirmation of an active shooter Wednesday afternoon near Senate office buildings, Chief Thomas Manger said.
"We found no confirmation that there was an active shooter, and that this may have been a bogus call," Manger told reporters outside the Capitol after Senate office buildings were locked down.
Around 4 p.m. ET, Manger said that all Senate buildings had been cleared by police.
He said the Metropolitan Police Department had received a 9-1-1 call about an active shooter in the Hart Senate Office Building at 2:30 p.m. The call was relayed to Capitol Police, whose officers responded within "seconds," Manger said.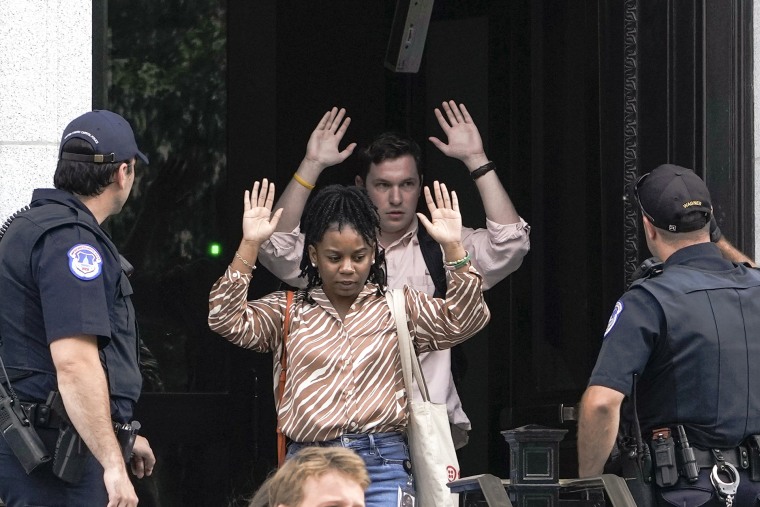 "So far, nothing. We found nothing concerning," Manger said. "We've got nobody that actually heard shots, and certainly nobody, no victims. And as we've gone through the building, no one has said that they've seen anything."
The original phone call warned about a "heavyset Hispanic male wearing body armor," Manger told reporters. "We have no other information, no confirmation of that."
Metropolitan Police attempted to trace the original caller several times, Manger said, but each time a different location was listed.
Authorities in Washington have been making preparations for the arrival of former President Donald Trump, who is expected to appear at his arraignment on Thursday afternoon at a federal courthouse in connection with efforts to overturn the 2020 election.
Earlier Wednesday, two law enforcement officials told NBC News that police locked down and evacuated the Russell Senate Office Building after receiving reports about a possible active shooter.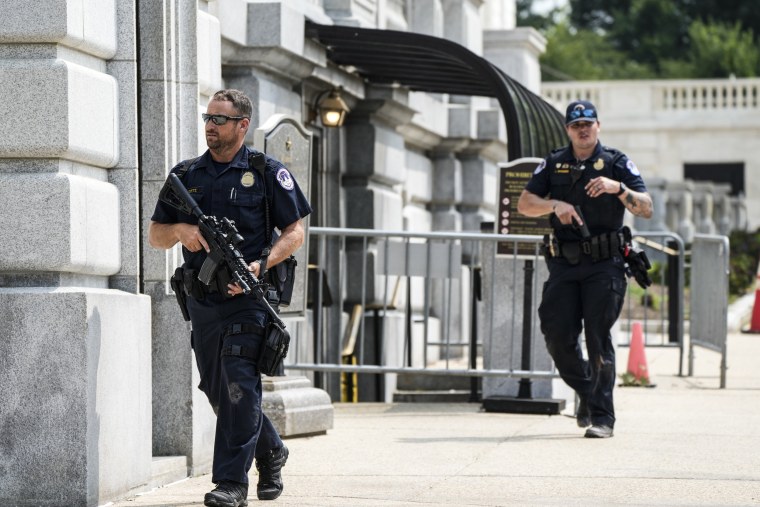 Before Manger spoke to reporters, Officer Hugh Carew of the Metropolitan Police Department said that "a call came in for an active shooter. It appears to be a bad call. No injuries and no shooter were located." He said that MPD was assisting Capitol Police.
U.S. Capitol Police tweeted just before 3 p.m. that their officers were searching in and around a Senate office building in response to "a concerning 911 call."
"Please stay away from the area as we are still investigating. We will continue to communicate with the public here," the agency tweeted.
In a follow-up post, Capitol Police said, "If you are inside the Senate Buildings, everyone inside should be sheltering in place as the report was for a possible active shooter. It should be noted that we do not have any confirmed reports of gunshots."
Officers blocked access to the underground tunnels leading to the Senate office buildings from the main Capitol building.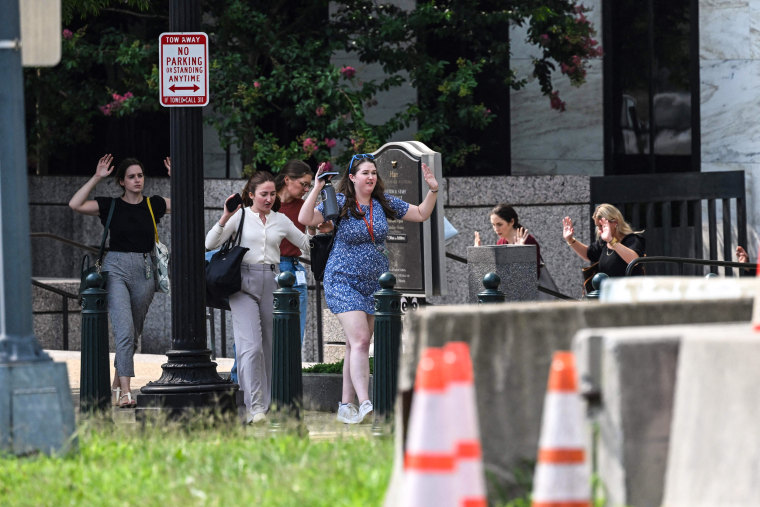 An email sent out to congressional staff warned people to move inside their office or the nearest one and to take emergency equipment and visitors. It told people to close, lock and stay away from external doors and windows and to find a place to hide or seek cover if they are in a public space.
While the Russell building was evacuated, the security posture at the Capitol building itself appeared fairly calm, but alert.
Most lawmakers are currently away from the Capitol and in their congressional districts for the August recess. Staff members still report to their offices on Capitol Hill, but there are likely fewer people in the office buildings during the recess period.