WASHINGTON — After six months of twists and turns in Congress, Republican efforts to repeal Obamacare crashed on Tuesday as Senate Majority Leader Mitch McConnell conceded his party lacked the votes to pass a replacement.
But that's not the end of the story. There are still significant problems in Obamacare's exchanges to address and a looming political fight in the midterm elections next year. Here are some of the biggest questions going forward for both parties and the White House.
Does Trump blow up Obamacare on his own?
"I'm not going to own it," President Donald Trump said on Tuesday after Republican plans to repeal Obamacare died. "I can tell you, the Republicans are not going to own it. We'll let Obamacare fail and then the Democrats are gonna come to us."
While Trump says he'll "let" Obamacare fail, it's more accurate to say he has the power to make Obamacare fail. That makes him the biggest player on health care in the immediate term.
Recent studies suggest that Obamacare's markets are stabilizing after a bumpy year that saw premiums jump and insurers withdraw from many counties. The exchanges are still in fragile shape, however, and experts say Trump's a major factor in the ongoing turmoil.
The president has threatened for months to withhold billions of dollars insurance companies are owed in "cost-sharing reduction" payments for reducing low-income customers' deductibles. Insurers say they're already raising 2018 premiums in response and are warning they may pull out of more counties — a handful of which currently have no individual insurers lined up for 2018 — if he cuts off the funding. They're also worried Trump might refuse to enforce the individual mandate to buy insurance or to properly manage the next open enrollment period.
Trump could be treading on dangerous ground if he decides to sabotage Obamacare in order to pressure Democrats. A survey by the nonpartisan Kaiser Family Foundation in April found that 75 percent of respondents wanted Trump to try to make the law work versus 19 percent who said he should deliberately let it fail to encourage a replacement.
Can Republicans agree on a bipartisan bill?
McConnell said his party would talk to Democrats about small fixes to Obamacare if the GOP bill failed. But they could face another divisive internal debate about how far to go on a deal to smooth the insurance markets.
There are a number of Republicans, especially among the moderates, who say they're open to a modest bipartisan bill that is something short of repeal. Even the relatively conservative Sen. Ron Johnson, R-Wisc., has suggested passing a short-term bill to bolster insurers.
"One of the major problems with Obamacare was that it was written on a strict party-line basis and driven through Congress without a single Republican vote," Sen. John McCain, R-Ariz., said in a statement on Monday. He added that his party "must not repeat the original mistakes that led to Obamacare's failure."
In what could be interpreted as an olive branch to Democrats, the chair of the Health Education Labor and Pensions Committee, Sen. Lamar Alexander, R-Tenn., announced he would hold hearings on policies to stabilize the individual insurance market. Democrats had demanded throughout the process that Republicans hold public hearings with their input.
But not everyone's so enthusiastic and Republicans will likely face pressure from their right flank not to put their stamp on Obamacare by voting for a bill that would help it succeed.
Senate Majority Whip Sen. John Cornyn, R-Texas, told reporters on Tuesday he was "not interested in bailouts for insurance companies alone without reforms" when asked about a possible stabilization bill and specifically dismissed the idea of guaranteeing cost-sharing reduction payments, the biggest demand among insurers.
Getting a vote in the House of Representatives could be even more difficult, where conservative groups have greater sway. House Speaker Paul Ryan told reporters he would not "foreclose any options" but was skeptical Democrats would be amenable to a deal.
Will Democrats come to the table?
Suddenly, Democrats are relevant again after being shunted aside for the entire health care process.
To hear their party's Senate and House leaders tell it, they couldn't be happier: Democrats lined up on Tuesday to say they were prepared to work with Republicans as long as they dropped demands to repeal Obamacare, cut Medicaid spending, or reduce taxes on the rich.
"The door to bipartisanship is open right now not with repeal, but with an effort to improve the existing system," Senate Minority Leader Chuck Schumer, D-N.Y., said on Tuesday.
There are plenty of modest proposals out there already: Sen. Claire McCaskill, D-Mo., has a bill to let people in counties with no insurer buy plans from the same exchange members of Congress use. Democrats in the House and Senate have proposed reinsurance to help insurers cover expensive patients and suggested letting more customers buy cheap catastrophic plans.
"The Republicans have to understand that if they're going to try to starve out the Affordable Care Act, they're responsible for the outcome," Sen. Dick Durbin, D-Ill., told NBC News. "We'd rather work with them to solidify this system."
But Republicans are skeptical. Many say they don't believe Democrats will settle for small tweaks and will inevitably demand bigger ticket items like a public option that activists are rallying behind.
"My strong suspicion is what our Democratic friends want is a single-payer system," Sen. John Kennedy, R-La. told reporters.
Democratic senators insist there's plenty of room for compromise. But with progressives making bolder and bolder demands on health care and increasingly animated by opposition to Trump, it remains to be seen how much negotiation their voters are willing to tolerate.
What happens to the House Republicans?
The Senate's efforts to replace Obamacare may have died with a whimper, but House Republicans passed their bill, the American Health Care Act, with a bang in May that included a Rose Garden celebration with President Trump.
Polls showed AHCA was unpopular, however, and the bill was hampered by a subsequent CBO report finding it would insure 23 million fewer people, render insurance unaffordable for many people with pre-existing conditions, and cause huge spikes in premiums for older low-income Americans.
House members raised concerns about various policy items before their vote, but expected that the Senate would send them a better version that resolved their problems. Instead, the 217 members who backed AHCA are stuck with an orphaned bill that even Trump called "mean."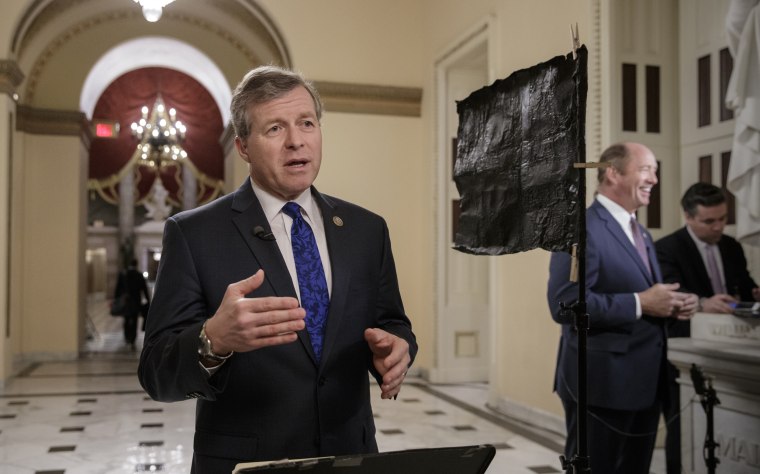 "I had policy reasons for opposing the health care bill coming out of the House, but I also saw the political realities that the House health care bill had absolutely zero chance of passing the Senate," Rep. Charlie Dent, R-Penn., a moderate Republican who voted against the bill, told NBC News.
If anyone knows the danger of passing a bill that goes nowhere, it's Democrats: In 2010, Republicans pounded House members for passing a sweeping climate bill that died in the Senate. Now Democrats are eager to turn the tables.
"Paul Ryan can't turn back time and undo the damaging vote he imposed on his conference," Democratic Congressional Campaign Committee spokeswoman Meredith Kelly said in a statement on Tuesday.
Republican strategist Michael Steel, who served as press secretary to Speaker John Boehner, suggested things might not be so dire: If Republicans can rally behind a successful tax reform or infrastructure bill, the public could move on from the health care fight.
"I actually think the House Members may be in a better spot if the Senate fails to act," Steel said. "They have kept their promise to repeal Obamacare, but can't be blamed for unpopular future problems in the health care system."