Karen McDougal, the former Playboy model reported to have had an affair with Donald Trump a decade ago, has reached a deal with the owner of The National Enquirer allowing her to discuss the reports in public, she and her attorney said Wednesday.
McDougal, 47, Playboy's Playmate of the Year in 1998, last month sued American Media Inc., or AMI, the Enquirer's parent company, for the right to speak publicly about the case — even though the company paid her $150,000 to turn over all rights to her story in 2016.
McDougal's attorney, Peter Stris, confirmed that under the terms of the settlement, McDougal can keep the $150,000 payment from American Media, while the publisher retains rights to up to $75,000 of any future profits from her story and the rights to any photographs of her already in its possession.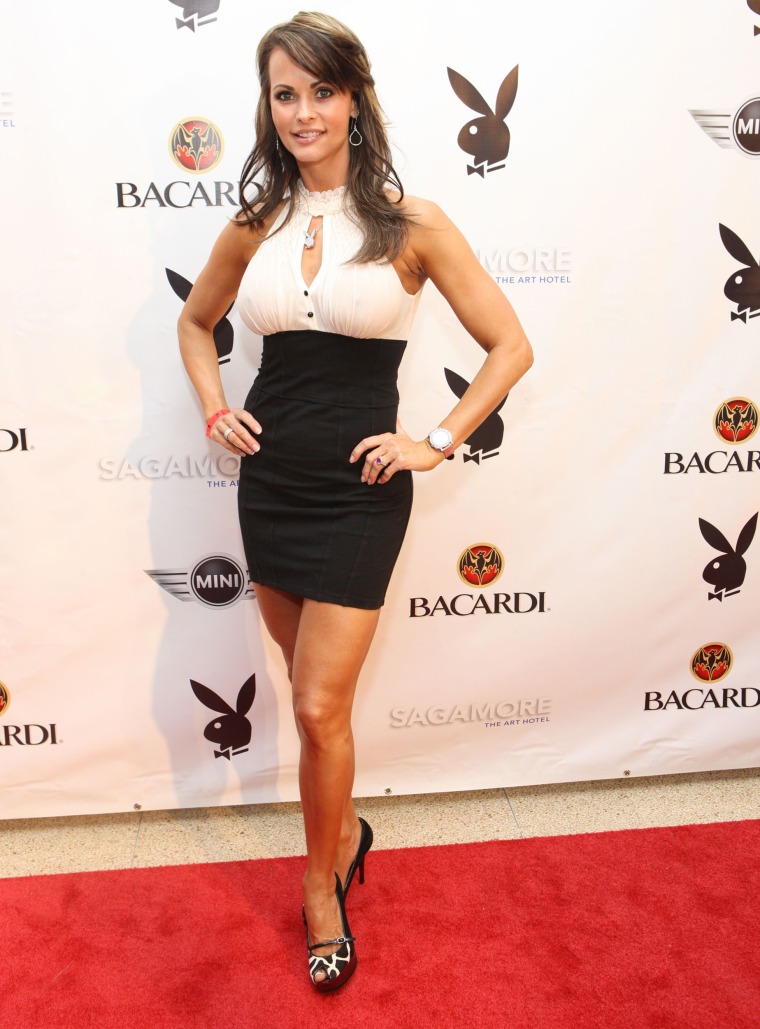 American Media also confirmed the details of the settlement, saying it "is pleased that we reached an amicable resolution with Ms. McDougal today that provides both sides what they wanted as a result."
The company said that under other terms of the agreement, McDougal will also appear on the cover of the September issue of Men's Journal, along with a feature article, and that she will publish five additional health and fitness columns in American Media properties.
McDougal said the settlement "frees me from this contract that I was misled into signing nearly two years ago."
"My goal from the beginning was to restore my rights and not to achieve any financial gain, and this settlement does exactly that," she said. The New York Times quoted McDougal as saying Wednesday that, for now, she has no plans to sell her story to a new buyer.
Stris told NBC News last month that Trump and McDougal had a 10-month affair that ended in April 2007, when Trump was already married to his current wife, Melania, now the first lady.
"It was a romantic relationship," Stris said. "They were together very often."
Trump has denied that he had an affair with McDougal.
American Media's chief executive, David Pecker, has had a long and friendly relationship with the president. The company is also reported to have paid $30,000 to a former doorman at one of Trump's New York buildings for the rights to what he knows about Trump's activities — but then never publishing a story. It's a tactic known as "catch and kill" in the tabloid news world.
According to McDougal's lawsuit, filed in Los Angeles County Superior Court, the 2016 agreement put her in an impossible position.
According to the agreement, which was attached as an exhibit to the lawsuit, the deal barred her from discussing "any romantic, personal and/or physical relationship McDougal has ever had with any then-married man."
Since then, however, McDougal became the subject of federal complaints against American Media and Trump's 2016 presidential campaign, as well as the target of a request by BuzzFeed to preserve all documents related to a defamation lawsuit filed against it by Michael Cohen, Trump's personal attorney. Cohen on Wednesday dropped his lawsuit against BuzzFeed.
McDougal also alleged that the agreement was void because American Media fraudulently denied her crucial information about its "essential terms," which she alleged were the equivalent of an illegal corporate campaign contribution.
"Really, the issue of our lawsuit is not about the relationship. It's about the cover-up," Stris told NBC News last month.