A federal judge presiding over a civil suit involving the House committee investigating the riot at the U.S. Capitol found Monday that then-President Donald Trump "likely attempted to obstruct the joint session of Congress" on Jan. 6, 2021, which would be a crime.
"The illegality of the plan was obvious," U.S. District Judge David Carter wrote of Trump and lawyer John Eastman's plan to have then-Vice President Mike Pence determine the results of the 2020 election.
"Every American — and certainly the president of the United States — knows that in a democracy, leaders are elected, not installed. With a plan this 'BOLD,' President Trump knowingly tried to subvert this fundamental principle. Based on the evidence, the Court finds it more likely than not that President Trump corruptly attempted to obstruct the joint session of Congress on January 6, 2021," Carter wrote in U.S. District Court for Central California, ordering emails that Eastman wrote furthering the plan to be turned over to the Jan. 6 committee.
Charles Burnham, an attorney for Eastman, said in a statement that his client "intends to comply with the court's order." He noted that the judge had agreed with some of their arguments about attorney-client privilege and ordered that "precisely one document (which Dr. Eastman did not author)" be produced "pursuant to the so-called crime/fraud exception."
Representatives for Trump did not immediately respond to a request for comment. After the committee made similar allegations in a court filing in the case this month, Trump repeated many of his false election claims in a statement, saying, "The actual conspiracy to defraud the United States was the Democrats rigging the Election."
Carter's ruling was in a civil case, in which the burden of proof is less than in a criminal case.  
"The court is tasked only with deciding a dispute over a handful of emails," he wrote. "This is not a criminal prosecution; this is not even a civil liability suit. At most, this case is a warning about the dangers of 'legal theories' gone wrong, the powerful abusing public platforms, and desperation to win at all costs. If Dr. Eastman and President Trump's plan had worked, it would have permanently ended the peaceful transition of power, undermining American democracy and the Constitution."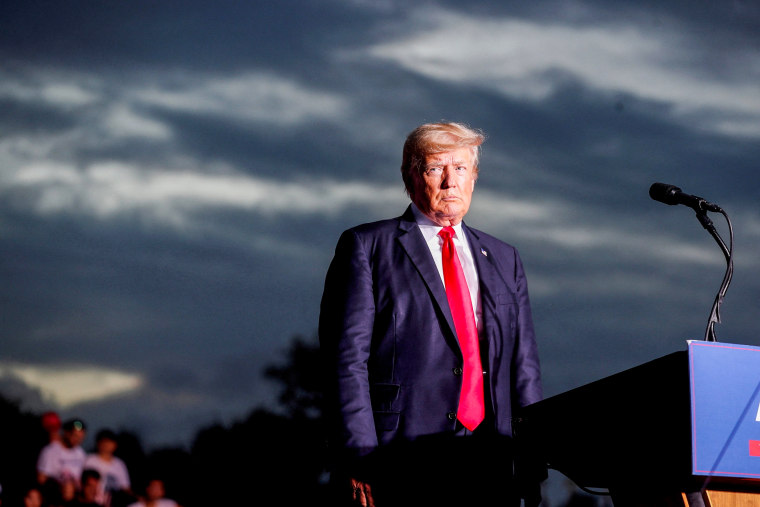 Carter wrote that Eastman should give the committee 101 of the 111 documents he was trying to keep from it. One of the documents, he wrote, is an email chain "forwarding to Dr. Eastman a draft memo written for President Trump's attorney Rudy Giuliani."
"The memo recommended that Vice President Pence reject electors from contested states on January 6. This may have been the first time members of President Trump's team transformed a legal interpretation of the Electoral Count Act into a day-by-day plan of action," Carter wrote, adding that the "draft memo pushed a strategy that knowingly violated the Electoral Count Act, and Dr. Eastman's later memos closely track its analysis and proposal."
The ruling does not say who wrote the memo. "Because the memo likely furthered the crimes of obstruction of an official proceeding and conspiracy to defraud the United States, it is subject to the crime-fraud exception and the court orders it to be disclosed," it says.
Burnham noted in his statement that Carter's "crime/fraud findings were not subject to the presumption of innocence, proof beyond a reasonable doubt, or any of the constitutional protections normally applicable to criminal proceedings."
While Trump did not respond to a comment on the judge's ruling, he did issue a lengthy statement detailing what he said was a hole-in-one over the weekend at Trump International Golf Club in West Palm Beach, Florida.
"Many people are asking, so I'll give it to you now, it is 100% true ... I made a hole-in-one," Trump said in an email statement from his official office.
Trump said the shot was on the seventh hole, which the club's website describes as an "unassuming par 3" that "has thwarted many quality rounds" with its "swirling winds."
"I hit a 5-iron, which sailed magnificently into a rather strong wind, with approximately 5 feet of cut, whereupon it bounced twice and then went clank, into the hole," Trump said, adding that he was playing in a group that included the golf great Ernie Els.
"I won't tell you who won because I am a very modest individual, and you will then say I was bragging—and I don't like people who brag!" he said.
In a joint statement Monday night, Jan. 6 committee Chair Bennie Thompson, D-Miss., and Vice Chair Liz Cheney, R-Wyo., called Carter's ruling "a victory for the rule of law" and said it "clears the way for the Select Committee to obtain materials important to our investigation."
Eastman sued the committee in California federal court in January, arguing that the panel had improperly subpoenaed his emails from his former workplace, Chapman University.
The committee had previously subpoenaed Eastman to turn over documents, which he had refused to do, citing attorney-client and other privileges. The House panel had urged the judge to deny Eastman's arguments, citing an exception when a client is involved in criminal activities and alleging that Trump had been "engaged in a criminal conspiracy to defraud the United States."
Carter sided with the committee, finding that both Trump and Eastman most likely knew what they were doing was wrong.
"President Trump and Dr. Eastman justified the plan with allegations of election fraud — but President Trump likely knew the justification was baseless, and therefore that the entire plan was unlawful. Although Dr. Eastman argues that President Trump was advised several state elections were fraudulent, the Select Committee points to numerous executive branch officials who publicly stated and privately stressed to President Trump that there was no evidence of fraud," he wrote.
Carter, who was nominated to the federal court by President Bill Clinton, said Trump and Eastman "launched a campaign to overturn a democratic election, an action unprecedented in American history," adding: "Their campaign was not confined to the ivory tower — it was a coup in search of a legal theory. The plan spurred violent attacks on the seat of our nation's government, led to the deaths of several law enforcement officers, and deepened public distrust in our political process."
Carter closed his 44-page ruling with a warning: "If the country does not commit to investigating and pursuing accountability for those responsible, the Court fears January 6 will repeat itself."