MSNBC hosts Joe Scarborough and Mika Brzezinski Friday accused the White House of threatening them with a negative tabloid story as a way to extract an apology for their tough comments on President Donald Trump.
In an op-ed article in the Washington Post, and then in a live appearance on "Morning Joe," the couple said top White House officials warned them earlier this year that the National Enquirer was planning an exposé about their relationship, and urged them to beg Trump to get the paper to back off.
The accusation came a day after Trump attacked the newly engaged couple on Twitter. Scarborough and Brzezinski were friendly with Trump in the early months of his candidacy, and had him on their show often. Scarborough and Brzezinski told Vanity Fair that when they visited the White House just after Trump's inauguration, the president suggested he could host their wedding, or officiate.
But that warmness has evaporated, as Scarborough and Brzezinski have stepped up their criticism of him, and Trump has lobbed back invective.
"The president and his relationship with the media is now starting to resemble 'The Jerry Springer Show' at its worst, with taunts and insults and name calling," said Jonathan Marshall, a professor at Northwestern University's Medill School of Journalism. While bashing journalists works well with his base of supporters, "I don't think it's good for his presidency in the long term or the country in the long term."
Scarborough said on "Morning Joe" that he got calls from "three people at the very top of the administration" pointing out that Trump was friends with "the guy that runs the National Enquirer."
It was an apparent reference to David Pecker, the chief executive of American Media, Inc., which publishes the Enquirer. Pecker is a longtime friend of Trump, and their friendship was the subject of a New Yorker article this week.
The Enquirer has been reliably pro-Trump. It helped Trump launch his campaign by running personal essays about him. It published critical articles about his rivals, including an attempt to link Sen. Ted Cruz's father to John F. Kennedy assassin Lee Harvey Oswald. And it often portrayed President Trump as heroic with headlines such as "TRUMP'S PROFILE IS IDEAL FOR THE COMMANDER IN CHIEF, SAY TOP EXPERTS" and "TRUMP DECLARES WAR ON DICTATORS!"
Scarborough, describing his conversations with the White House aides, continued: "And they said, if you call the president up and you apologize for your coverage, then he will pick up the phone and basically spike the story."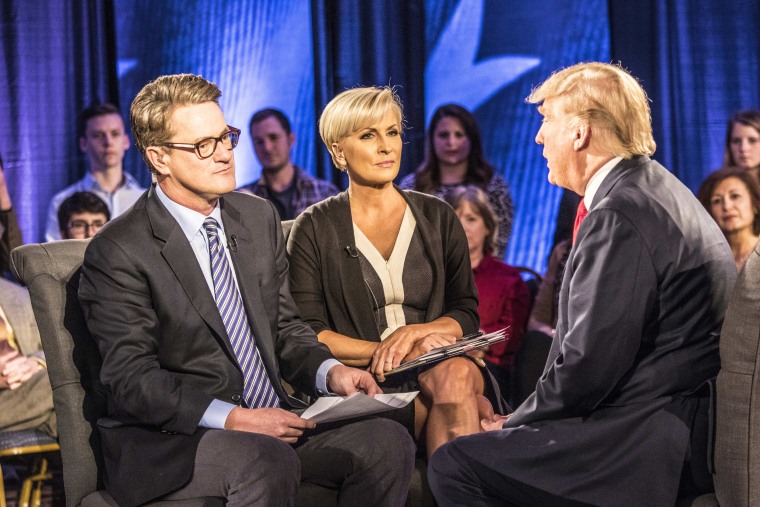 Prior to the reporters' calls, Brzezinski said, the Enquirer had been phoning her teenage daughters and friends for comment on the story, citing her ex-husband as a source. Scarborough added that he'd encountered a man in a van outside her home, and believed the man was a reporter staking her out.
Scarborough and Brzezinski said they refused to make calls to Trump about the story.
But Trump tweeted after the segment that Scarborough actually had called him to spike the story, and he refused.
Scarborough responded by calling Trump a liar. "I have texts from your top aides and phone records," Scarborough tweeted.
The story ran in the Enquirer on June 2 with the headline, "Joe & Mike: TV Couple's Sleazy Cheating Scandal."
The Enquirer tweeted out the story after Friday's "Morning Joe" segment and said later on its website that it wasn't involved in any discussions between the White House and the television personalities.
Related: 'Morning Joe' Hosts Respond to Trump's Tweets: 'We're OK. The Country's Not'
"At the beginning of June, we accurately reported a story that recounted the relationship between Joe Scarborough and Mika Brzezinski, the truth of which is not in dispute," Dylan Howard, chief content officer at American Media, Inc., said in a statement.
"At no time did we threaten either Joe or Mika or their children in connection with our reporting on the story. We have no knowledge of any discussions between the White House and Joe and Mika about our story, and absolutely no involvement in those discussions," Howard said.
The spat is part of a pattern by Trump to undermine the media, which could be dangerous, said Marvin Kalb, a former reporter for NBC News, who researches the impact of media on public policy and politics at The Brookings Institution.
"The thing that is upsetting to a lot of people who care about the way this country works is the time the president puts into an argument with an anchorman or woman would better be spent on health care or foreign affairs or what it is that the president said during the campaign ─ that many middle-class people need help," Kalb said. "Well, help them. This is your opportunity."
Theodore Glasser, a communications professor at Stanford University, said it was "perfectly reasonable" for Scarborough and Brzezinski to harshly criticize Trump and for Trump to do the same to them, as long as it involves a discourse about issues, and an acknowledgment of the role of a free press in a democratic society.
"But that's not what he's doing," Glasser said. "He's being mean and spiteful."