Special counsel Robert Mueller wants to grill President Donald Trump in detail about his ties to Russia, his firing of FBI Director James Comey and whether he tried to interfere with the investigation itself, according to a list of questions published by The New York Times.
The 44 questions, which NBC News hasn't independently verified, were read to Trump's lawyers by investigators for the special counsel's office, according to The Times, which said someone who is not on Trump's legal teams gave it the list.
Lawyers on both Trump's personal legal team and his White House legal team said Monday night that they had no comment. Mueller's office also declined to comment to The Times.
Some of the reported questions suggest that Mueller remains interested in whether Trump's 2016 presidential campaign coordinated with Russia. Others zero in on Trump's firing of FBI Director James Comey in May 2017 and the resignation in February 2017 of National Security Adviser Michael Flynn, who pleaded guilty in December to having lied to the FBI in connection with the investigation.
Some seek information on Attorney General Jeff Sessions' decision to recuse himself from the Russia investigation.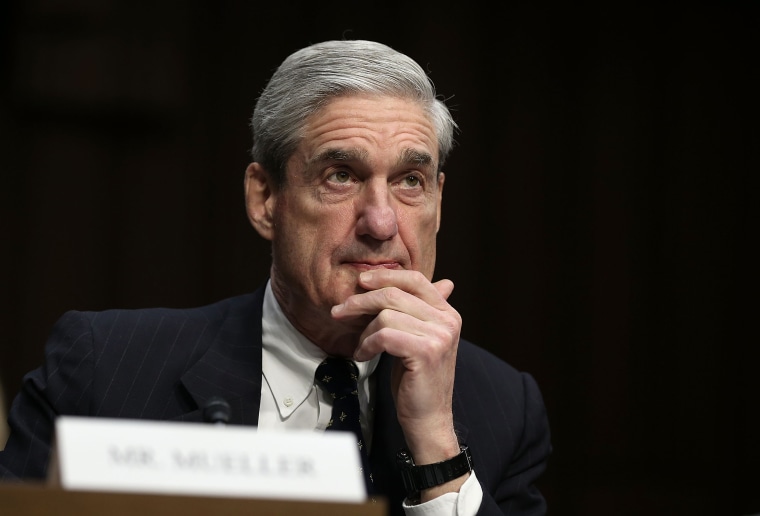 The Times said the questions were provided to Trump's lawyers last month, about a week and a half before John Dowd resigned as his personal lawyer. Trump is widely reported to have insisted that he wants to talk to Mueller over the objections of Dowd. It is unclear whether this is a complete account of what was reportedly shared with Trump's attorney.
Trump on Tuesday slammed the leak of the questions as "disgraceful," claimed there were no questions on "collusion" and said it would "seem very hard to obstruct justice for a crime that never happened!"
Comey explained recently on CNN that "collusion is not a thing that exists under federal law" but there are other potential crimes.
The former FBI chief said the crimes are whether any Americans conspired with a foreign government to harm the U.S. or aided Russia's effort to interfere in the U.S. election in 2016. "That is assisting their activities with knowledge of their unlawful nature," Comey told Anderson Cooper on April 25. "That's the legal question as I understand it."
Rep. Adam Schiff of California, the ranking Democrat on the Intelligence Committee, said Monday night that he was struck by "how many of these questions go to the issue of obstruction of justice."
Schiff said in an interview on MSNBC's "The Rachel Maddow Show" that he was also surprised by the absence of any questions about money laundering.
"Did you obtain financing for your projects from Russia?" he offered as an example, as well as: "What do you know about where money went through Trump properties?"
Among the questions is one seeking clarification of Trump's comments in May 2017 in an interview with Lester Holt, anchor of "NBC Nightly News."
In the interview, Trump called Comey a "showboat" and revealed that he asked Comey whether he was under investigation for alleged ties to Russia, contradicting his own remarks the day before that he had fired Comey because of his handling of the FBI's investigation into Hillary Clinton's use of a private email server when she was secretary of state.