With a split Legislature, a Republican governor who has all but staked his national ambitions on his ability to help the GOP control both chambers, and, of course, abortion politics, dozens of legislative primaries in Virginia on Tuesday were always bound to offer clues to the state's political direction.
They most certainly did — and then some.
The off-year, summertime races also provided a glimpse into how allegiance to former President Donald Trump appears to be a weakness in many parts of the country.
All of it is going to matter in the state — one of two this year that has a split Legislature (the other is Pennsylvania) — where Republicans, who narrowly control the House of Delegates, and, Democrats, who narrowly hold the state Senate, are both vying for control of the Capitol.
Every seat in both chambers is up for grabs in November, and because this is the first cycle to feature the state's redrawn legislative maps, there were a number of competitive primaries Tuesday in which veteran lawmakers of the same party ran against each other.
Here are four takeaways from the results of the Virginia primary elections:
Abortion rights remain a difference-maker
Held just four days before the first anniversary of the U.S. Supreme Court's decision to strike down Roe v. Wade, Tuesday's elections in Virginia featured several races in which the debate over abortion rights featured prominently. 
In a Democratic primary for a Richmond-area state Senate seat, former Del. Lashrecse Aird, who made her support for abortion rights the centerpiece of her campaign, defeated the incumbent, Joe Morrissey, who opposes abortion rights, according to The Associated Press.
Morrissey had suggested he could support the 15-week abortion ban that Republican Gov. Glenn Youngkin proposed during the 2023 legislative session. (Democrats in the Senate blocked it from advancing.)
Aird's victory is yet another example — in a long and growing list — of how Democrats have been able to use their support of abortion rights to effectively woo and turn out voters. In January, Democrat Aaron Rouse won a special election for a Virginia state Senate seat in a race that was widely viewed as a proxy fight over abortion.
The issue, however, is particularly poignant given that Virginia is the only state in the broader South that has not, in the year since federal abortion rights were overturned, narrowed access to abortion care.
Democratic infighting
In other races where Democrats faced off against each other, some candidates with similar records were forced to split hairs to differentiate themselves, often focusing on local issues.
In a heated race for a Portsmouth-area seat between state Sen. Louise Lucas, who also serves as president pro tempore of the chamber, and fellow state Sen. Lionel Spruill, the two Democrats hammered each other on issues like transportation, toll roads and state-funded student aid for college. Lucas won on Tuesday, according to the AP.
'Trump in heels' loses
Meanwhile, Republican state Sen. Amanda Chase, who represents a district not far from Richmond, lost her primary to a conservative challenger, former state Sen. Glen Sturtevant, according to the AP, putting on further display the enduring political challenges that acolytes of Trump still face.
Chase, who dubbed herself "Trump in heels," attended the Jan. 6, 2021, rally in Washington that preceded the storming of the U.S. Capitol. She soon began calling the rioters "patriots," prompting a 2021 censure from her state Senate colleagues.
Her loss is notable because it extends the abysmal record that Trump-backed, election-denying candidates experienced in the 2022 midterms.
Youngkin's influence matters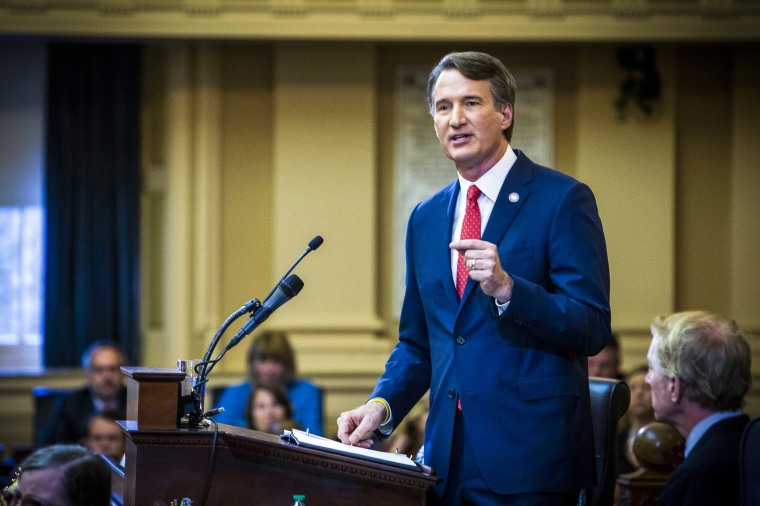 Youngkin, who hasn't entirely ruled out a 2024 presidential bid, ultimately endorsed 66 candidates in the legislative primaries (46 for the House of Delegates, and 20 for the state Senate). Only a handful of those races shaped up to be close on Tuesday, but two candidates he had endorsed who were in races that had been expected to be tight prevailed, suggesting that his political brand remains strong in the state.
In a state Senate primary for an open seat in the Fredericksburg-area between Del. Tara Durant and Matt Strickland, the Youngkin-backed Durant prevailed, according to the AP. And in another state Senate primary for a seat in the Hampton Roads area, Del. Emily Brewer, backed by Youngkin, defeated Hermie Sadler, the AP projected.
The general elections in both of those districts are expected to be close, and could make the difference in Republicans' attempts to win control of the state Senate — a goal Youngkin has prioritized in the coming months ahead of a possible presidential bid.