She's not a presidential candidate yet , but Hillary Clinton is already the beneficiary of an unprecedented campaign apparatus being built for her – and its ranks are growing.
Ready for Hillary, the group not officially aligned with the former secretary of state, hosted a pair of fundraisers in Chicago on Thursday night that featured some of the biggest names in Democratic politics and the most recent to join the list of those who say they will support her if she runs: Mayor Rahm Emanuel, Rep. Jan Schakowsky and Sen. Dick Durbin.
Ready for Hillary has now raised more than $5 million since its creation last year. The group also says 21 of the 252 Democrats in Congress have lent their support, from putting their name on an email to hosting fundraising events.
"I want her to know that a lot of us are ready to commit," Durbin said at one of the fundraisers, according to the Chicago Tribune. "I haven't spoken to her. I'm just hoping all of these events will convince her, when the time's right, to go ahead and announce to run, but it's ultimately going to be her personal decision."
Unlike the rollout for her book, which the former first lady herself is heavily involved in, the Ready for Hillary effort is more organic and Clinton is not participating in it directly, although some former advisers to the Clintons are heavily involved.
Instead, what has occurred is an unprecedented flood of people endorsing a candidate who is not yet declared. Some Democrats, such as Missouri Sen. Claire McCaskill, who was a sharp critic of the Clintons in 2008, are surprising the Ready for Hillary staff by announcing their endorsements publicly. Others, like Emanuel, are courted to buttress major fundraising events.
They are joined by a number of other high-profile Democrats like Virginia Sen. Tim Kaine and New York Sen. Kirsten Gillibrand who have already endorsed Clinton.
The most difficult part of running for president is creating that list of supporters
The money being raised by the group is not all that significant compared to the several hundred million or even $1 billion a successful 2016 presidential candidate will need. But attempts to set up an infrastructure in states like Iowa and New Hampshire, build a network of small donors for Clinton, and a list of elected officials could help establish the behind-the-scenes mechanics for a successful campaign. It is much the same way Clinton's book and accompanying tour could be the first step in establishing Clinton's message and public profile in a second presidential run.
For people like McCaskill, Kaine and Durbin, who were among the earliest of Obama's backers in 2008, joining Ready for Hillary also is an easy vehicle for them to illustrate they will be with the former first lady this time.
Traditionally, a presidential candidate announces a candidacy and then spends months begging other politicians for endorsements and fundraising help. In 2008, for example, Clinton and Obama repeatedly reached out to the late-Massachusetts Sen. Edward Kennedy for his support. Kennedy endorsed Obama after several early primary contests, giving him a large boost.
Now Clinton, who already has a long list of leading figures in the Democratic Party behind her, is getting three powerful endorsements without having to do any courting or even say if she is running. Durbin and Schakowsky are part of the Democratic Party's liberal wing, were early opponents of the Iraq War and are the kind of lawmakers who could have chosen to urge a figure like Massachusetts Sen. Elizabeth Warren to wage a campaign from the left against Clinton, as they encouraged Obama to do in 2007.
Their decision to back Clinton, without even seeing if other candidates emerge, is a coup for the potential frontrunner.
Emanuel's endorsement, while not surprising because of his work as an aide to the Clintons in the mid 1990s, gives Ready for Hillary the imprimatur of one of the party's top strategists and leaders. Sources said that Craig Smith, President Clinton's political director at the White House and now a senior adviser for Ready for Hillary, had reached out to the mayor's office to urge him to attend the fundraisers.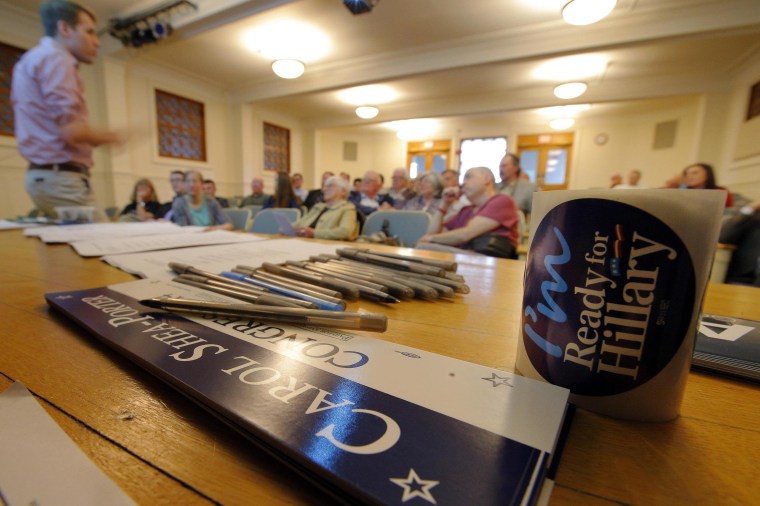 Still, the high-profile embraces of the former New York senator have annoyed some Democrats, such as Rep. James Clyburn, D-S.C., the Assistant Democratic Leader in the House, who argues the party's entire energy should be focused on winning elections in 2014.
"I don't know why we are talking about 2016 right now," he said in an interview.
Republicans say the endorsements are a key sign that Clinton is not only considering a presidential run, but is, in truth, a person who is actively running for president already.
"It would be very simple for her to ask her supporters and endorsers to wait until after the midterm elections," said Tim Miller, executive director of America Rising PAC, a conservative group that is running essentially an opposition research campaign against Clinton. "Secretary Clinton has chosen not to take that route."
These endorsements, as Miller noted, could discourage other Democrats, like Vice President Joe Biden, from running next year in a Democratic primary if Clinton is a candidate and seems to have insurmountable support.
Democrats involved in Ready for Hillary say that Obama's success in 2008 and 2012 showed the importance of starting early in creating a network of supporters and volunteers who can donate money to the candidate and help create on-the-ground support.
The endorsements from high-profile Democrats help ignite this effort, they argue.
"To me, it's all about building a list. The most difficult part of running for president is creating that list of supporters," said Rep. Tim Ryan, an Ohio Democrat who has become the informal leader for Ready for Hillary's push to get House Democrats to publicly back Clinton.