MOBILE, Ala. — Senator Thad Cochran's name is plastered on buildings across Mississippi. But on this Saturday in late March, 73 days before he faces his first real reelection test in thirty years, Cochran is helping to christen a new Navy ship — at a shipyard in Alabama.
"The USS Jackson will serve as a reminder to all nations of our capability to protect our country, and its interests throughout the world," Cochran tells the group of dignitaries assembled at the Austal shipyard here, along Mobile Bay. His daughter has been selected by the Secretary of the Navy as the sponsor of the ship, and she will christen it with the traditional bottle of Champagne.
For the patrician septuagenarian, this is what campaigning for Senate looks like. Cochran was first elected to Congress in 1973, the year America officially pulled out of Vietnam. He rose in seniority to become the top Republican on the powerful Appropriations Committee, funneling millions back to his home state.
This year, conservatives view defeating Cochran as the Tea Party's best hope to stick it to the Republican establishment. State Sen. Chris McDaniel is challenging him in the June Republican primary.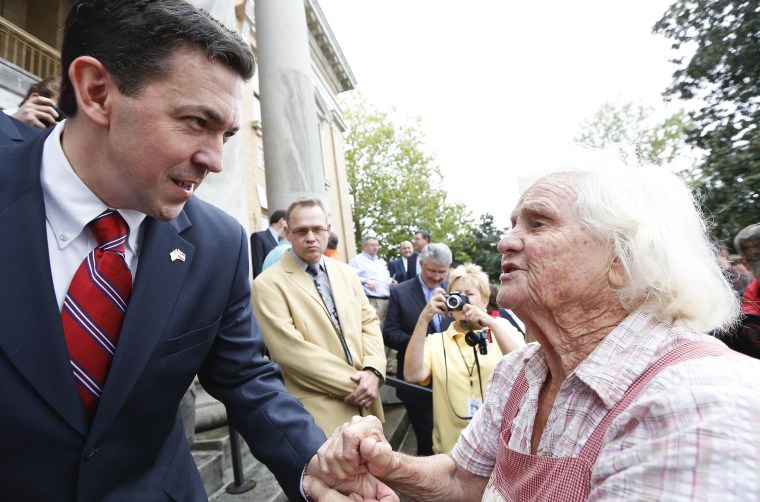 It's Cochran's first competitive campaign since 1984, when "Indiana Jones and the Temple of Doom" was in movie theaters; he didn't announce he was running for reelection until December, after months of rumors that he planned to retire.
"Last week I enjoyed a visit to some of our shipyards, and I was pleased to see the truly outstanding and dedicated work that these highly skilled and hardworking ship builders are doing," Cochran said at the Saturday ceremony, referencing a previous stop he had made in his official capacity as a U.S. senator. On Thursday, he appeared at a groundbreaking for a new development project in Starkville that the federal government helped fund.
Conservatives view defeating Cochran as the Tea Party's best hope to stick it to the Republican establishment in the 2014 midterm elections.
His "Thad for Mississippi" campaign bus made an appearance in a hospital parking lot in Meridian the following day, but with reporters in town, he canceled a stop at a local restaurant. The bus drove on without him, headed for its next gig: transporting a cheerleading team to the northern part of the state.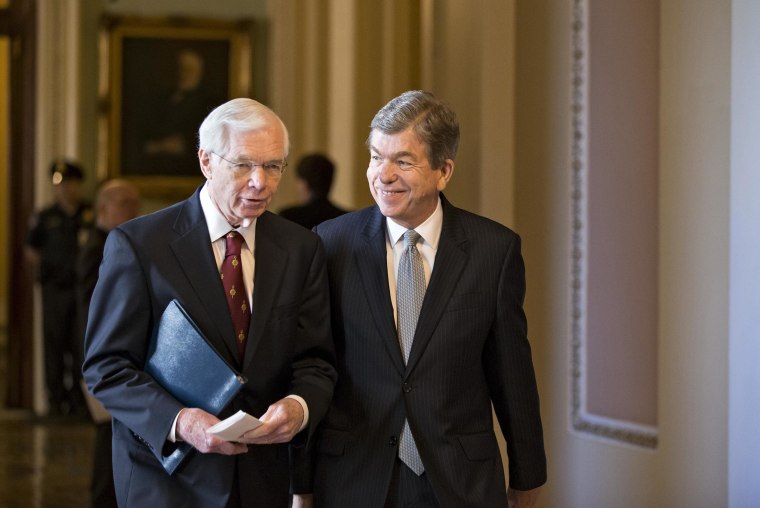 This approach is part of why conservatives are so optimistic about defeating Cochran. McDaniel's supporters view Cochran as an elder statesman who doesn't understand the anti-Washington anger that's fueled the Tea Party.
"I said I didn't know much about 'em," Cochran said during an interview with NBC News on Saturday, by way of explaining comments he made about the Tea Party last month. "They were just getting a lot of visibility all of a sudden, and people asked what I thought and I said, 'I didn't know much about it.' I didn't."
McDaniel is a 41-year-old former litigator who has spent months courting conservative outside groups and meeting with Tea Party stars like Sens. Mike Lee and Ted Cruz. (Asked about whether Cruz has been a positive influence in the Senate, Cochran said: "There've been ups and downs.")
Around the capital of Jackson, McDaniel has a reputation as for ambition, as someone people knew wanted to be senator or governor — someday. But he surprised a state that's accustomed to respecting its elders by dispensing with deference and challenging Cochran in the Republican primary for the seat he's held for 36 years. McDaniel's not-so-subtle suggestion is that Cochran is too old — in age and in way of thinking — to continue representing Mississippi.
"I don't know," McDaniel said when asked if the senior senator was ready for a difficult primary fight. "I mean, I hope so. I pray good health on him."
McDaniel was in Collins, Miss., on Thursday to address the local Cattlemen's Association; dinner was steak, salad and potatoes with butter by the scoopful. He took his turn at the podium after a nearly hour-long speech from a saleswoman hawking Purina mineral, a treatment for soil to breed stronger cows. "I never in a million years thought I would challenge Sen. Cochran. He has been there as long as I've been alive," McDaniel told the crowd. "These gray hairs speak to that length of time. These wrinkles speak to his length of service."
McDaniel's pitch is a warning and a call to arms. "Millions in this country feel like strangers in this land. You recognize that don't you? An old America is passing away; a new America rising to take its place. We recoil from that culture. It's foreign to us. It's offensive to us," McDaniel said; his cadence wouldn't have been out of place on stage at Shakespeare's Globe Theatre.
Of the current environment, he said: "When we abdicate our self-government, when we surrender it to politicians and bureaucrats 1,000 miles away, it is essentially akin to repealing that early American revolution." McDaniel rails against a system that Cochran has for decades used to funnel money back to Mississippi, one of the poorest states in the nation.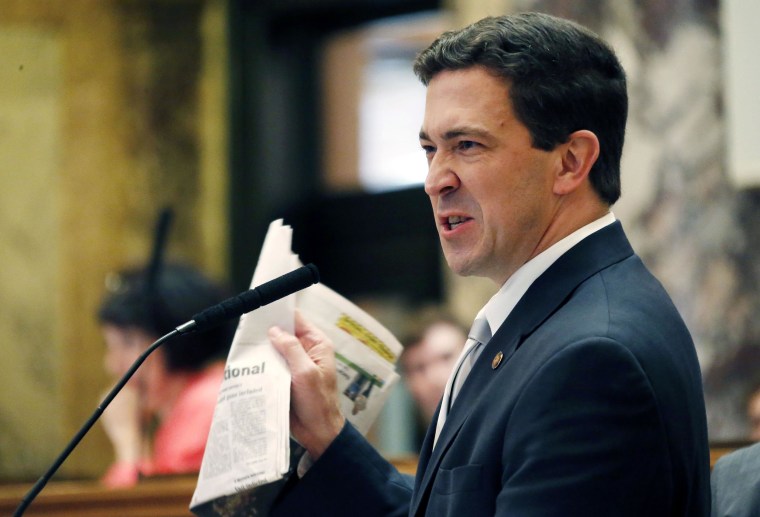 "Sen. Cochran has not shown a willingness to be a conservative during his tenure. He's been there 42 years and during that time period the debt's grown from $400 billion to 17.3 trillion. And he's been largely responsible for that," McDaniel told reporters.
Cochran says that he is doing just fine, in health and job performance.
"I'm complimented by his close attention to my appearance. I feel very good," Cochran said Saturday. "I'm doing a good job, I think, of carrying out my responsibilities as a senator; very active in a lot of issue areas in Washington on behalf of Mississippi."
And he defended his record of bringing money home to Mississippi -- even saying that the earmarking process, officially ended in 2010, isn't actually all that different.
"It's not over," Cochran said of the earmarking era. "I mean you know we're up here in Washington to make recommendations about how federal dollars are to be spent. And if you really want to boil it down, that's what an earmark is. ... So, the process hasn't been changed."
"It's Republican money being spent to beat a Republican," said Haley Barbour. "It's unlike anything we have ever seen in Mississippi."
McDaniel has stumbled over questions about federal money. Earlier this year, he hedged when asked whether he would have voted for the Katrina disaster relief bill, a measure that many in Mississippi say saved the state from near ruin. His campaign quickly corrected his record in a statement, saying he would have voted "yes."
Incidents like that will help Cochran's campaign cavalry, already assembled back in Jackson: the powerful Barbour family.
Austin Barbour worked on Mitt Romney's presidential campaign and, with Romney consultants Stuart Stevens and Russ Schriefer, is working on Cochran campaign ads. He has preliminary opposition research against McDaniel scattered on the floor of his downtown office near the state capitol.
One floor above, Austin's brother Henry is running a super PAC backing Cochran; they learned not to communicate about politics, Austin jokes, when Henry was working for Rick Perry in 2012.
And topping it off is former Mississippi Gov. Haley Barbour, their uncle, a revered figure here who has deep ties to donors and the national GOP establishment.
Collectively, their anger at McDaniel—and the groups supporting him—is palpable.
"It's Republican money being spent to beat a Republican," said Haley Barbour, reached by phone while he was vacationing with his grandchildren. "It's unlike anything we have ever seen in Mississippi."
They're also sounding the alarm about McDaniel, warning that he could be too conservative for a state that hasn't been Republican for all that many years. National Democrats helped convince former Rep. Travis Childers to jump in as speculation about McDaniel's possible success mounted.
"The Democrat who is running is a one-term congressman. He is no more going to beat Cochran short of an assassination," Haley Barbour said. "But there are enough Republicans in Mississippi who could be offended by, 'I don't know if I would have voted for the disaster relief after Hurricane Katrina.'"
"There's a significant group of people who recognize that the chance of losing this seat is a Murdock-Akin situation," Barbour said, referencing two Tea Party conservative candidates who beat Republican incumbents in 2012 only to lose to Democrats in the general election.
In a year when Republicans need every seat in their quest to win six and take back the Senate, it could make all the difference.
"The last thing we want to do is election night [is] have a big screw up here and have people look at Mississippi and say, 'but for the mistake in Mississippi, we could have taken the United States Senate,'" said Joe Nosef, the chairman of the Mississippi Republican Party. "We've obviously seen what's happened in other states over the last few years, and we're determined not to let that happen here."
Clayton Collins of MSNBC's "Morning Joe" contributed to this report.