Out of the approximately $150 million spent on advertisements in the 2016 presidential race, nearly 70 percent of it has come from outside groups, according to ad-tracking data from NBC News partner SMG Delta.
But there is a significant difference by party: 83 percent of the Republican ad dollars, especially in early states like Iowa and New Hampshire, have come from Super PACs and other outside groups, versus just a mere 2 percent from Democrats.
Another way to view it: Campaigns are responsible for 98 percent of the more than $25 million spent on ads in the Democratic race ($24.8 million out of $25.2 million), compared with just 17 percent on the Republican side ($21.3 million out of $123.7 million).
One of the biggest reasons for that difference has been the pro-Jeb Bush Super PAC, Right to Rise – the biggest advertiser in the 2016 race – which has spent more than $50 million on TV ads, while the Bush campaign itself has spent just more than $2 million. That's almost a 25-to-1 ratio.
Worth pointing out: Campaigns get discounted ad rates from TV stations, which mean that outside groups typically have to spend more – sometimes four times as much – to air the same television ad.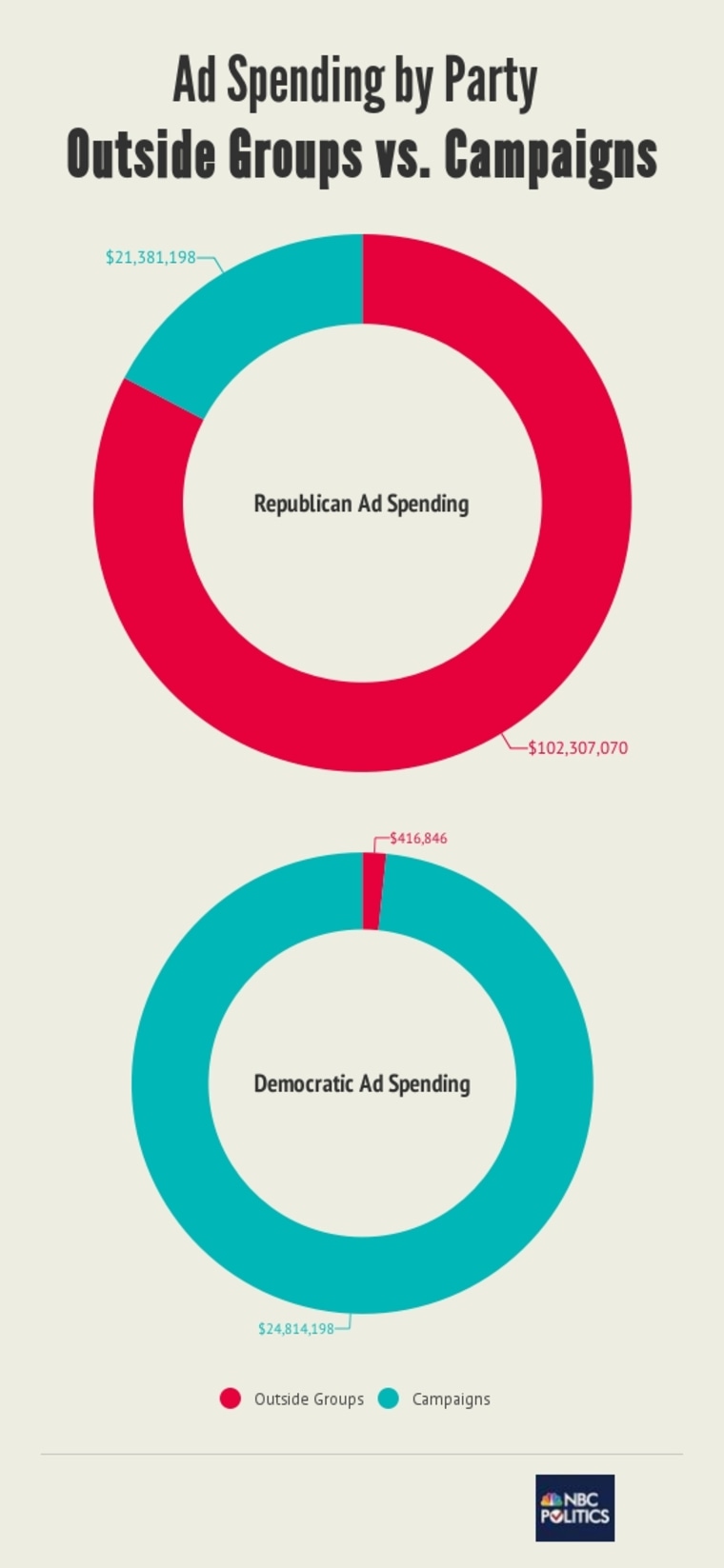 Biggest ad spenders to date
Team Bush: $52.8 million ($50.7M from Super PAC, $2.1M from campaign)
Team Rubio: $29.8 million ($10.6M from campaign, $9.6M from Super PAC, $9.6M from 501c4)
Team Clinton: $14.6 million ($14.4M from campaign, $199K from Super PAC)
Team Kasich: $10.6 million (all from outside groups, except $289K from campaign)
Team Sanders: $10.3 million (all from campaign)
Team Christie: $9.9 million ($9.5M from Super PAC, $407K from campaign)
Team Carson: $4.3 million ($4.1M from campaign, $200K from Super PAC)
Team Cruz: $2.8 million ($1.4M from campaign, rest from outside groups)
Team Trump: $2.2 million (all from campaign)
Team Paul: $1.1 million ($965K from Super PAC, $125K from campaign)
Team Fiorina: $1.0 million (all from Super PAC)
SOURCE: NBC/SMG Delta