RIYADH, Saudi Arabia — Nobel Peace Prize laureate Muhammad Yunus has called on President-elect Donald Trump to ditch negativity and "build bridges" instead of walls.
The U.S. election "became a victim of the wrong politics" fueled by fear of religious, ethnic and national differences, the Bangladeshi founder of the microfinance movement that has helped lift millions out of poverty told NBC News on Tuesday.
"Somehow we got stuck with the wall building," said Yunus at the MiSK entrepreneurship forum, where he was mobbed by admirers. "We are all human beings with equal power, equal energy, equal creativity."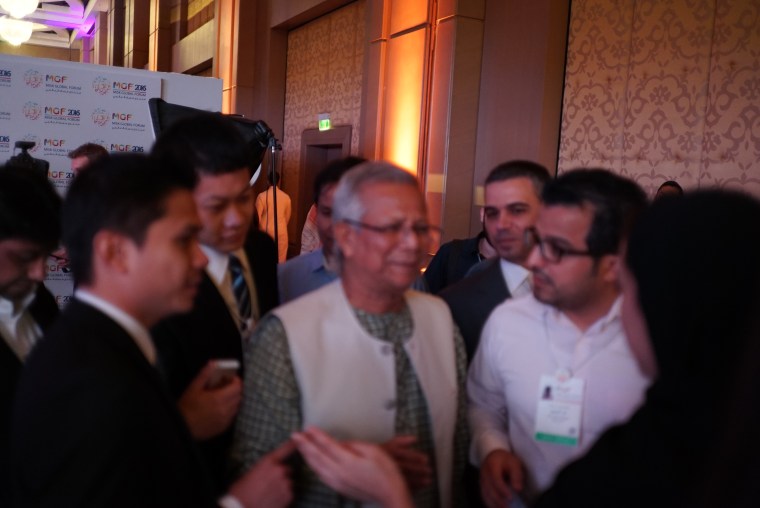 When asked what he would tell Trump if was given the chance, he said: "Now that you are president you have to look at the world in more generous way so that you can build bridges. You are good builder, you can build walls, you can build bridges. Use the power of building bridges."
The president-elect's promises to build a wall on the U.S.'s southern border "and make Mexico pay for it" were rallying cries during his campaign, although he has recently backed off slightly saying that a fence may be more appropriate in some parts.
"For certain areas I would, but certain areas, a wall is more appropriate," he said on a "60 Minutes" interview Sunday. "I'm very good at this, it's called construction."
Trump kicked off his campaign for president on June 16, 2015, by accusing Mexico of sending people bringing drugs, criminals and rapists to the U.S.
Yunus also warned of growing income inequality around the world.
"It is getting worse every year," he said. "At the same time the population of the world is in increasing year by year."
Related: Meet the Man Fighting to Be King of Solar in Land of Oil
He added that depriving the majority of the population of wealth and an adequate standard of living "is a time bomb — a ticking time bomb which will explode in a social way in and economic way."
Yunus founded Grameen Bank was the first lender to give very small loans to poor Bangladeshis who did not qualify for services from mainstream lenders, and has become a celebrity worldwide for his work helping poor people — mostly women.
The 76-year-old carried the Olympic torch this summer in Rio de Janeiro and has guest-starred an episode of "The Simpsons."