The Biden administration announced new immigration policies Thursday, effective immediately, that will limit asylum claims at the southern border and expand the use of the Covid ban known as Title 42 while increasing the number of legal paths for some migrants to apply for asylum.
Title 42 will now be invoked to push thousands of Cubans, Haitians and Nicaraguans each month back over the southern border, but the administration will also increase the ways migrants can apply for asylum in the U.S. without making the journey north.
President Joe Biden laid out the policy changes in brief remarks Thursday at the White House. He blamed congressional Republicans for blocking a more comprehensive plan that he unveiled upon taking office in 2021.
"The failure to pass and fund this comprehensive plan has increased the challenges that we're seeing at the Southwest border," he said, speaking in the Roosevelt Room.
The border enforcement actions "aren't going to fix our entire immigration system, but they can help us a good deal in managing what is a difficult challenge," he added.
Biden has faced steady criticism from Republicans for not having visited the Southern border earlier in his presidency. He plans to make his first trip to the border Sunday in El Paso, Texas, en route to a summit meeting of North American leaders.
Asked by a reporter why he is visiting the border now, Biden said, "The Republicans haven't been serious about this at all."
The administration's plan will make it harder for migrants to seek protection if they do not first claim asylum in countries they pass through on their way to the U.S., a move critics say is similar to former President Donald Trump's transit ban, which was struck down in courts.
Homeland Security Secretary Alejandro Mayorkas said at a news conference Thursday that any migrants who "circumvent available established pathways to lawful migration and also fail to seek protection in a country through which they traveled on their way to the United States will be subject to a rebuttable presumption of asylum ineligibility in the United States, unless they meet exceptions that will be specified."
Previously, Haitians, Cubans and Nicaraguans had been able to skirt Title 42, the Trump-era Covid rule that prevented more than 1.4 million border crossings by forcing migrants back into Mexico before they could claim asylum. They were exempted in part because their home countries, and therefore Mexico, refuse to take them back. 
Now they will be added to those nationalities subject to the ban, despite the Biden administration's saying in court that the restrictions are no longer necessary as a public health tool. If the Supreme Court eventually allows Title 42 to be lifted, the administration could use other authorities to fast-track such migrants for deportation. Late last month, the Supreme Court allowed Title 42 to remain in effect for now, putting on hold a judge's ruling that would have ended it.
Sen. Robert Menendez, D-N.J., who has led efforts to reform the U.S. immigration system, said in a statement he was "deeply disturbed" by the policy.
"The Biden administration's decision to expand Title 42, a disastrous and inhumane relic of the Trump administration's racist immigration agenda, is an affront to restoring the rule of law at the border," Menendez said. "Their decision to create an unlawful transit ban erases the words and values etched on the Statue of Liberty." 
The Biden administration faces record numbers of illegal border crossings, particularly by migrants from Cuba, Haiti, Venezuela and Nicaragua. 
The administration will begin sending up to 30,000 migrants from those four countries back into Mexico each month while allowing 30,000 asylum-seekers from those countries to apply to live and work in the U.S. for two years. Those accepted through the application process must show they have U.S.-based sponsors to support them, much as Venezuelans and Ukrainians have done through programs the Biden administration established for those countries. 
NBC News was first to report that the Biden administration was considering opening up an application program for migrants to apply to come to the U.S. from their home countries.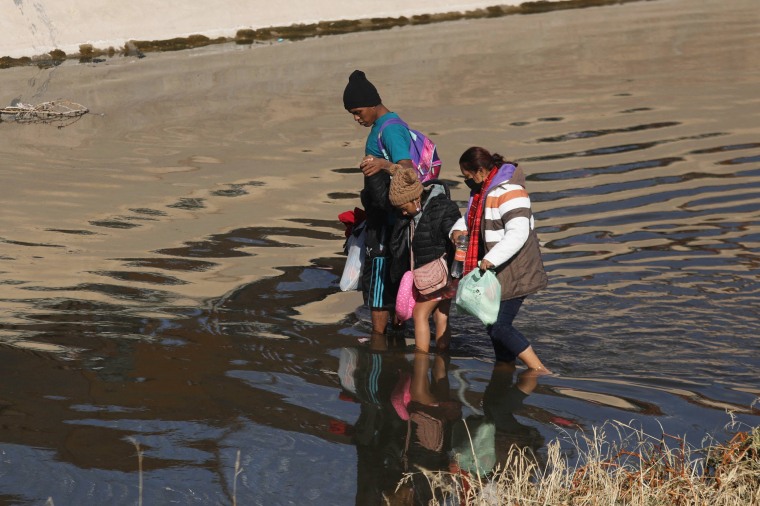 Senior administration officials told reporters that the program is designed to cut down on the number of migrants who pay smugglers and take dangerous journeys to the U.S. 
Immigration advocates have been critical of plans to limit the number of migrants who can cross the border, saying they infringe on international rights to asylum. 
Vanessa Cárdenas, the executive director of the immigrant advocacy group America's Voice, said that even though Biden ran on a pro-immigration platform, the policy "gets it wrong."
"Slamming the door to more asylum-seekers while cracking open a few windows isn't the answer," Cárdenas said.