President Donald Trump's executive orders to build a wall and crack down on illegal immigration could have explosive policy implications, experts say, but many of his changes face an uncertain path of legislative, legal, and logistical obstacles before they hit their intended goals.
The wall was the headline grabber, but it could take years to plan, fund, and build, and faces serious geographic and legal constraints along the way. Much of the border, especially in Texas, runs along private property, through state and national parks, and through areas with natural barriers that already limit illegal crossings.
Perhaps the bigger and more immediate change, which Trump has broad authority to enact, concerns which people Immigration and Customs Enforcement agents are told to target for deportation.
There are an estimated 11 million undocumented immigrants and the federal government has only limited capacity to identify, prosecute, and deport violators. That means it has to set priorities as to which groups deserve the most attention.
PHOTOS: Here's What the U.S.-Mexico Border Looks Like Before Trump's Wall
Under President Barack Obama, agents were ordered to focus on recent border crossers and immigrants who committed serious crimes, both of whom ICE deported in large numbers. On the other side of the ledger, the administration instructed authorities to increasingly de-prioritize otherwise law-abiding immigrants, especially if they had been in the country for a long time or would be torn from family members.
Obama tried to grant work permits to people who fit the low-priority category, which could include up to 5 million people, but was stymied by the courts. Nonetheless, under his guidelines they enjoyed some measure of protection and the number of deportations from the interior of the country, as opposed to those near the border, dropped sharply.
Related: Trump Signs Orders Aimed at Cracking Down on Illegal Immigration
These immigrants and their families no longer can count on that protection. Trump's executive order targets criminals as its top priority, but the language is so broad that it could include almost anyone in the country without legal status.
In addition to criminals convicted of violent crimes or serious misdemeanors, it also prioritizes people who have been "charged with any crime" or even "committed acts that constitute a chargeable criminal offense." Another priority is people who have committed "fraud" and "willful misrepresentation," which could apply to large numbers of undocumented immigrants who have taken steps to conceal their status. Finally, it gives discretion to individual agents to target anyone they believe would "pose a risk to public safety or national security."
"This is the blueprint for mass deportation," David Leopold, a former president of the American Immigration Lawyers Association who opposes Trump's moves, told NBC News. "It empowers Trump's deportation force to go out and start rounding up people at will with no real set of criteria."
Activists at groups supportive of Trump's plans to crack down on immigration also described the changes as significant.
"We're talking a big expansion," Daniel Stein, president of the Federation for American Immigration Reform, said in an interview. "This is good stuff. I'm doing my version of the happy dance."
Related: 'Sanctuary Cities' Vow to Resist Trump Order Despite Funding Threat
The plan takes additional steps to increase enforcement. It revives Secure Communities, a program that the Obama administration had used to identify immigration violators in state and local jails but which it scrapped amid complaints from activists that it targeted people who were minor offenders or were not charged with any crime. The executive orders also threaten to withhold federal grants from "sanctuary cities," a loose term that refers to local governments who instruct authorities not to participate in immigration enforcement.
Taken together, this could mean a massive increase in deportations. But Trump can't do it all on his own. Even if agents were to target larger swaths of people, they still need manpower to pursue them. Trump can mandate that they hold more suspected immigration violators in detention, but they need detention centers that can hold them. Mindful of this, Trump's executive orders call for adding 5,000 border patrol agents, 10,000 interior enforcement agents, and more detention facilities.
Paying for this new deportation regime will take support from Congress, however, and it won't come cheap, especially when paired with a border wall that could cost between $8 to $14 billion, according to Speaker Paul Ryan. Some outside experts believe the costs could run even higher.
Trump has said he will find a way to force Mexico to reimburse the government later.
Despite Trump's dire rhetoric, estimates of the total number of undocumented immigrants have been stable for years after peaking in 2007, which could make it tougher to argue for a new spending spree.
"If the past is any record, Congress will ask some hard questions about budget requests of this magnitude and will certainly need to grapple with what the return on investment would be for these levels of enforcement spending," Doris Meissner, a former Immigration and Naturalization Services commissioner, told NBC News.
Republican leaders sound willing to cooperate with Trump so far, even if the details have yet to be worked out.
"We agree with that goal and we will be working with him to finance construction of the physical barrier, including the wall, on the southern border," Ryan said in an interview with MSNBC's Greta Van Susteren on Wednesday.
Even if they free up funding, though, there are legal barriers to consider.
Trump might not have enough leverage over state and local governments to force them to adhere to his plans. One reason the Obama administration replaced Secure Communities with a more limited program is that many governors and mayors refused to participate in it. Police departments and attorney generals in so-called sanctuary cities warn that immigrants will be afraid to report crimes if they believe talking to the cops could lead to deportation.
Trump's executive orders threaten to punish noncompliant state and local governments by taking away federal grant money, but the amount of cash affected could be limited and affected cities could mount a significant legal challenge. On Wednesday, mayors in Los Angeles, New York, Boston, and Philadelphia said they plan to maintain their policies, with some politicians threatening to take Trump to court if he tries to stop them.
"A lot of the orders are setting in motion things that will take awhile to come to fruition," Mark Krikorian, executive director of the Center for Immigration Studies, which favors lower immigration levels, told NBC News. "Cutting off money for sanctuary cities is something they have to do, but that fight is going to go on for months or even years."
Related: Mexican President Vows to Protect Immigrants Inside U.S.
While Trump's plans were largely in line with what his most hardline supporters would expect, there was one exception. Trump has so far refused to end Deferred Action for Childhood Arrivals, or DACA, the program for so-called DREAMers — youth whose families entered the country without authorization when they were children — that he decried as unconstitutional before taking office. Based on his public statements, he might be open to legislation that would put its recipients on sounder legal footing.
Breitbart, the conservative news site that Trump adviser Steve Bannon managed until recently, published a story this week highlighting criticism of Trump on the right for not canceling the program.
Stein, the president of FAIR, sees Trump's move on DACA as a potential negotiating tactic. By putting relief for DREAMers on the table, Trump could work out a deal for the resources he needs to carry out the rest of his enforcement agenda while removing one of the most politically sympathetic targets from ICE's crosshairs.
"He's a smart guy, he knows how to get what he wants, and that's the carrot," he said.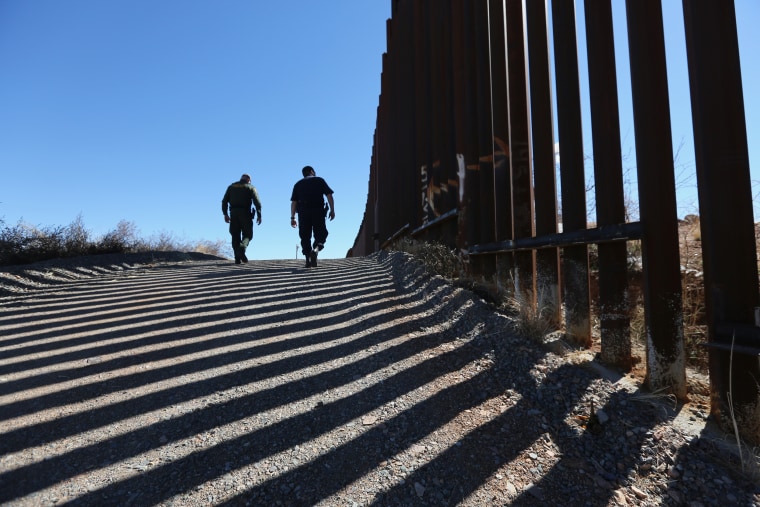 Greisa Martinez, advocacy director for United We Dream Network, told reporters on a press call that she was preparing for the worst as an undocumented immigrant even as her group planned a pressure campaign to protect DREAMers.
"We believe this is the start of Donald Trump's mass deportation agenda and that immigrant youth and the DACA program are not too far behind," she said.
But Trump might not be the only one trying to use border security as leverage. Democrats and even some Republicans could try to nudge Trump toward a deal that combines stricter enforcement and more funding with broader protections for undocumented immigrants.
Senator Thom Tillis, R-North Carolina, told the Wall Street Journal this week that he was working on a compromise bill that would implement a number of new security measures, but provide temporary legal status to many undocumented immigrants — a step down from a path to citizenship, but still a significant change.
Trump's close advisers are likely to reject such a move, but Trump has been unpredictable and appeared to briefly consider allowing some undocumented immigrants to remain in the country late in the campaign. So far, though, his executive orders suggest he's hewing to the hard charging approach he used to fire up his core supporters at rallies around the country.