WASHINGTON — Judge Merrick Garland, President Joe Biden's nominee for attorney general, pledged Monday to make the Jan. 6 attack on the Capitol his top priority if confirmed by the Senate.
Testifying before the Senate Judiciary Committee at his confirmation hearing, Garland said in his opening statement that if confirmed, he would "supervise the prosecution of white supremacists and others who stormed the Capitol on January 6 — a heinous attack that sought to disrupt a cornerstone of our democracy: the peaceful transfer of power to a newly elected government."
Garland, who helped investigate and prosecute the Oklahoma City bombers in the 1990s, said he believes the riot last month was not a "one-off." The Department of Justice must do everything in its power to ensure that Americans and democratic institutions are protected from white supremacists, he said.
At one point, Garland became emotional as he spoke about how his own family's experience fleeing persecution in Eastern Europe, saying it was a major reason why he feels obligated to serve as attorney general.
"I come from a family where my grandparents fled anti-Semitism and persecution," Garland said, pausing and appearing to choke up a bit as he spoke. "The country took us in — and protected us — and I feel an obligation to the country to pay back. This is the highest best use of my own set of skills to pay back."
Democrats asked Garland numerous questions about how he would lead the DOJ's probe into the assault on the Capitol by supporters of former President Donald Trump.
Garland said he doesn't know yet what additional resources the investigation might require, but told senators that it will be his "first priority and my first briefing" if confirmed.
Asked by Sen. Sheldon Whitehouse, D-R.I., whether he would rule out investigating funders, organizers, ringleaders, and aiders or abettors of the attack, Garland said he wouldn't.
"We begin with the people on the ground and we work our way up to those who are involved and further involved and we will pursue these leads, wherever they take us," Garland said.
The Senate voted not to convict Trump in an impeachment trial, but Republican leader Mitch McConnell of Kentucky said: "We have a criminal justice system in this country. We have civil litigation, and former presidents are not immune from being accountable by either one."
Garland and his deputies would face the task of managing the federal investigation of the riot, in which more than 250 people have been charged so far, and more than 550 open investigations. In his prepared remarks for the hearing, he called the riot "a heinous attack that sought to disrupt a cornerstone of our democracy: the peaceful transfer of power to a newly elected government."
Judiciary Committee Chairman Dick Durbin, D-Ill., told Garland in his opening statement that as attorney general, he would be "tasked with the solemn duty to responsibly investigate the events of that day; to prosecute all of the individuals responsible; and to prevent future attacks driven by hate, inflammatory words, and bizarre conspiracy theories."
Durbin said he is "confident" that Garland will be able to "rebuild the Department's once hallowed halls" and "restore the faith of the American people in the rule of law."
Several top Republicans — including Sen. Lindsey Graham, R-S.C. —who chaired the committee in the last Congress, signaled that they are open to confirming Garland.
Sen. Chuck Grassley, R-Iowa, said in his opening statement that he thinks Garland is a "good pick" for the job but said he didn't want the DOJ to "return to the Obama years" in which he said the department abused the government process to spy on Americans or return to a policy of "catch and release on the border."
After acknowledging that he opposed giving Garland a confirmation hearing when then-President Barack Obama nominated him to be a Supreme Court justice, Grassley then attacked Democrats for their grilling of Supreme Court Justice Brett Kavanaugh during his confirmation hearing.
"I also didn't mischaracterize his record. I didn't attack his character. I didn't go through his high school yearbook. I didn't make his wife leave the hearing in tears. I took a position on hearings and I stuck to it," he said of Garland, referring to the sexual misconduct allegations that dominated Kavanaugh's hearings.
Grassley asked if Garland would allow John Durham to complete his investigation as special counsel into the origins of the Trump-Russia inquiry. Garland said he didn't have any information about the probe but said he would discuss it with Durham. Grassley said that Garland came close to "satisfying" him, "but maybe not entirely."
The GOP senator also asked Garland whether he spoke about a tax investigation, which began under the Trump administration, of Biden's son Hunter with the president. Garland said he hasn't and that Biden has made "abundantly clear" that decisions about investigations and prosecutions will be left to the Justice Department.
During the hearing, Garland stressed that he will protect the independence of the Justice Department from White House political interference in investigations after Trump's attorney general, William Barr, was frequently accused by federal judges and others of putting Trump's interests ahead of the department's.
When his nomination was announced last month, Garland said he would strive to make sure that "like cases are treated alike, that there not be one rule for Democrats and another for Republicans, one rule for friends, the other for foes."
Sen. John Cornyn, R-Texas, said that he told Garland that his sole criterion for voting for his confirmation was that he pledge to ensure that politics doesn't affect his job as attorney general.
"I would not have taken this job if I thought that politics would have any influence over prosecutions and investigations," said Garland, who added that he would be in charge, however, of carrying out the administration's policies that are influenced by politics.
Garland said in his opening statement that the Department of Justice's mission to uphold the civil and constitutional rights of all Americans, "particularly some of the most vulnerable members of our society ... remains urgent."
"Communities of color and other minorities still face discrimination in housing, education, in employment, and in the criminal justice system; and they bear the brunt of the harm caused by the pandemic, pollution, and climate change," Garland said.
He also said in response to a question about the death penalty that he has concerns about the "arbitrariness & randomness" of the policy as well as "the large number of exonerations that have occurred through DNA evidence and otherwise, not only in death penalty convictions but also in other convictions."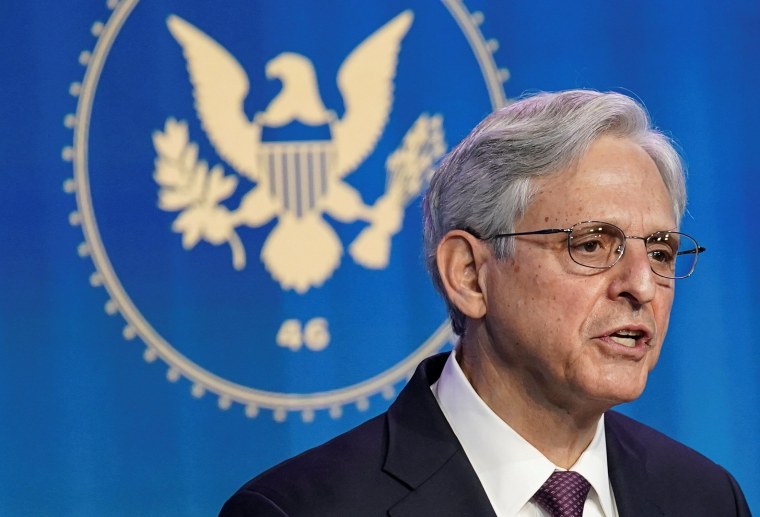 Download the NBC News app for breaking news and politics.
As attorney general, Garland would confront an even bigger challenge in deciding whether and how federal law should be changed to give the FBI more latitude to investigate domestic terrorism without violating the right of free expression. Matthew Schneider, who as U.S. attorney in Detroit charged members of an extremist group with plotting to kidnap Michigan's governor, said it is one of the biggest questions facing law enforcement.
"Any time there is a significant event in U.S. history, there has been a change in the law," said Schneider, now a partner at the law firm Honigman LLP. "There was organized crime in the '70s — they passed RICO [the federal racketeering law]. Credit card fraud in the '80s, they passed ID statutes. After 9/11, they passed the Patriot Act. So the question is do you believe after January 6 we need a new domestic terrorism law?"
If he is confirmed — as seems likely, with Democrats controlling the Senate — Garland would return to the department he left 24 years ago to become a federal appeals judge in Washington. He first came to public attention in 1995: After the bombing of the Oklahoma City federal building, Garland was appointed to oversee the government's handling of the case.
President Bill Clinton put him on the appeals court, and in 2016 President Barack Obama nominated him to succeed Antonin Scalia on the Supreme Court. But Republicans blocked the nomination, and Garland never even had a hearing.
A bipartisan group of more than 150 former Justice Department officials signed a letter supporting Garland's nomination, including four former attorneys general: Democrats Eric Holder and Loretta Lynch and Republicans Alberto Gonzales and Michael Mukasey.
In announcing Garland's nomination, Biden said: "You won't work for me. You are not the president or the vice president's lawyer. Your loyalty is not to me. It's to the law, the Constitution, the people of this nation."