WASHINGTON — A conspiracy theorist convicted of felony Capitol riot charges told a federal judge at his sentencing Tuesday that he wanted to "protect the Capitol" by "arresting the traitors" on Jan. 6 before he was sentenced to more than four years in prison.
Ed Badalian, of California, said at his sentencing Tuesday that he was "frustrated" that officers protecting the Capitol on Jan. 6, 2021, "did not join us in arresting the traitors," referring to members of Congress who did not overturn the 2020 presidential election in Donald Trump's behalf.
Badalian was convicted in April of conspiracy to commit an offense against the U.S., obstruction of an official proceeding and a misdemeanor count. Evidence showed that he organized paintball training sessions after Trump's 2020 election loss and was preparing for war. He made it to the lower west terrace tunnel on Jan. 6 and into the suite of Senate hideaway offices that were ransacked by rioters.
Badalian was charged alongside two co-defendants. One, a Trump supporter named Danny Rodriguez, drove a stun gun into Washington Police Officer Michael Fanone's neck and was sentenced to 12.5 years in federal prison in June. Rodriguez shouted "Trump won!" as he was led out of the courthouse after his sentencing.
The other defendant, Paul Belosic, is a Hollywood background actor who has appeared in several music videos and was known to online sleuths as "Swedish Scarf." He is wanted by the FBI.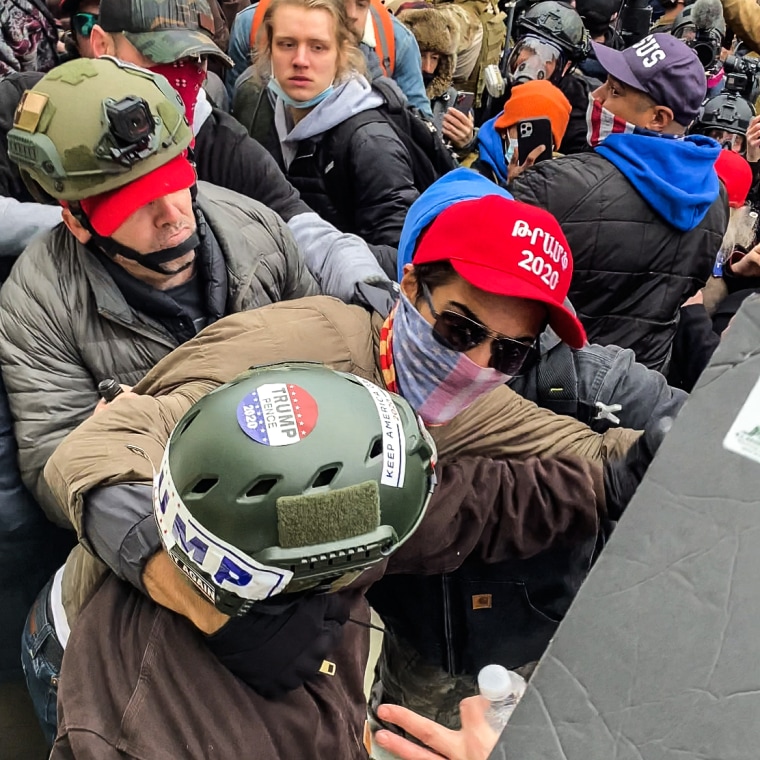 "We need to violently remove traitors and if they are in key positions rapidly replace them with able bodied Patriots," Badalian wrote in an encrypted chat on Dec. 21, 2020, two days after Trump's "will be wild" tweet inviting supporters to Washington on Jan. 6. Badalian's post put the "PATRIOTS45 MAGA GANG" into action, according to prosecutors. Among those Badalian wanted to arrest on Jan. 6: then-House Speaker Nancy Pelosi and incoming President Joe Biden.
After his conviction, Badalian told NBC News that he thought "any person has the right to arrest anyone if they see them committing a crime or if they have knowledge of them committing a crime" and that he would have arrested Pelosi, D-Calif., for "suspicion of knowing" about "election interference."
Prosecutors sought more than 10 years in federal prison for Badalian, citing, among other evidence, his interview with NBC News and photos in which he displayed his ankle monitor as he posed in front of the Capitol.
A defiant Badalian repeatedly interrupted U.S. District Judge Amy Berman Jackson on Tuesday, to the point that she remarked it was "tempting" to lock him up for the full decade prosecutors requested. Ultimately, she sentenced him to 51 months in federal prison, saying such a sentence would be more in line with what other defendants convicted of similar conduct received.
Badalian's behavior was "all about getting and stopping the 'traitors,'" Jackson said. He was not trying to protect the Capitol as he claimed, she added.
"Arresting the traitors would protect the Capitol," Badalian bellowed, drawing a rebuke from the judge. "I guess arresting traitors is not good for the country?"
Badalian, Jackson said, "can't let go of the false story of bringing down antifa," referring to a video that shows Badalian grabbing a person breaking a Capitol window who he claims is a member of antifa. Online sleuths have since identified that person, who is a Trump supporter but has not been arrested by the FBI.
"What you attacked was the Constitution," Jackson said, "you were attacking the very foundation of the nation itself."
"You are a legend in your own mind," she told Badalian. "A hero in your own head."
There had to be consequences for his "misguided, violent vigilantism — you do not think the rules apply to you," Jackson said before she informed him he would be committed to the custody of the U.S. marshals immediately.
As Badalian removed his suit jacket, his tie, his belt and his shoelaces under the close watch of two marshals, he proclaimed that "this is what you get for defending the Capitol building" and questioned the loyalty of one of the law enforcement officers taking him into custody.
"How do you feel about this?" he asked. "You feel like this is right?"
Just before he was handcuffed and led out of the courtroom, Badalian told the marshal that he had the duty to resist unconstitutional orders.