Sen. Chuck Schumer urged Congress Sunday to pass legislation that would close a "major loophole" in federal gun law allowing suspected terrorists on the no-fly list to legally purchase firearms in the wake of the deadly Paris attacks.
"Under current law, suspected or known terrorists who are on a no-fly list can legally purchase firearms in this country," Schumer, D-N.Y., said at a press conference early Sunday. "They can walk into a gun show, no questions asked, and buy a gun or buy explosives."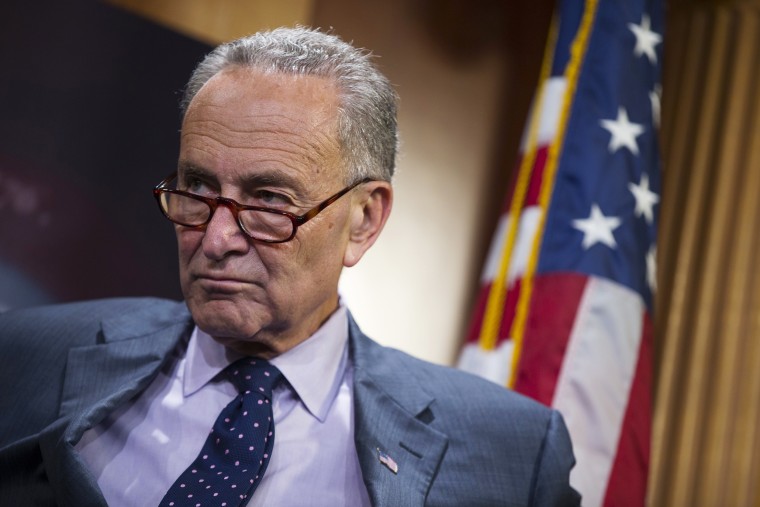 Speaking several hours after the New York City Police Department and other city officials conducted an active shooter drill in a subway station in the borough of Manhattan, Schumer stressed the need to prevent active shooter incidents from happening — not just stop them after they occur.
Related: NYPD Commissioner to Congress: 'Start Getting Serious' on Guns
"First and foremost, our goal has to be to avoid any terrorists — lone wolves or otherwise —from getting a weapon, rather than making sure we shoot them after they've gotten their hands on one," he said.
The bipartisan federal legislation, known as the Denying Firearms and Explosives to Dangerous Terrorists Act, is being led by Sen. Dianne Feinstein, D-CA, in the Senate and Rep. Peter King, R-NY, in the House of Representatives, Schumer said.
The senator blasted the National Rifle Association for continuing to oppose the bill, saying the organization "has fought tooth and nail" over the past several years to prevent it from passing.
The act was initially proposed in 2007 by the administration of George W. Bush.
"Because of the NRA it hasn't happened, but because of Paris we're hoping there will be new impetus to do this and do it now," Schumer said, adding that he was hoping to bring the legislation to the floor next week.
"Slamming this appalling loophole ought to be a no brainer," he said.
House Minority Leader Nancy Pelosi echoed the sentiment in remarks on Thursday, voicing her opposition to the House Syrian refugee bill and calling for Congress to act on the firearm's bill instead.
"We should be voting on Republican Congressman Peter King's bill to close the loophole that a person who is on the terrorism watch list could walk into a gun store and buy a gun," she said Thursday morning on the House floor.
Pelosi said it was "outrageous that we would slam the door on women and children but allow terrorists to buy guns."