As Ukraine runs low on the ammunition it needs to continue fighting off the Russian invasion and foreign stockpiles grow bare, some of Kyiv's staunchest backers, including the United States, are putting pressure on European allies to quickly ramp up arms production.
An ambitious proposal made by Estonia and reviewed by NBC News would have Europe increase 155 millimeter artillery shell production by seven times, moving manufacturing capacity from 240,000 to 300,000 shells per year to up to 2.1 million shells annually. 
The estimated cost would be nearly $4.25 billion for the joint acquisition effort that would be shared by European Union member states. If fulfilled, Europe would produce Ukraine's ammunition needs in six months, rather than the four years it would take at current production levels, the proposal says. 
Just before giving a blistering speech that denounced Russia at a United Nations Security Council meeting dedicated to the first anniversary of the invasion last week, Estonian Foreign Minister Urmas Reinsalu told NBC News that he had discussed the proposal with several of his European counterparts at a dinner in New York City.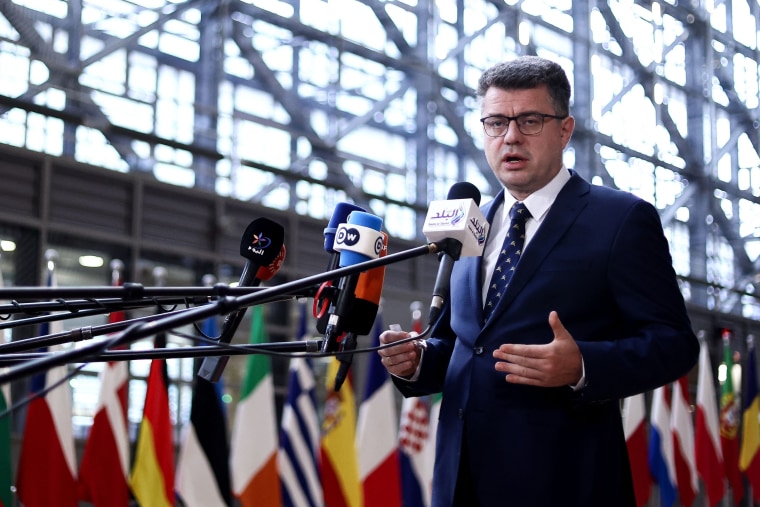 While he said he was "confident" that a plan would be agreed on, there was no time to waste. 
"The modus operandi may differ — who will make procurements and how much and so on — but what is important is that it takes place quickly," he said.
To Ukraine, the production of shells in Europe and the U.S. is at a crisis point.
"If production remains at the same level or slightly higher, we will run out of shells this year," according to Andriy Zagorodnyuk, who previously served as Ukrainian President Volodymyr Zelenskyy's defense minister and is now advising the Ukrainian government on arms procurement. 
Estonia, which borders Russia, used to be part of the Soviet Union and its leaders for years have warned of President Vladimir Putin's expansionist impulses. It has been key to efforts to dramatically increase ammunition production, according to a Senate staffer close to the arms production dialogue between the U.S. and its allies who spoke on the condition of anonymity to speak freely about the discussions.
The country has served as the "North Star" for Europe's military aid to Ukraine, the staffer said. 
The small country, with a population of 1.3 million, has dedicated nearly half of its defense budget to aiding Ukraine. Now "the U.S. is urging European governments to increase production of artillery ammunition," the staffer said, as the U.S. increases its own production fivefold. 
Across the pond, officials said they are responding as best they can. The U.S. "is asking us to do the same, and we are — on a smaller scale — doing exactly that," a Western official told NBC News on the condition of anonymity to openly discuss private matters.
Arms procurement and manufacturing has been a key agenda item for the Biden administration, especially in recent months as it has become increasingly clear that U.S. munition stores are getting low. American domestic production of conventional weapons — like howitzers, tanks and the ammo needed for them — fell out of fashion in the U.S. industrial base after the end of the Cold War. Those manufacturing lines, which grew fallow in the ensuing decades, have been slow to become fully operational again. Concerns have grown publicly in recent months that the U.S. alone may not be able to maintain its steady supply to Ukraine.
Three European diplomats said the issue was a top priority that was raised during President Joe Biden's visit to Poland for the war's anniversary, and it was a regular point of discussion during the Munich Security Conference last month among European officials. It is also expected to be a central topic of discussion for German Chancellor Olaf Scholz and Biden during their meeting at the White House on Friday. 
"All NATO armaments directors are collectively looking at ways to increase production capacity," said an administration official who spoke anonymously to share details about the ongoing efforts, referring to the top officials from each member country in charge of defense procurement. "Given the changing security environment, NATO allies have identified this as a need."
The Biden administration announced Friday that it was contributing even more ammo to help the Ukrainians with a new $400 million package that would drawdown equipment from Pentagon inventories.
The trouble is not that there is opposition among Europeans. Instead, the challenge is time and the countries' bureaucracies. Particularly around the defense industry, Zagorodnyuk said, European safety and competition regulations are fairly stiff. Expanding and building new plants to meet the Estonian proposal within a year would be extremely fast for Europe, Zagorodnyuk said, but "in Ukraine it would not be fast enough."
"It will take time: procurements, orders, production lines and the practical logistics of delivery," Estonia's Reinsalu said, suggesting that European countries could still provide ammunition from their remaining stockpiles and backfill once production catches up.
One problem for the Ukrainians is that the war has been a kind of throwback, militarily. After the Cold War, both U.S. and European defense companies were organized to produce more advanced, high-tech weapons at a peacetime tempo and were not preparing for a land war in Europe heavily reliant on artillery, said Trevor Taylor, professor emeritus at Cranfield University in the United Kingdom.     
"Most NATO countries really did not envisage that they would be in an artillery war. I mean it's a shock to the system," said Taylor, who heads a research program on defense and industry at the Royal United Services Institute think tank. 
Europe's defense industry has sought to adapt to the high demand from Ukraine but is looking for a longer-term commitment from governments to justify major investments required to ratchet up production of artillery rounds and other munitions, he said.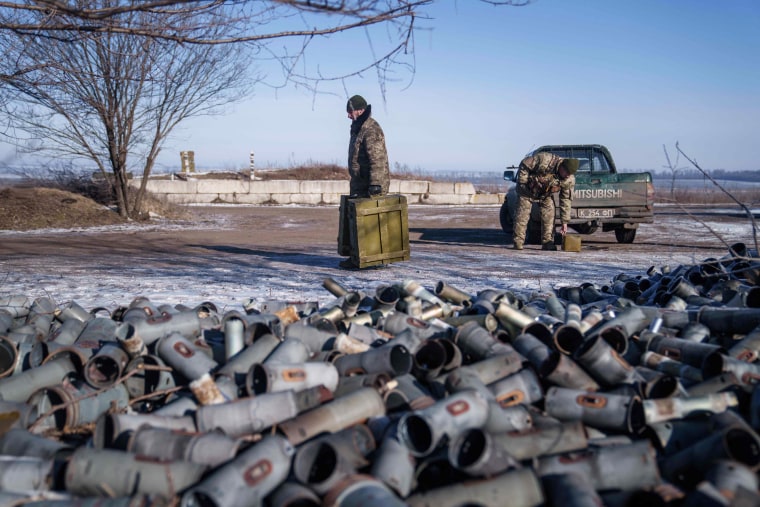 Zelenskyy made clear his country's needs during a news conference with Latvian President Egils Levits in Lviv on Friday. 
"Artillery is the No. 1 of what we need — both systems and ammunition, as well as shells in large quantities — to stop Russia," he said. "Not to shoot at their territory, but to throw them out of ours."
It appears the conversations in Europe are beginning to move from hypothetical proposals to concrete action. A group of European defense ministers is aiming to hammer out a deal next week that would share the burden of production costs across the European Union, according to E.U. spokesperson Nabila Massrali.
They're discussing the need "to look into joint procurement at the European level — both to replenish member states' stockpiles and sustain our efforts in support of Ukraine," she said. "We need to support the industry in ramping up production capacity to ensure they can deliver on the new order."    
The European Union is also expected to deliver much-needed artillery ammunition from member countries' stockpiles, for which Brussels will reimburse them, the Financial Times reported Friday.
European governments are looking at streamlining the rules for weapons buying that would speed up the process and drop some of the competition requirements, according to Taylor of RUSI. 
Perhaps the main frustration for Ukraine is that it took over a year into Russia's invasion of its territory for its partners and allies to respond. It was well known for months that not even the U.S. had the production capacity to maintain Ukrainian forces. It was openly discussed by the defense industry, leading to a recent shift in defense spending priorities.
"We spend a lot of money on some very exquisite large systems and we do not spend as much on the munitions necessary to support those," Raytheon CEO Greg Hayes said at the Reagan National Defense Forum in December. "We have not had a priority on fulfilling the war reserves that we need to fight a long-term battle."
Taylor said he expected U.S. and European defense contractors to be able to supply enough ammunition to Ukraine to avoid a crippling shortage for the country's forces, but it may not be enough for Kyiv to gain the upper hand. 
The Europeans and the Americans "will be able to supply Ukraine with enough ammunition that the Russians can't in any meaningful sense win," he said. "But it will be quite difficult to give the Ukrainians enough that the Ukrainians could, in a clear sense, win."
Phil McCausland reported from New York, and Dan de Luce from Washington.