The start of a new fiscal year means recently enacted laws will take effect Saturday in many states across the country.
The statutes run the gamut from prohibiting marriage licenses for kids in Connecticut to legalizing throwing stars in Indiana.
Here are descriptions of some of the laws taking effect in various states.
Floridians can carry weapons without a permit
Residents of Florida will no longer be required to obtain a permit issued by the state to carry a concealed weapon, under a law that was quietly signed in April by Gov. Ron DeSantis, a 2024 Republican presidential candidate.
Florida became the 26th state to pass some form of "permitless carry" legislation.
California makes it easier to sue the firearms industry
A bill signed by Gov. Gavin Newsom, a Democrat, will make it easier for residents, local governments and the state attorney general to sue firearm retailers in civil court.
Additionally, firearm dealers in California will be required to establish protocol aimed at curbing gun sales to traffickers, people prohibited from firearm possession under state or federal law, and people deemed a risk to themselves or others.
Kansas imposes restrictions on transgender people
A new law in Kansas bans transgender people from using restrooms, locker rooms, domestic violence shelters and rape crisis centers that are consistent with their gender identities. The statute holds that "distinctions between the sexes" be considered "substantially related" to governmental objectives of ensuring health, safety and privacy in those spaces.
The Republican-controlled Legislature in April overrode Democratic Gov. Laura Kelly's veto of the measure.
Georgia blocks most gender-affirming care
A bill signed by Gov. Brian Kemp, a Republican, in March prohibits most gender-affirming procedures and hormone replacement therapies for transgender people under 18. The new law stops short of preventing doctors from prescribing puberty blockers and allows minors who began receiving hormone therapy before July 1 to continue.
Georgia is one of many Republican-led states to restrict access to gender-affirming care, with Texas being the most populous state to have banned gender-affirming care for minors.
Florida bans classroom instruction on STIs and periods before sixth grade
The new law bans instruction on menstruation, human sexuality and sexually transmitted infections in public schools before sixth grade.
It comes after a measure that critics dubbed the Don't Say Gay bill, which banned classroom instruction on sexual orientation and gender identity, was expanded to include all grades in public schools.
Near-complete ban on no-knock warrants in Minnesota
Gov. Tim Walz, a Democrat, in May signed into law a near-complete ban on no-knock warrants after the high-profile shooting of Amir Locke by a SWAT team officer during a raid with a "no knock" warrant in Minneapolis last year.
Exceptions to the ban will be allowed only if the search can't be conducted while the premises are unoccupied, or if its occupants pose an imminent threat of death or great bodily harm to the officers executing the warrant, or others.
Virginia classifies fentanyl as a 'weapon of terrorism'
Starting Saturday, fentanyl will officially be "a weapon of terrorism" in Virginia. The new law also toughens the penalty for manufacturers or distributors of drugs that include fentanyl.
During his State of the Union address this year, President Joe Biden called for "strong penalties" to crack down on fentanyl trafficking, while Republicans have argued that his border policies are largely responsible for the amount of fentanyl in the U.S.
Marriage licenses for kids are banned in Connecticut
A measure signed into law last month blocks minors from obtaining a marriage license in Connecticut.
The new law reverses a 2017 statute that allowed a probate judge to issue marriage licenses to 16- and 17-year-olds with the written consent of a parent or guardian.
Indiana repeals ban on throwing stars
Under a new law, throwing stars are now legal in Indiana, except on school property.
The statute defines throwing stars to "mean a throwing-knife, throwing-iron, or other knife-like weapon with blades set at different angles."
Tougher data privacy laws in Colorado and Connecticut
Both states have enacted consumer privacy laws that are expected to afford residents more control over their personal data.
The new laws require businesses to obtain consent before storing, sharing or selling certain personal data. They also affirm the rights of residents to ask businesses delete their personal information, seek copies of data collected about them and block the sale of their personal data.
Gov. Jared Polis, a Democrat, in 2021 signed a bill establishing the Colorado Privacy Act, with the final rules published in March. Gov. Ned Lamont, also a Democrat, signed Connecticut's version last year.
Pornography sites required to check age of users in Virginia
Porn sites operating in Virginia will be required to take "reasonable steps" to verify that their users are at least 18 years old.
The new law follows the enactment of similar statutes in Arkansas, Mississippi and Utah in recent months.
Mississippi picks the blueberry as its state fruit
Mississippi is formally designating the blueberry as its state fruit.
The move came after a group of elementary school students "led the way on this issue and rallied the legislature to their cause," Gov. Tate Reeves tweeted upon signing the legislation in March.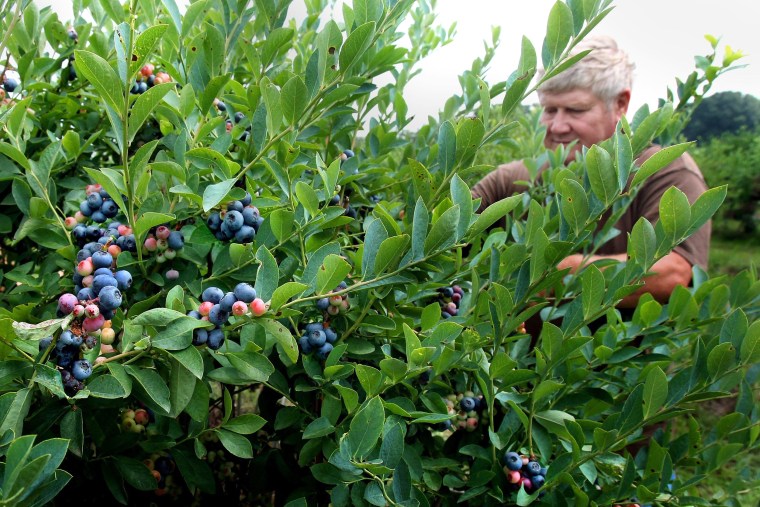 School books with sex acts are now banned in Iowa
Iowa schools will be required to strip from library shelves any texts detailing "sex acts" under a bill that also prohibits instruction related to gender identity and sexual orientation in public and charter schools through sixth grade.
The measure was signed by Gov. Kim Reynolds, a Republican, in May. The legislation also lifts a requirement for schools to include information about HPV and AIDS in health curriculum.
The law follows numerous book bans in Republican-led states under the banner of parental rights that largely focus on LGBTQ themed-texts and books highlighting issues of race and racism.
Restrictions on certain race and gender topics in Tennessee
A new law identifies certain topics surrounding racism and sexism. and how race and gender could play a role in the maintenance of privilege or oppression as "divisive concepts" that are subject to restrictions.
The law bars institutions from conducting mandatory training or using training materials with students or employees that includes these concepts. It also prohibits public institutions of higher education from requiring prospective students or employees to "submit a personal diversity statement" or to agree with an "institutional diversity statement" when they apply.