NASHVILLE, Tenn. — Outside a Kroger grocery store in the suburban Antioch neighborhood, where ousted Justin Jones held rallies during his 2022 campaign, Black residents expressed outrage at the state Republicans who expelled their state representative for protesting gun violence last week.
"He's Black, he has our interests at heart, and he gets removed for protesting. That is racial," Angelo Tate, 31, who identifies as a Democrat, said Friday. "It makes us feel like our choice and our voice is not valued and we seem to be moving backwards politically."
Rachel Tate, 30, who also identifies as a Democrat, said, "It's messed up. All he wanted to do was represent us and he got penalized for it. 
"White men don't care what we think," Tate said. "They took our representative away from us.
"It's like our vote doesn't matter."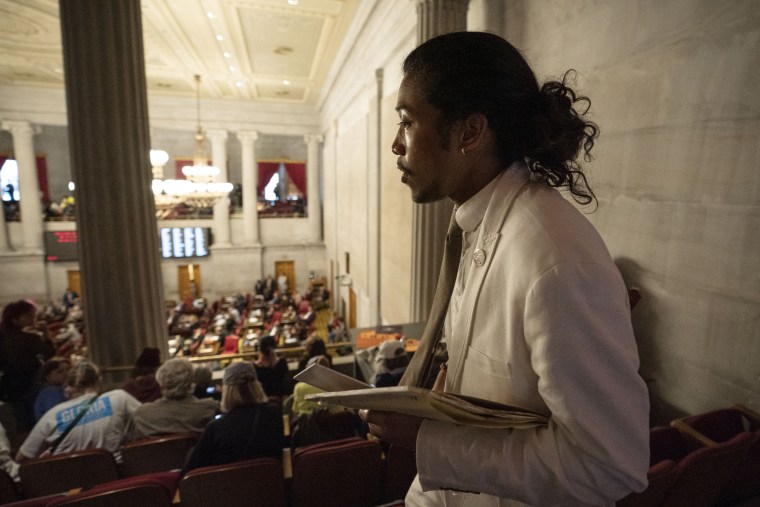 Natalie Hancock, 41, who did not disclose her political affiliation, echoed their sentiment. "We're not happy," she said. "I'm sick of the guns, so many of us are, so why can't we say that? This was obviously racial. There is no hiding it."
Their voices paralleled those of the Black Tennessee legislators who have denounced their Republican counterparts over the expulsions. "The world saw the optics," the Black caucus chairman, Rep. Sam McKenzie, a Democrat from Knoxville, told reporters Friday. "I don't have to say a word about the fact that our two young African American brothers were unfairly prosecuted."
GOP legislators voted Thursday to expel Jones, along with Justin J. Pearson, who are Black, over their protests on the chamber floor, arguing that they broke the rules of the chamber. A vote to expel a third Democrat, Rep. Gloria Johnson, who is white, fell short.
In the March 30 demonstration, the three legislators — dubbed the "Tennessee Three" — had led supporters in calling for stricter gun safety measures after a mass shooting in the state killed three children and three adults.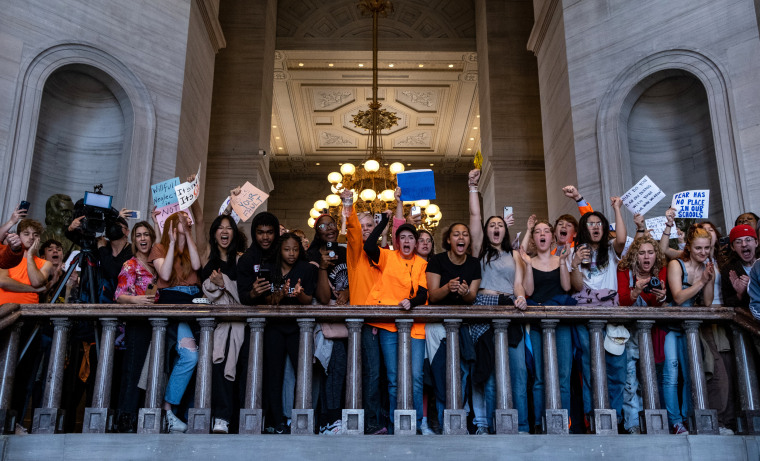 The unprecedented votes spotlighted the partisan divisions that have plagued the Tennessee General Assembly and sparked widespread allegations of racism, which Republicans have denied.
Johnson, asked on CNN why she wasn't expelled along with Jones and Pearson, said last week: "Well, I think it's pretty clear. I'm a 60-year-old white woman, and they are two young Black men."
GOP Rep. Bryan Richey, who voted to expel Jones but not Pearson or Johnson, has said the expulsions "had nothing to do with race" and "had nothing to do with the color of their skin."
The two freshman lawmakers, both community organizers and social justice advocates, had been in office less than five months. Democratic residents in their now-vacant districts have expressed frustration over the expulsions of the young activist representatives they had voted into office to enact change.
On Saturday, Black residents of the Westwood area of Memphis, less than 10 miles north of the Mississippi border, said that Pearson, their former representative, was unfairly punished and that his removal has disenfranchised them as voters. 
"Justin had the right to speak his mind. He should be allowed to do that," said Sheila Hudson, 62. "To me, it was a prejudiced kind of thing. Why else did they kick out the two Black men and keep the white woman? They were all voicing their opinion. They all did the same thing." 
Hudson said she would vote for Pearson again "in a heartbeat."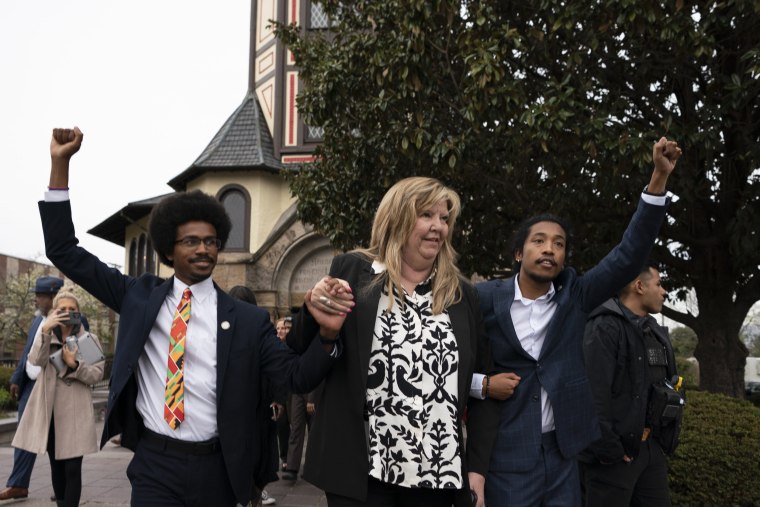 Local governments have the job of filling temporarily vacated state legislative seats.
The Shelby County Board of Commissioners will vote on a resolution to reinstate Pearson on Wednesday afternoon, Shelby County Commission Chair Mickell Lowery said in a statement Sunday.
"I believe the expulsion of State Representative Justin Pearson was conducted in a hasty manner without consideration of other corrective action methods," he said.
Meanwhile, a majority of the members of the Nashville Metropolitan Council have told NBC News they plan to vote to reinstate Jones to the Legislature. The council is expected to hold a special meeting Monday to discuss an interim replacement.
State House Democratic Caucus Chair John Ray Clemmons said he "fully expects" Jones and Pearson to be reappointed. Clemmons said he has spoken with GOP legislators, including the House speaker, who promised to cooperate with the reappointments.
"Just because we're the superminority party doesn't mean the one party that controls every part of government in Tennessee can act with reckless abandon and spit in the face of our democracy and the integrity of our state," Clemmons said, adding that the expulsions were a "waste of an entire week" that should have been focused on gun violence.
In a joint interview Sunday on NBC's "Meet the Press," Jones and Pearson said they will do everything in their power to get back into office to represent their communities again.
In a red state made up of roughly of 78% white and 17% Black residents, the expelled legislators represented districts that were comparatively more diverse. District 86, which Pearson represented, is 61% Black, and District 52, which Jones represented, is 31% Black.
On a bustling road in the Westwood area, Eric Whitemore, 61, another resident who voted for Pearson, voiced concerns about the "racial" tones that underpinned his representative's expulsion.
"The punishment did not fit the crime," said Whitemore, who is Black and identifies as a Democrat. "I didn't feel that was right, but that's America." 
Another Black resident of Woodland, Sandra Smith-Royster, 63, said she voted for Pearson because he represented her views.
"If his voice doesn't matter, then mine doesn't, either," she said. "It should be us choosing who we want, not the Republicans."