Carly Fiorina wasn't booked as "The Tonight Show's" musical guest — but she may as well have been.
Strong on foreign policy with a musical lyric game to match, the rising Republican presidential candidate fielded questions about her Republican rivals, her track record at Hewlett-Packard, and the role of faith in governance.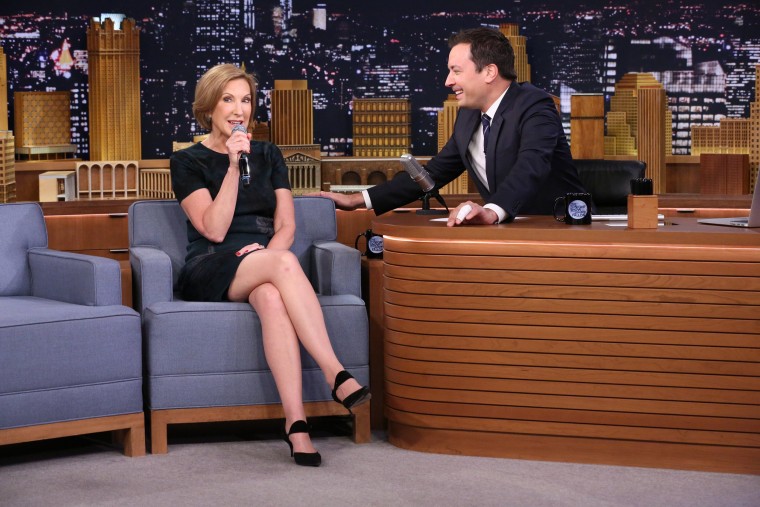 But also showed off her singing skills when Fallon brought up the fact that she sometimes sings made up songs to her grandkids and her dogs, Max and Snickers. "I don't wanna put you on the spot," Fallon said.
"Wanna hear? You want me to hum a bar or two?" Fiorina offered. "This is a song in four verses, I'll only give you one. Ready?"
To the tune of 50's hit "Rock Around the Clock," she gave the audience a sneak peak of the Snicker's song that she sings for one of her two dogs: "My name's Snick, and I'm lazy. Please don't take a walk with me. I'd rather stay right here at home instead. I want to lie back down in my nice, warm bed. My name's Snick and you're gonna have to carry me." A seemingly shocked but entertained Fallon bopped along while the audience clapped to the beat and cheered.
Many candidates have used the late night stage to soften their image. Former President Bill Clinton famously played the saxophone on "The Arsenio Hall Show" in 1992, and Fiorina rival Donald Trump used it to poke fun at himself earlier this month. And as Fallon reminds, this is a show where "silly" lives.
But it wasn't all a song and dance on Monday night in New York City. Fallon also questioned Fiorina on the hot-button topic of Muslims in elected office, an issue popularized by a questioner at a Donald Trump town hall late last week and recently weighed in upon by another Republican front-runner, Dr. Ben Carson.
Carson told NBC's Chuck Todd on Meet the Press on Sunday, "I would not advocate that we put a Muslim in charge of this nation. I absolutely would not agree with that." To which Carly responded Monday evening: "I think that's wrong."
"I actually believe that people of faith make better leaders," she said. "Whether they are Christians, as I am — my faith has sustained me through some very bad times. I've battled cancer, I've lost a child, I've been tested. But whether it's a person of Christian faith or Jewish faith or Muslim faith or other faiths, I think faith gives us humility, and empathy and optimism. And I think those are important things."
Fallon clarified, "so you'd be fine with that?"
"Yes, I would be fine with that," she said to cheers from the audience.
On her rise from secretary at a small real estate firm to corporate executive to now-presidential candidate, Fiorina said, "It's only possible here," but added that she believed that isn't the case now.
On Russian President Vladimir Putin, Fiorina recounted her meeting with the "barrel chested" and "proud of it" Russian leader, calling him "a formidable adversary" who is "confident."
"He can be quite funny and charming, but he's a KGB guy, ya know, we should never forget this."
Pressed on reports that Donald Trump and Putin may have plans to meet, she cautioned, "I wouldn't talk to him at all. I think Donald Trump is wrong. I think we've talked way too much to Vladimir Putin."
In the days following the second Republican presidential debate, Fiorina has seen a swell of support. She is now polling second to Donald Trump — 15 percent to Trump's 24 percent, according to the latest CNN/ORC poll.
"When people get to know me, they tend to support me," she told Fallon. "That's what you see in the polls."