The Education Department is investigating Harvard University's use of legacy admissions following a complaint from advocacy groups alleging that the practice violates federal civil rights law.
In a letter Monday, the department notified an attorney for Lawyers for Civil Rights, which filed the complaint against Harvard this month, that it had opened a probe into the school's admissions process.
An Education Department spokesperson confirmed Tuesday that its Office for Civil Rights is investigating Harvard for possible violations of Title VI of the federal Civil Rights Act but declined to provide additional comment.
"We do not comment on open investigations," the spokesperson said.
A 31-page complaint, filed July 3 by the Greater Boston Latino Network and other advocacy groups, argued legacy admissions at Harvard systematically disadvantage applicants of color and contradict the university's stated commitment to campus diversity.
The complaint argues that the need to end so-called legacy admissions — the practice of giving preferential treatment to the children or other relatives of alumni in college or university admissions — is particularly acute at Harvard after the Supreme Court struck down affirmative action programs at two universities, ending the systematic consideration of race in the admissions process.
In the court filing, the advocacy groups asked the Education Department to declare that Harvard must end the practice if it is to continue to receive federal funds and argued that legacy admissions "are not justified by any educational necessity."
"Harvard cannot show that the use of these preferences is necessary to achieve any important educational goal," the filing said. "To the contrary, the preferential treatment is conferred without regard to the applicant's credentials or merits — the benefit is derived simply from being born into a particular family."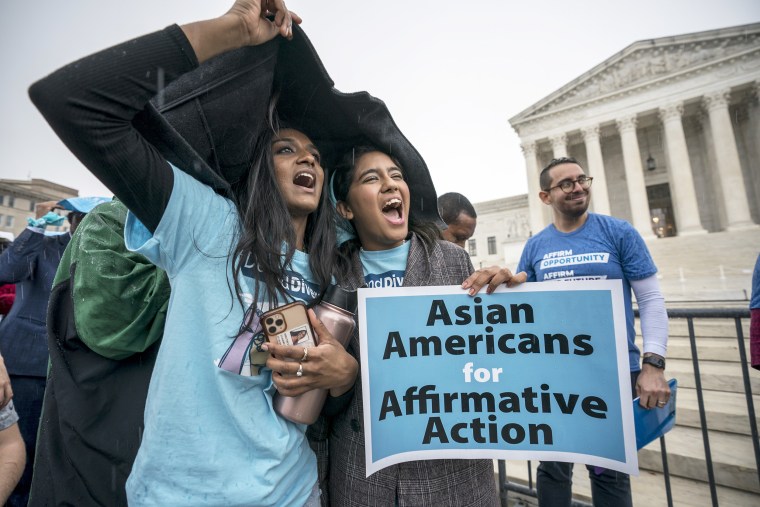 Asked to respond to the legal groups' allegations and comment on the federal investigation, Nicole Rua, a spokesperson for the university, said Harvard is conducting a wide-ranging review of "aspects of our admissions policies" in light of the Supreme Court's ruling.
"Harvard remains dedicated to opening doors to opportunity and to redoubling our efforts to encourage students from many different backgrounds to apply for admission," Rua said in a statement.
Legacy admissions at Harvard, along with other universities, have come under increased scrutiny since the court's ruling — President Joe Biden said last month that legacy admissions "expand privilege instead of opportunity." The NAACP called on universities to end the practice this month, arguing that it unfairly advantages white applicants.
The July 3 complaint cites Harvard data, released after the Supreme Court struck down affirmative action, indicating that 70% of the university's donor-related and legacy applicants are white and that they are six times more likely to be admitted.
"A spot given to a legacy or donor-related applicant is a spot that becomes unavailable to an applicant who meets the admissions criteria based purely on his or her own merit," the complaint said. If legacy and donor preferences were removed, it adds, "more students of color would be admitted to Harvard."