President Donald Trump's nominee for the Supreme Court has called the president's recent criticism of the judiciary "disheartening" and "demoralizing," a spokesman for the nomination confirmation team told NBC News on Wednesday.
Sen. Richard Blumenthal, D-Connecticut, said Wednesday that he spoke with U.S. Appeals Court Judge Neil Gorsuch and that Gorsuch "certainly expressed to me that he is disheartened by the demoralizing and abhorrent comments made by President Trump about the judiciary."
A spokesman for the team shepherding Gorsuch's nomination in the Senate confirmed Blumenthal's version of the conversation to NBC News and said Gorsuch did use the words "disheartening" and "demoralizing."
Despite that confirmation from Gorsuch's camp, Trump on Thursday morning took to Twitter to attack Blumenthal, writing: "Sen. Richard Blumenthal, who never fought in Vietnam when he said for years he had (major lie),now misrepresents what Judge Gorsuch told him?"
Trump was referring to reports in 2010 that cited speeches from 2006 and 2003 where Blumenthal seemed to indicate that he was in Vietnam during the war — although his supporters have argued that Blumenthal was merely referencing the fact that he served in the Marine Corps Reserves stateside during the conflict. He attained the rank of sergeant. Trump himself managed to avoid being drafted by getting deferments for college and then because of bone spurs in his heels.
On Twitter and in a speech Wednesday, Trump criticized judges and attorneys involved in a legal fight over his immigration travel executive order, which suspended entry to the United States from seven predominantly Muslim nations and temporarily halted the entry by refugees.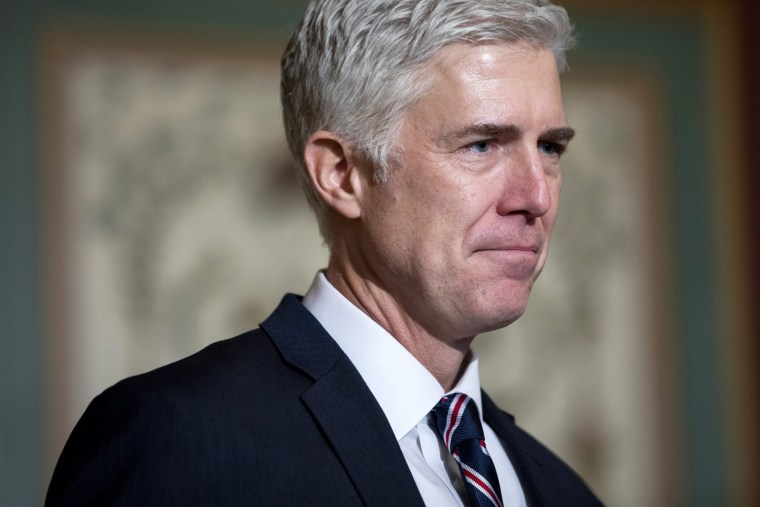 Senate Minority Leader Chuck Schumer, D-New York, said on MSNBC on Wednesday that Gorsuch should have been more forceful in his disagreement with the president. "To whisper to a senator behind closed doors without condemning, without making a public statement, is not close to enough," Schumer said.
Trump called the federal judge in Seattle who blocked the order last week a "so-called judge." U.S. District Judge James Robart was appointed by President George W. Bush.
In a speech Wednesday, the president criticized pointed questions by a three-judge panel of the 9th U.S. Circuit Court of Appeals a day earlier.
"I don't want to call a court biased, but courts seem to be so political," Trump complained during a joint conference in Washington, D.C., of the Major County Sheriffs' Association and the Major Cities Chiefs Association.
"I listened to a bunch of stuff last night that was disgraceful," he added. "It was disgraceful."
The president in an earlier tweet Wednesday had already blamed "politics" in the event the judges don't rule in his favor.
Trump read a section from the Immigration and Nationality Act and told the conference room of law enforcement officials, "A bad high school student would understand this. Anybody would understand this."
Related: Experts Say Trump Undermines Judiciary With Twitter Attack on Judge
The 9th U.S. Circuit Court of Appeals could rule this week on whether to put on hold Robart's temporary restraining order, which effectively blocked implementation of the travel restrictions nationwide.
Visa holders rushed to take advantage of the pause. About 60,000 visas that had been canceled were deemed valid after Robart issued his restraining order last week.
Trump has called the order necessary to protect Americans from terrorism. The executive action follows pledges Trump made on the campaign trail for "extreme vetting." Critics have called the order a "Muslim ban," which Trump has denied.
Some Senate Democrats, including Schumer, have said they want Gorsuch's confirmation to require 60 votes. Republicans have a 52-46 majority in the Senate, with two independents.
Related: Democrats Vow Resistance to Neil Gorsuch, Trump's Supreme Court Pick
If Democrats do filibuster the pick, Senate Majority Leader Mitch McConnell, R-Kentucky, could seek a change in Senate rules to prevent a filibuster on Supreme Court nominees, commonly referred to as the "nuclear option" because it would eliminate a longstanding tool of the minority party.
Trump has said that if Democrats do try to block the pick, McConnell has his blessing to use the option.
It's not the first time that Trump has been criticized for comments he made about a judge.
During the presidential campaign, Trump told The Wall Street Journal that U.S. District Judge Gonzalo Curiel's "Mexican heritage" is a conflict in his presiding over a fraud case against Trump University.
House Speaker Paul Ryan, R-Wisconsin, at the time said "claiming a person can't do their job because of their race is sort of like the textbook definition of a racist comment." Trump in November agreed to settle the Trump University suit for $25 million.