Kansas Secretary of State Kris Kobach has already laid out his plan for overhauling of the nation's immigration system, and it includes many of president-elect Donald Trump's most prominent — and controversial — campaign priorities, including reinstating an immigrant tracking system and questioning "high risk" immigrants about their views on Sharia law and jihad.
The plan was laid out in a document Kobach, who's considered a potential pick to lead the Department of Homeland Security in Trump's administration, brought to his meeting with the president-elect this meeting — which was photographed by the Associated Press.
Related: Trump Immigration Adviser Kris Kobach Wrote the Book on Muslim Registry
Zooming in on the image revealed that the first bullet point in the "Kobach Strategic Plan for First 365 Days" at DHS is the reinstatement of the National Security Entry-Exit Registration System, an immigrant tracking system Kobach helped establish while he was at the Justice Department in the wake of the Sept. 11, 2001 terrorist attacks.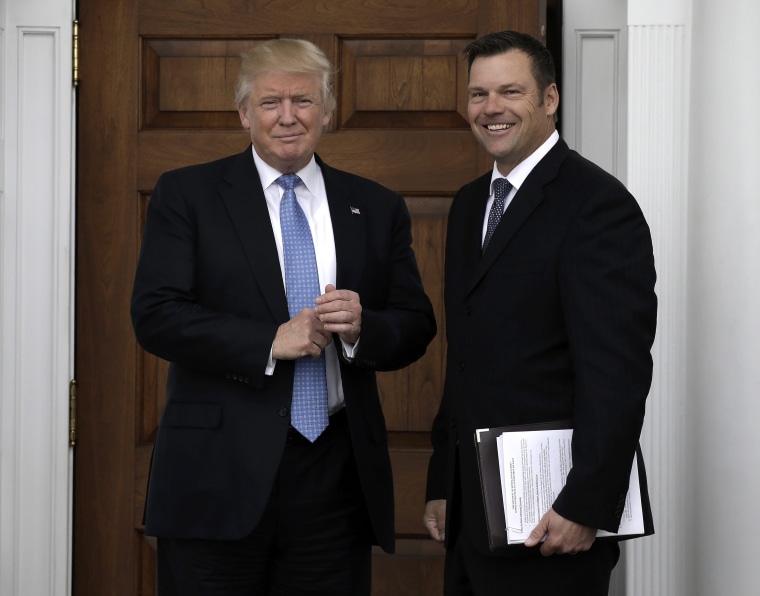 The program was suspended in 2011, but at the time it required men over 16 from a handful of countries in hotspots around the globe register in person and submit to questioning and fingerprinting at an Immigration and Naturalization Service office.
The ACLU decried the program as racially discriminatory and noted it targeted residents of Muslim- and Arab-majority nations.
During the presidential campaign, Kobach said he'd like to reinstate something similar, prompting critics to question whether it's precisely the Muslim registry Trump himself initially expressed support for on the campaign trail — one of his most controversial policy proposals, and one that he and his aides have remained purposely vague on since Trump won election.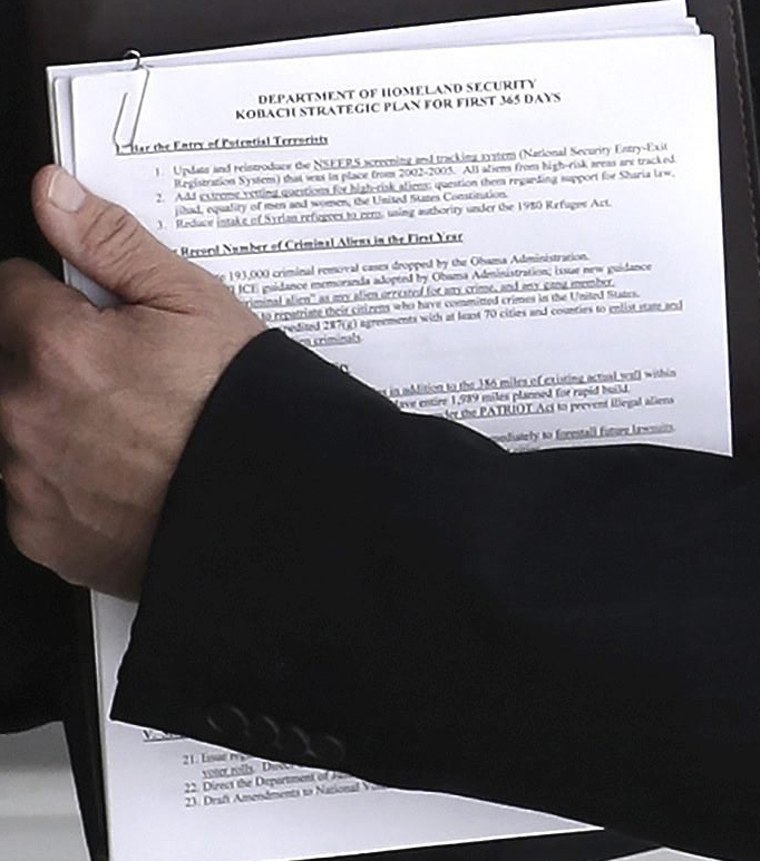 Kobach's plan for DHS also echoes Trump's campaign-trail pledges in his proposal to "add extreme vetting questions for high-risk aliens — question them regarding Sharia Law, jihad, equality of men and women, the United States Constitution," as well as plans to reduce the number of Syrian refugees accepted into the U.S. to zero.
It includes one key departure from the Obama Administration's policy on immigration enforcement — the portion of the document visible in the picture seems to suggest he would redefine "criminal alien" as "any alien arrested for any crime, and any gang member," a vastly expanded definition that could result in any undocumented immigrant arrested for any reason — but not convicted — being deported.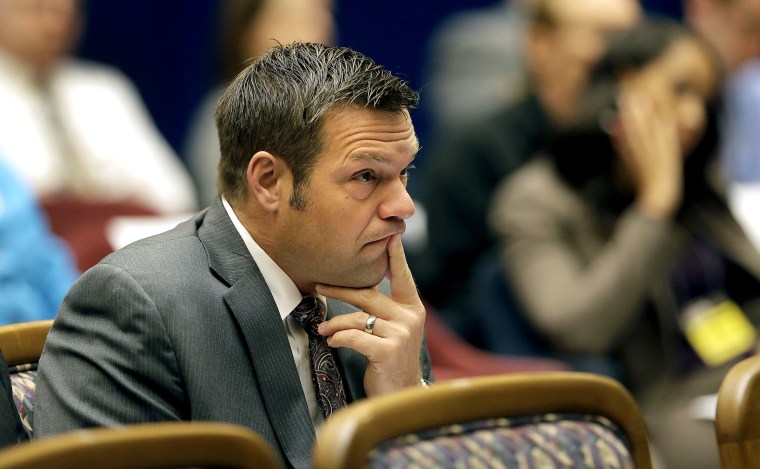 The rest of the document also seems to outline plans for building Trump's biggest immigration crowd-pleaser, a wall along the U.S.-Mexico border. And a full section that appears to outline plans to curb any voting by undocumented immigrants — a practice that independent analysts say is exceedingly rare but one that's prompted much alarm among conservatives, particularly this election cycle.
While the document suggests Kobach would implement a conservative revamp of the Department of Homeland Security, the plans outlined therein come as little surprise; Kobach has already become a national figure because of his hardline anti-immigration advocacy and outspoken efforts to curb illegal immigration.
An early backer of Trump, his views on the issue are largely in line with Trump's own, even as they are in some aspects more conservative than the plans laid out by GOP leadership in recent years.