A majority of Americans disagree with President Donald Trump's proposal to arm teachers, according to results from a new NBC News|SurveyMonkey poll.
Trump, in the aftermath of the mass shooting at Marjory Stoneman Douglas High School in Parkland, Florida, last month, has said that arming some of America's teachers with concealed weapons and training them to "immediately fire back" at a "sicko" gunman would end school shootings once and for all. But many gun violence experts, educators and school safety advocates — as well as 56 percent of Americans surveyed — were against the idea.

Still, a sizable 42 percent of people surveyed said they agree with Trump's proposal. A whopping 80 percent of Republicans and Republican-leaners are on board with arming teachers, while 88 percent of Democrats and Democratic-leaners disagree with it. A majority of independents, 64 percent, also disagree with the plan.
According to the poll, 55 percent disapprove of the way Trump is handling his job as president. Americans are also dissatisfied or angry about the way Congress and Trump have handled gun control, though there are stark differences by party.
Republicans are more enthusiastic about how Trump has handled gun control than how Congress has handled the issue, with 78 percent of Republicans surveyed saying they are enthusiastic or satisfied with how Trump has approached gun control so far. Only 43 percent of Republicans feel the same about Congress.
The president has said he will ban rapid-fire gun bump stocks, which allow weapons to fire more quickly, through executive order, but also mystified lawmakers this month by seeming to embrace a series of gun control measures his party has long rejected.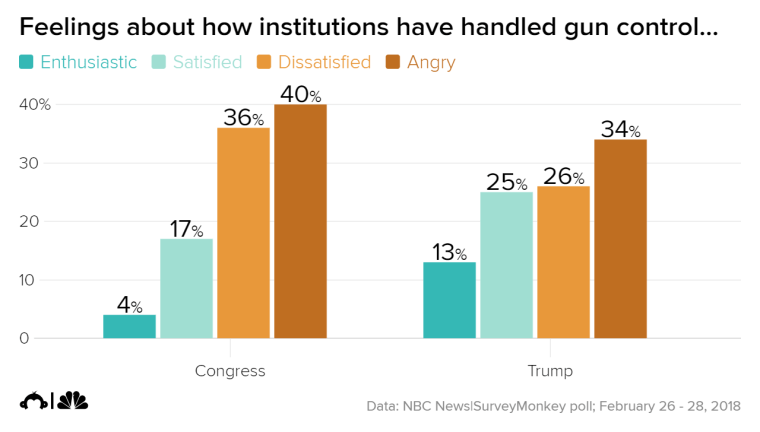 Meanwhile, both Democrats and Independents take a dim view of Trump and Congress on the issue.
Majorities of independents — 72 percent — say they are dissatisfied or angry about the way Trump has handled gun control, and 84 percent feel that way about Congress. A whopping 9 in 10 Democrats are dissatisfied or downright angry at both Congress and Trump when it comes to gun control. Despite increased public pressure since the Parkland shooting, Senate Majority Leader Mitch McConnell has given no indication when — or if — he would bring up any form of gun-related legislation.
A narrow bipartisan proposal that would attempt to shore up the National Instant Background Check System has at least 50 co-sponsors, but it has not been brought to the floor — and GOP lawmakers have been unable to reach a consensus on what they support.

Still, a majority of Americans, 61 percent, think government and society can take action that will be effective in preventing shootings like the one in Parkland, Florida. Thirty-six percent think school shootings like Parkland will happen again regardless of what action is taken by government and society.
There are once again glaring differences by party, however. Majorities of Democrats (84 percent) and of independents (53 percent) think that government and society can take action to prevent shootings. Fifty-eight percent of Republicans, on the other hand, think that shootings will happen again regardless of what government or societal action is taken.
The NBC News|SurveyMonkey poll was conducted Feb. 26-28, 2018, among a national sample of 2,857 adults. Respondents for this nonprobability survey were selected from the nearly 3 million people who take surveys on the SurveyMonkey platform each day. Results have an error estimate of plus or minus 2.5 percentage points. For full results and methodology, click here.