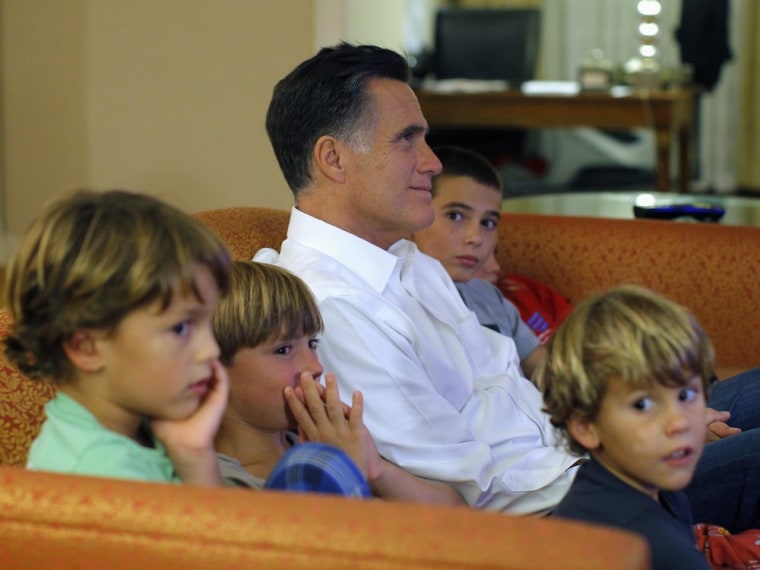 TAMPA, Fla. -- Mitt Romney will deliver the biggest speech of his political career on Thursday, when he faces an opportunity to reshape the arc of the presidential campaign on the final night of the Republican National Convention.
Romney will accept his party's nomination in a nationally televised address. It's a natural inflection point in this election cycle, and an opportunity to re-posture himself heading into November.
And Romney will look to accomplish just that by better familiarizing voters with his business career and personal life, while also making the case to eject President Barack Obama from office.
Much of the convention so far has built toward this culminating moment, when Romney would formally become the GOP nominee.
This speech by the former Massachusetts governor will cap years of campaigning to secure the nomination, a goal that eluded Romney's father, a former governor of Michigan whose legacy has long colored his son's approach to politics.
Tonight's nationally televised address also concludes a three-day effort by Republicans -- shortened by a day due to Hurricane Isaac -- designed to paint Romney and the GOP as forward-looking and inclusive, if sharply different from Obama and his party.
Among the most prominent and best-received speakers this week have been women, Latinos, African-Americans, and relatively younger figures in the party, like vice presidential nominee Paul Ryan, who delivered a rousing, conservative speech on Thursday night.
"What's missing is leadership in the White House. And the story that Barack Obama does tell, forever shifting blame to the last administration, is getting old," Ryan said. "The man assumed office almost four years ago – isn't it about time he assumed responsibility?"
Watch Wednesday night's speeches here
New Jersey Gov. Chris Christie, in his keynote speech on Tuesday, also delivered stinging criticism of Obama in his trademark brash style of delivery.
But some of the convention's highest points have been softer moments, like Condoleezza Rice's reflection on Wednesday about overcoming Jim Crow laws to become secretary of state.
Would-be first lady Ann Romney's Tuesday night speech also attempted to cast a humanizing glow on her husband, portraying him as a dedicated husband and father who helped guide their family through adversity.
"I read somewhere that Mitt and I have a 'storybook marriage.' Well, in the storybooks I read, there were never long, long, rainy winter afternoons in a house with five boys screaming at once. And those storybooks never seemed to have chapters called 'MS' or 'Breast Cancer,'" she said.
"A storybook marriage?  No, not at all. What Mitt Romney and I have is a real marriage," Mrs. Romney added.
Slideshow: The 2012 Republican National Convention
Whether Romney can capture a similar moment – akin to Bill Clinton's "I still believe in a place called Hope" speech in 1992 – is one of the major tests for the Republican nominee-in-waiting this evening.
Closing the gap with Latino voters and women is an undertaking for the Republican ticket this fall that might take a longer time to achieve. The more immediate task involves linking Romney's overall theme of leading an economic turnaround to a sense of empathy for millions of voters, many of them in swing states, who have been hardest-hit by the slow recovery.
Romney also faces a narrower task in appealing to swing voters here in Florida's I-4 corridor, prime battleground territory in the state stretching from Tampa and Orlando that could determine Florida's votes in the Electoral College.
Romney would face a difficult path getting to the 270 electoral votes he needs without Florida, requiring him to win every single one of the other states on NBC's battleground map.