Donald Trump transition senior adviser Jason Miller said Saturday he will turn down a job as communications director for the Trump White House, two days after the post was offered.
In a statement sent by Miller to NBC News, the campaign senior communications adviser said he declined the job in order to spend more time with his family. The news was first reported by Politico.
"After spending this past week with my family — the most amount of time I have been able to spend with them since March 2015 — it is clear they need to be my top priority right now and this is not the right time to start a new job as demanding as White House communications director," Miller said, adding that he and his wife are expecting their second child in January.
"I need to put them in front of my career," he said.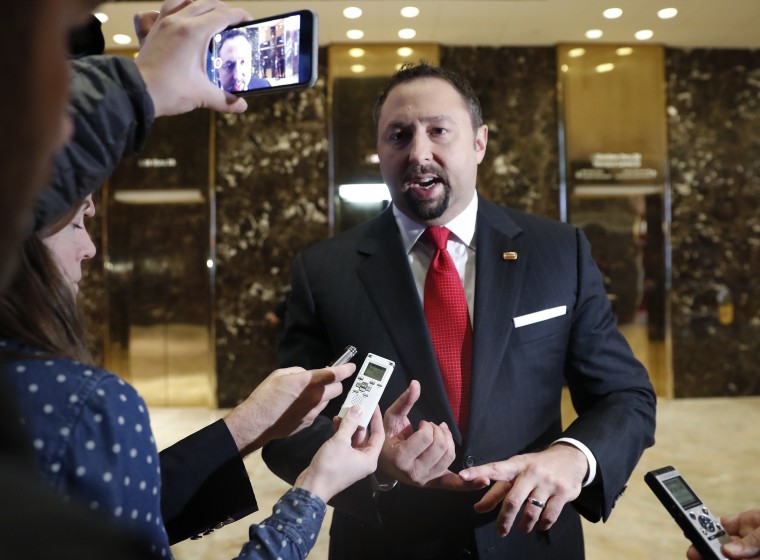 Miller said that incoming Press Secretary Sean Spicer will take over his responsibilities as communications director as Donald Trump continues to transition into the White House. Spicer had previously served as the communications director for the Republican National Committee since 2011.
A prominent Republican strategist, Miller was a frequent Trump surrogate during his campaign for the White House, often making the rounds on television to reiterate Donald Trump's positions or clarify his more controversial statements.
As recently as Friday, Miller spoke up in defense of Trump's tweet on nuclear weapons, saying in a statement that the President-elect was referring to the threat of nuclear proliferation and emphasizing the need to "modernize our deterrent capability."
Related: Sean Spicer Named Trump's White House Press Secretary
Trump announced the senior members of his communications team Thursday. In addition to Miller and Spicer, Trump tapped Hope Hicks to serve as assistant to the president and Director of Strategic Communications, and Dan Scavino, who would also assist the president and serve as President and Director of Social Media.
"I am excited they will be leading the team that will communicate my agenda that will Make America Great Again," Trump said at the time.