WASHINGTON — FEMA Administrator Deanne Criswell said the federal government has the "right amount of personnel on the ground" in Hawaii to help in the recovery and response efforts from what has become the deadliest wildfire in modern U.S. history.
Criswell, who joined Monday's White House news briefing by video from Hawaii, said the Federal Emergency Management Agency is focused on getting people critical-needs assistance funds, which provide $700 initially for food, water, medical supplies and other needs.
"We know and have let them know that we are mourning with them," Criswell said of her work with Hawaiians. "Nothing can prepare you for what I saw during my time here and nothing to prepare them for the emotional toll of the impact that the severe event has taken on them."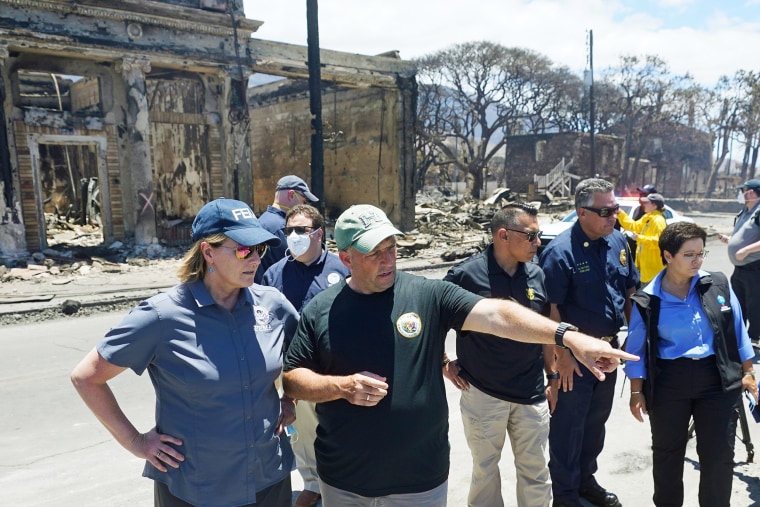 Criswell confirmed there are no plans for President Joe Biden to visit the state.
"We want to make sure that they have, you know, all of the resources and the space that they need and not disrupt operations right now," Criswell said.
Asked about plans for Biden to speak about the death toll, White House press secretary Karine Jean-Pierre said: "You'll hear from the president. You've heard from him already on Thursday." She said people will hear from Biden "continuously this week," but she did not have additional details.
Jean-Pierre was also asked about the optics of Biden's vacationing in Delaware over the weekend during disaster recovery.
"I think that matters that the folks who are on the ground, the elected officials, are saying that they're receiving the help that they need to deal with this devastating issue," she said. "And that's what you're going to continue to hear from this administration, and that's what you're going to continue to see."
Jean-Pierre said that Sen. Mazie Hirono, D-Hawaii, "who I said the president spoke to just last night, he thanked the President for the immediate support of federal agencies have delivered for residents of Hawaii." She appeared to incorrectly pronounce the longtime senator's name and used her wrong gender pronoun. She referred to the senator earlier in her remarks, using the correct pronunciation.
More than 300 FEMA personnel are deployed in Hawaii, Jean-Pierre and Criswell said. Jean-Pierre said FEMA has provided 50,000 meals, 75,000 liters of water, 5,000 cots and 10,000 blankets to the Maui County government for distribution. The Coast Guard and the Navy's 3rd Fleet supported response efforts, and the Marines provided Black Hawk helicopters to fight fires, Jean-Pierre said.
The Army Corps of Engineers is working to clear roads and stabilize electric services, and the Environmental Protection Agency is working on hazardous waste removal, according to a news release.
Criswell said FEMA will stand up a disaster recovery center in "the coming days, which will be a one-stop shop that will have federal personnel, state and local officials, as well as the insurance industry, so people can start this process of rebuilding."
It is "extremely hazardous" on the ground, but engineers are working to clear buildings to make sure they are structurally stable for search-and-rescue teams, and FEMA has brought in additional cadaver dogs, she said.
The death toll is 96, with only 3% of the affected area having been surveyed with cadaver dogs as of Sunday.
Biden received two updates Sunday from Criswell, who said she and the president have been in "continuous contact."
Biden said in a statement last week: "Jill and I send our deepest condolences to the families of those who lost loved ones in the wildfires in Maui, and our prayers are with those who have seen their homes, businesses, and communities destroyed. We are grateful to the brave firefighters and first responders who continue to run toward danger, putting themselves in harm's way to save lives."
Biden approved a major disaster declaration for Hawaii on Thursday.