Sylvia Burwell, the woman Rep. Tom Price could replace as Secretary of Health and Human Services, acknowledged Tuesday the challenges of defending the Affordable Care Act in the wake of Donald Trump's presidential win.
"This is an uphill battle," she told NBC News in an interview in her office on Tuesday.
President-elect Trump's pick of Price to run the Department of Health and Human Services could be bad news for Obamacare supporters. In his new role, Price could both aggressively push for the law's repeal and limit its implementation if it remains in place.
"We will repeal things like the individual mandate and say, "You should be free to pick whatever insurance plan meets your needs, not one Washington forces you to buy," Price, a congressman from Georgia, said in a speech in October.
In interviews after the election, Trump, who blasted Obamacare throughout his campaign, spoke more favorably about the law. But in picking Price, the real estate mogul has taken a very aggressive action by appointing one of Obamacare's chief critics to run the department that implements the law.
Price's appointment likely signals an intense political battle over Obamacare's future early next year, with Democrats looking to highlight the stories of some of the 20 million Americans who are newly-insured under the law while Republicans find some of those 20 million who have been hit with high premiums under the Obamacare system. Trump, Senate Majority Leader Mitch McConnell and House Speaker Paul Ryan have all said an overhaul of Obamacare is one of their top priorities next year and grassroots Republicans are demanding changes to the law.
Meanwhile, Burwell, has argued that the Affordable Care Act is now part of the "fabric" of America and should not be repealed.
"The benefits are broad and deep. And making sure people understand that, that's a part of the conversation," she told NBC News.
Burwell said the plans from Price, Trump and other Republicans to replace the law deserved the same scrutiny as the existing Affordable Care Act and added that such changes should consider access, affordability and quality.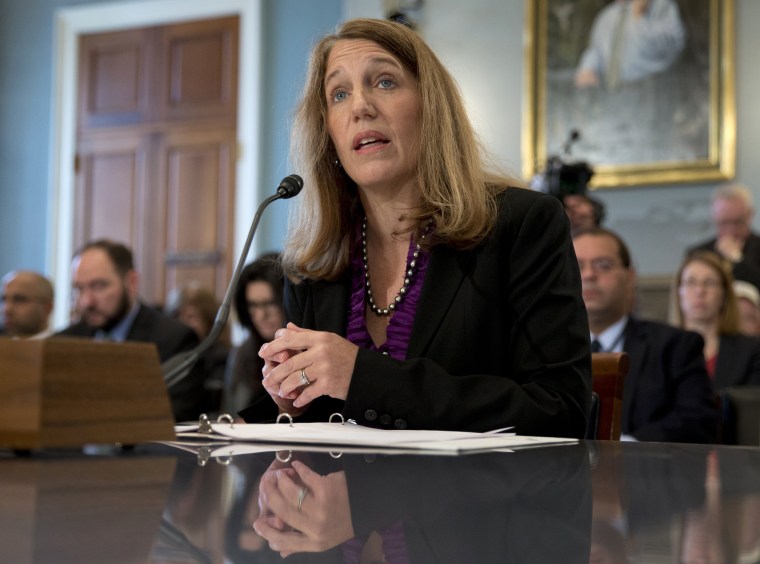 Republicans are misreading the election results if they interpret them as a call to repeal most of Obamacare, Burwell said.
"It's a repudiation of a word, not a repudiation of the substance," Burwell told NBC News and noted polls show many Americans support the individual components of the Affordable Care Act.
Ryan, in an interview on Tuesday morning on a Wisconsin radio station, called Price "one of the architects of replacing Obamacare," and said he was excited to have Price as the "quarterback" on reforming health care in the Trump administration.
Senate Democratic Leader Chuck Schumer said putting Price in charge of HHS is "akin to asking the fox to guard the hen house."
Price, an orthopedic surgeon and longtime vocal critic of Obamacare, has written a proposal that radically overhauls the law. He would replace the law's structures, a major expansion of Medicaid and subsidies that are bigger for people with low incomes, with universal tax credits for people to buy insurance. The tax credits vary by age, since older people generally need more coverage. Under Price's plan, Americans between ages 18-35 would get a $1,200 tax credit, while those over 50 would get a $3,000 credit.
Price would eliminate all the mandates under Obamacare, including the requirements that large companies offer insurance, that individuals purchase insurance or pay a fine and that all insurance plans must offer certain benefits.
Such a system, according to some experts, is likely to result in cheaper health insurance costs for people who are young, but higher costs for people who have illnesses or low-incomes. Under Obamacare, more than 15 million Americans have enrolled in Medicaid, which has minimal co-pays and premiums. And households with incomes below $50,000 a year get heavy subsidies.
People with pre-existing health conditions, under Price's plan, would likely enroll in so-called high-risks polls.
"High-risk pools combine sick people with even sicker people rather than pooling sick and healthy people together, as regular insurance does. The pools consequently tend to charge extremely high premiums that people can ill afford — much more than what healthier people paid in the pre-Affordable Care Act individual market," says Edwin Park of the left-leaning Center on Budget and Policy Priorities.
There is no guarantee Price's ideas will become law.
There are many competing proposals among Republicans on Capitol Hill over how to replace Obamacare, although many of them would reduce the Medicaid-eligible population and get rid of the insurance mandates, as Price calls for.
It's also not clear Price will set Trump's health care agenda, as Obama and many other presidents have had the HHS secretary execute the vision of the White House, instead of crafting the actual policy.
And Democrats could use the filibuster to stop some of these changes.
However, Price, if he is confirmed, could affect Obamacare policy even if the law remains in place.
The Obama administration holds events across the country and works with states and cities to encourage people to purchase insurance. It is unlikely Price will do this.
The administration has worked extensively to make sure insurance companies keep offering plans under the law. That is unlikely to be a priority for Price.
Conservative states have pushed to require people on Medicaid to hold jobs, an idea that Obama administration has generally opposed, arguing job status should not affect whether people get health coverage.
Price is likely to view such a requirement more favorably.