President Donald Trump announced Alexander Acosta as his new pick to head the Department of Labor, less than a day after his first choice for the job, Andy Puzder, withdrew from consideration.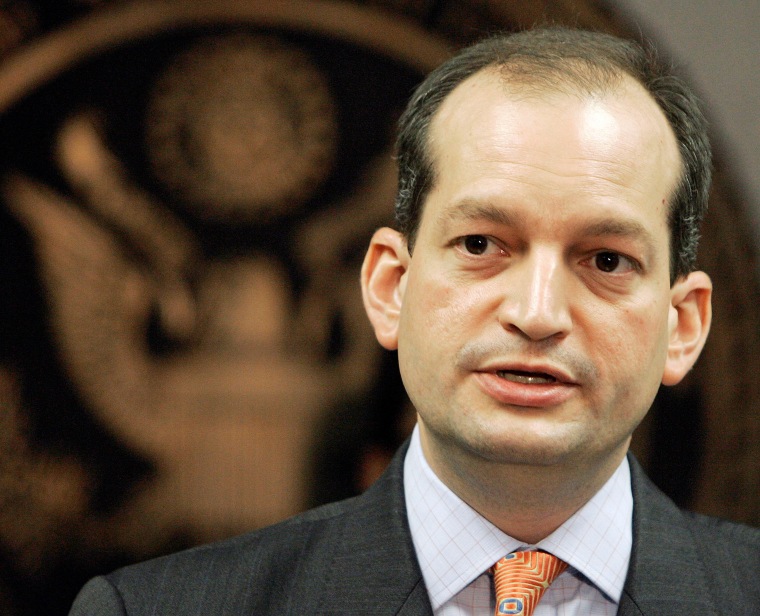 Standing in the East Room after an abruptly announced press conference, the president touted Acosta's Ivy League credentials and said he believes Acosta will be "a tremendous secretary of labor."
Trump said the two men just spoke by phone. Acosta did not appear to be in the room during the announcement.
RELATED: Everyone In Donald Trump's Cabinet
Acosta served as assistant attorney general for the Civil Rights Division under President George W. Bush, selected by the president in August 2003. Acosta was a member of the National Labor Relations Board and also served as Principal Deputy Assistant Attorney General in the Civil Rights Division. Most recently, he was the dean of Florida International University College of Law.
If confirmed, Acosta would be the first Hispanic in Trump's cabinet.
Trump, after listing Acosta's career highlights, celebrated the approval of Office of Management and Budget Director Mick Mulvaney (who Trump had to say was confirmed "weeks late") and mentioned that Republican donor Paul Singer just left the White House.
His administration, Trump said, is "running like a fine-tuned machine."
Puzder, Trump's first pick for Labor Secretary, withdrew after struggling to gain traction for his nomination, and Trump's National Security Advisor was asked for his resignation after misleading administration officials, including the vice president, about his conversations with a Russian diplomat before Trump took office.
Puzder, the head of CKE Restaurants, which owns Hardee's and Carl's Jr., faced harsh criticism from Democrats and liberal groups for his opposition to raising the minimum wage, previous controversial comments and the racy ads for his company's fast-food chains. Multiple Republican senators also pulled their support.
White House senior officials told NBC News Wednesday night they saw the "erosion of the support" for Puzder, one official stating bluntly the numbers just weren't adding up in his nomination fight. "We know how to count," the official said.
Several Hispanic business groups and lawmakers lauded Acosta's record.
"R. Alexander Acosta is an outstanding choice for this cabinet position," said Javier Palomarez, president and CEO of the United States Hispanic Chamber of Commerce in a statement. "His record reflects a skill set and expertise both in the private and public sector which will serve the administration and the nation greatly. We are thrilled to work with Acosta on a host of economic and labor issues which directly affect our members and the Hispanic community as a whole."
The Senate Committee on Health, Education, Labor, and Pensions said it will move "promptly" on Acosta's confirmation hearing after his papers arrive in the Senate.
"Mr. Acosta's nomination is off to a good start because he's already been confirmed by the Senate three times. He has an impressive work and academic background," committee chairman Sen. Lamar Alexander, R-Tennessee, said in a statement. "We will schedule a hearing promptly after his nomination papers arrive in the Senate, and I look forward to exploring his views on how American workers can best adjust to the rapidly changing workplace."