President Donald Trump signed an executive order on Tuesday aimed at reducing the number of lower wage foreign hires in the U.S. workforce and bringing job opportunity back to American employees — a key campaign promise.
The signing of this order, Trump told the Kenosha, Wisconsin crowd, will "defend our workers, protect our jobs, and finally put America first".
The so called "Buy American, Hire American" executive order announced at the headquarters of Snap-on Tools is another part of Trump's "America First" themed first 100 days in office. The executive order also stresses a preference for federal projects to use steel, iron, and other goods that are manufactured and made in the U.S.
"We are finally standing up for our workers and for our companies," Trump said on Tuesday adding that the order "declares that American projects should be made with American goods."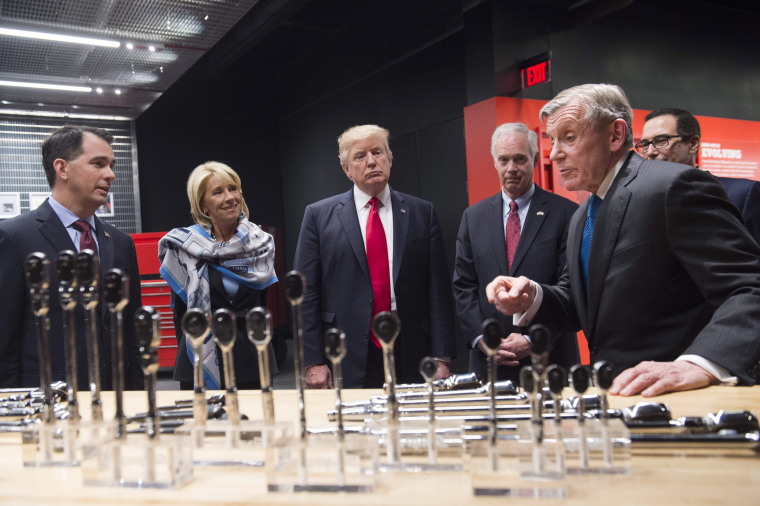 One of the biggest impacts of this order may be cultural, one administration official said Monday.
"The culture immediately changes across the agencies," the official told reporters. "We have a lax enforcement, lax monitoring, lax compliance. We are moving forward with a muscular new policy that we're announcing tomorrow."
"Hire American"
The order directs the Departments of Labor, Justice, Homeland Security, and State to take "prompt action" in cracking down on fraud and abuse in guest worker programs, like H-1B visas.
The goal of these eventual changes to the program would be to prioritize visas for higher-skilled, higher wage-earning foreign workers, as opposed to the lottery system currently in place for the awarding of H-1Bs.
The restructuring strategies described by the official, who spoke with reporters anonymously in a White House background briefing, would mean less "undercutting" of American labor and more opportunity for companies to hire American workers.
According to the official "the result of the H-1B program as it is now is that [foreign] workers are often brought in well below market rates to replace American workers, again, sort of violating the principle of the program, which is supposed to be a means for bringing in skilled labor."
He called these reforms that put more emphasis on bringing in highly skilled workers an "elegant way of solving very systemic problems" with the H-1B program.
RELATED: Execs Return to White House to Give Trump Their U.S. Job Ideas
While this tenet of the "Hire America" plan holds true to Trump's promise of more American jobs for more American workers, it goes against his campaign rhetoric.
"It's unfair to our workers and we should end it," Trump said during a March primary debate. Trump himself has used H-1B visas but called it "very, very bad for workers."
"Buy American"
The executive order will also call on federal agencies to review and lessen the use of waivers and exceptions to "Buy American" laws already on the books and to ensure that America's free trade agreements are serving America's economic interests.
Tuesday's signing triggers a "top to bottom performance review" by Secretary of Commerce Wilbur Ross to be submitted within 220 days on weak enforcement and rooting out Buy American loopholes.
Related: Inside Trump's DC Hotel, a Global Marketplace
This includes looking at America's free trade agreements to make sure they meet the standard of "fair and reciprocal" — meaning, another senior administration official explained, "we shouldn't be a net loser in the government procurement game by entering into these waivers. And it looks pretty much like that's the case."
Ross' review will be a "blueprint for additional actions" to strengthen the "Buy American" promise, the White House official said Monday. Should the review find free trade agreements not meeting that standard, they may be renegotiated or revoked.
NAFTA also found itself back in Trump's crosshairs during the Wisconsin stop. The president revived campaign stump speech lines and called the North American Free Trade Agreement a "complete and total disaster" for the U.S., promising either big changes or totally scrapping the sweeping trade accord.
"We are going to make some very big changes or we are going to get rid of NAFTA, for once and for all," he said.